Photography has become the need of the day in this modern age.Wildlife photographers try to gethigh-endquality of nature and animal photographs to raise awareness of the planet around us too. The best-sophisticated tool VanceAI Image Upscaler is herethat helps to increase image resolution naturally to produce the best animal photography. It is an accurate and handy tool as it can upscale images up to 8x as well asincrease the size as well as the resolution up to 800% of multiple images with simple clicks.Here, we will goto discuss how VanceAI Image Upscaler helps to produce the best animal photography step-by-step guide.
Part One: What is Image Upscaler
VanceAI is providing Image Upscalerwhichis an AI-based tool.This is such an exciting way to upscale your favorite pictures Whether they're landscapes, family, or animal photos you're your personal photographs. VanceAI includes the best Image Upscaler for free to upscale images up to 8x, which is the highest setting that can be applied with one click. VanceAI Image Upscaler is the world's top choice to create HDquality photos with a natural resolution that can be useddesigna business website or to create a crispier or outstanding design to engage targeted customers and audiences. This image upscaler adopts AI technology and deep learning to automatically upscale imageswith AI without affecting any image pixelation with a few swift moves.With this machine learning algorithm, photographers can control how much zoom they want to do in post-processing. The higher you choose, the sharper your final photo will be but it might cost you extra time. 
VanceAI Image Upscaler's features
Automatically enlarge photoswith AI image processing technologies with superresults
Helps to AI image upscaling online by enlarging photos up to 8x tohigh-end qualitywith one click
This Image Enlarger makes it easier for quality-based images by AI image upscaling online
This photo enlarger works smartly enough even it can detect small tiny hairs to createdetailed photos with high-quality
AdoptsauthenticAI algorithm to unblurand additionallydenoise images online to AI upscaling in a few steps
Hasmany potential features to increase image size plus resolutionwith 100% accuracy within a few seconds
100% safe to operatebecause it deletes all your uploaded images within 24 hours, 
Image Upscaler'sPros & Cons
Pros
An AI-based tool with a trained algorithm to smoot
hly process image
Quick optimization onlineImageEnlarger to get workflow easier and more efficient
Save your timewhen you find tough time to process images by offering a one-click AI solution
CanAI upscale image online automatically
Availablewith low-cost subscription plans with excellent features
Cons
Limited time free use
Allows limited scales to choose from for free users
The free version only supportsa 2x to 4x 
Part Two: Guide to Use VanceAI Image Upscaler
The use of VanceAI Image Upscaler is simple and easy as well. Let's see how to get AI upscale images using VanceAI Image Upscaler step-by-step.
Method one: Go to the VanceAI Image Upscaler's Official Page
Step one: Upload the Image on VanceAI Upscaler's Official Page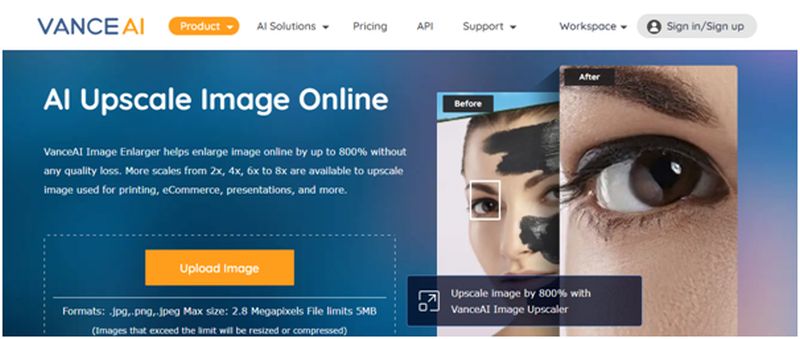 Through any supported browser visit theVanceAI Upscaler's official Page.Upload thephoto that you need to increase resolution by hitting on the "Upload Image"box.
Step two: Click the "Start to Process" Button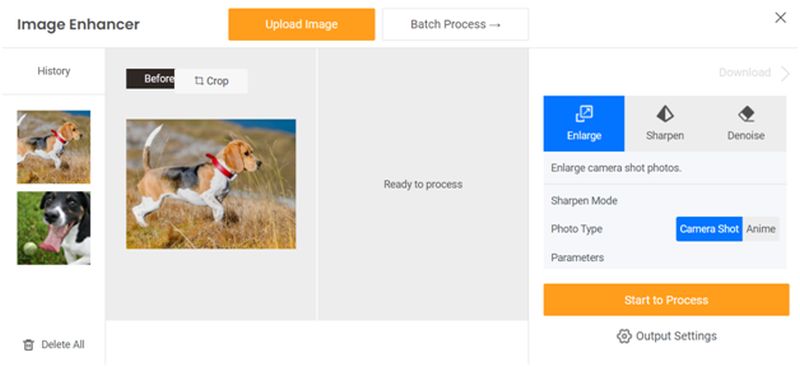 Once, the image is dropped to the product page, selectthe exactscale that is perfect for the uploaded image and hit the "Start to Process" button to start the image upscaling with AI.
Step three: To Download the Image Click the "Download Image" Button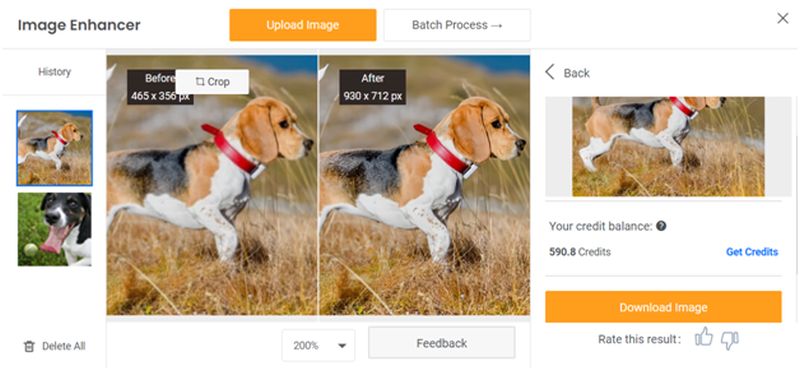 The processed results can be in the download section when the image processing is done.Hit the "Download Image"box to save your high quality image. That is a step-by-step guide onhow you cando AI upscaling with the help ofimage upscaler.
Method two: To Process Image Go to VanceAI Upscaler Workspace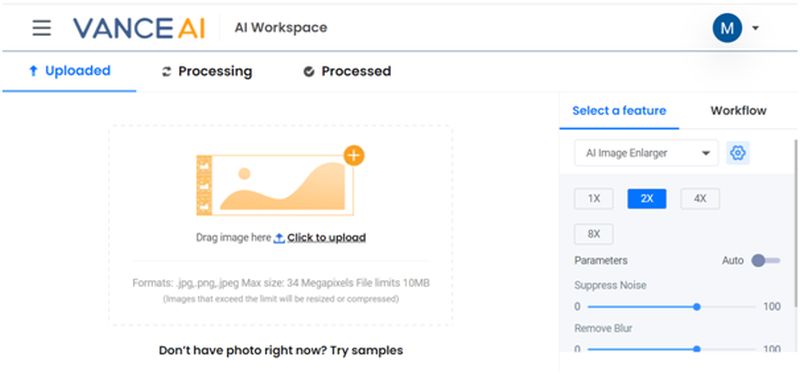 To process images visit the VanceAI Upscaler Workspace and getAI upscale imagesquickly and easilyin less than5 seconds. Simply input your image dimensions and click the process button,Image enlarger will automatically upscale to give you instant upscaling of your processed images.
Part Three: Review on Image Upscaler's Performance

There is no doubt why VanceAI Image Upscaler is the top tool that provides AI-based upscaling for people to process images faster and better than any other tool to get your workflow and life efficient. Let's see how this AI-based photo enlarger performs.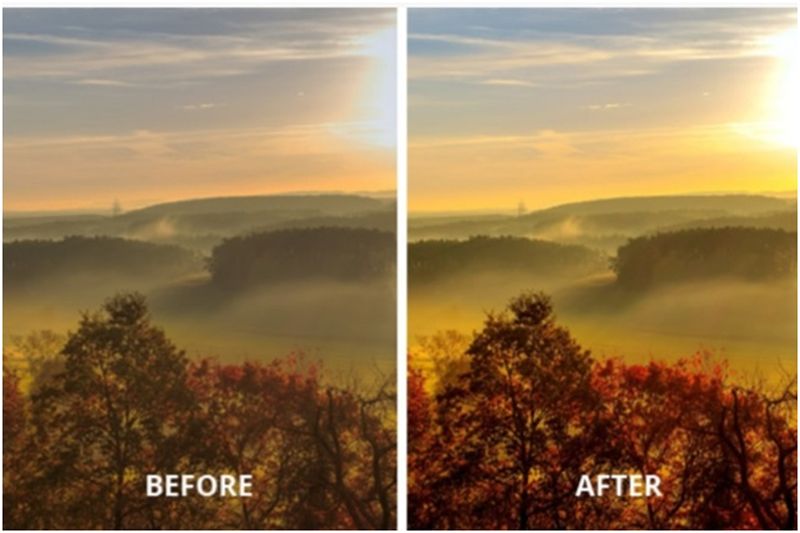 The before and after images are clear proof that VanceAI Image Upscaler is a great product for photo enthusiasts of all levels. The image on the left side was so noisy and faint that some bitsy details are unnoticeable with the dimresolution. But look at the AI upscaling image on the right side, at the first sight, everyone can feel the difference. See how AI image upscaler has upscaled the bear image while increasing the snap resolution up to 800% to produce the best animal photography. In this upscaled picture, all detail is noticeableindeed some bitsy bristles of this brown bear. VanceAI Image Upscaler also gives the exact output that anyone wants to attract people.
Here is the second eaxmple,the output is exactly the same as in the above image. Lookat the image on the left side that the initial resolution of this natural scene is quite low which is forming the wallpaper blurry. Do you think would anyone like to use this image for their wallpaper, absolutely not. But look at the AI upscaling image on the right side, and feel the difference in how this online image Upscaler works to enlarge and AI upscale image to increase its resolution. Now no one can reject it and like to use it everywhere on mobile phones,or iPad as wallpaper.It can be done only by VanceAI Image Enlarger, which works wonderfully to improve image quality online by upscaling images with AI.
Conclusion
No doubt thisan AI-powered Image Upscaler tool that is the pretty awesome tool to produce the best animal photography with simple clicks. The best part is that the output will exactly what you want. VanceAI Image Upscaler can upscale an image while increasing the image resolution up to 800% to produce best photography. Our photo enlarger works smartly enough to create high-quality professional-looking photos that are crisp and clear without having to spend hours editing them yourself. There's nothing to worry about when you want to share your work with others. VanceAI also helps to provide a free online PDF processing toolkit, VancePDF.com. 
FAQs
What other services does VanceAI provide?
VanceAI has proud to provide such sophisticated and cloud-based tools around the world to get excellent photography in just a matter of seconds. VanceAI has multiple accurate and efficient AI tools to get processed photos to high quality insimplesteps. With Toongineer Cartoonizer you can make cartoon art or cartoon selfies. It provides useful tools to denoise images, colorize photos, and sharpen images in less than 5 seconds. VanceAI is the top site that provides AI-based tools for people to retouch portraits and ensure that you're enjoying faster, smarter services to crop, rotate, flip, compress, resize and edit images faster and better than any other app.
What can I do with BGremover?
BGremover is anaccurate and efficient editing tool to remove image backgrounds while keeping in focus your key objects in just a matter of clicking a button.BGremover is a photo editing tool that let you remove background from images. In addition, it's also a tool that allows you to edit photos to the next complicated tasks like editing screenshots, lighting images, and changing the background of images. As for the transparent background removal and photo enhancement tool, there is so much potential for this service because of its many features it can create a lot of new options for image editing
Article Submitted By Community Writer