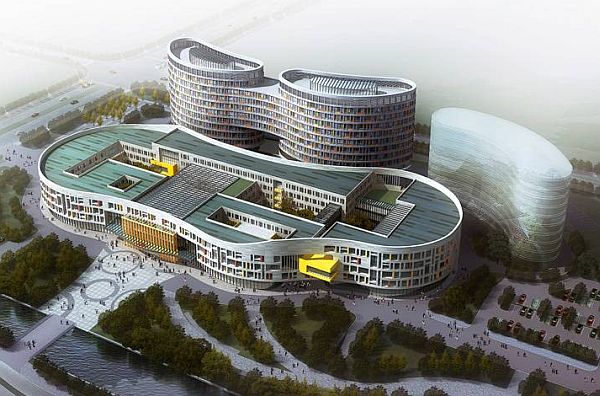 A new hospital dubbed Suzhou Children's Hospital in Yangtze Delta Region, conceived by HDR, an employee-owned architecture, engineering and consulting firm, has just came out of the concept stage. The most special thing about the Chinese hospital is that the design of its building derives the inspiration from human body. The building is in the shape of Telophase, a phase of mitosis. The basic thought put behind this design is that as our cells mend themselves during mitosis, so does the hospital help people to heal and recover. The hospital will truly be very energy-efficient and equipped with all kind of facilities.
Not only the shape of the building, but also the color and overall environment of the hospital will be made conducive. The hospital will also have facilities for children with susceptible diseases. In addition, the hospital also plans to have research and education centers, which will prove very beneficial for the patients. Scientists, doctors and researchers can join together to give world-class medical facility to children.
Apart from this, the hospital will also have beautiful traditional Chinese gardens. The construction of the building will be done in such a way so as to provide maximum light and ventilation. As we all know that nature is the best healer, so the natural landscape around the hospital will surely lead to fast recovery of patients.
The hospital is all set to provide high standards of medical facility to its pediatric patients. It has been decided that even the families of patients and the staff of the hospital will be given proper care.