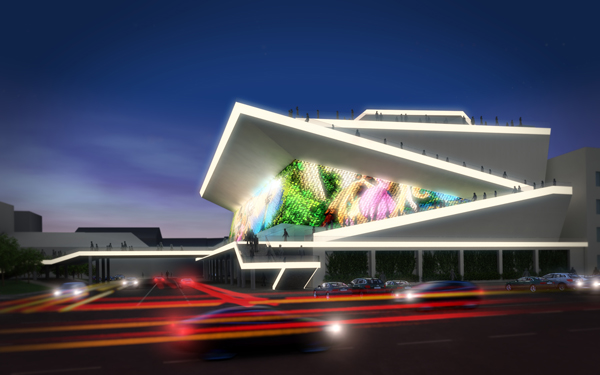 Reconstructing a building and lending it a contemporary feel is a common ongoing trend. However, reconstructing an ordinary building to an extraordinary hi-tech, cultural and eco friendly building is an unusual task. The Sanzpont Arquitectura successfully accomplished such unusual task with the construction of Pushkinsky Urban Cinema and established their place in Changing the Face Competition.
The Sanzpont Arquitectura not only changed the look but established the reconstructed building as a cultural landmark of Moscow. The architects, re-designing the building, extended their work boundaries to beyond that of an architect. The architects moved beyond the aim of re-designing the facade and mixed Russian urban culture with the design task.
The end result of the architectural efforts was Pushkinsky Urban Cinema which functioned like a cinema from inside and provided space for urban stage on the outside. This design was undertaken with the aim of endorsing Russian Culture from inside out.
The exterior design of the building has been done with the idea of an open urban style stage for conducting functions and public events
like exposition, fashion shows, theater, films, sound and light art and dance. Lateral facades of the building are placed in a fashion that opens up access to the building design from the roof to the bottom.
Each area of the building has been intrinsically designed with a particular function assigned to each. Easily accessible through urban staircase and external elevators, the roof functions as an urban balcony as well as a skating rink for the adventurous lot. The design is made exuberant with the incorporation of LED wall. Aptly titled as media wall, it serves as a Cultural Media wall to the city.
The benefactor designing elements just don't seem to end there, in the hi-tech age where awareness comes easy, the architects have ensured the building design to be eco friendly. The multifunctional architecture – Pushkinsky Urban Cinema – sporting plethora of activities inside out, it would surely set a benchmark in architectural designing.
Via: eVolo