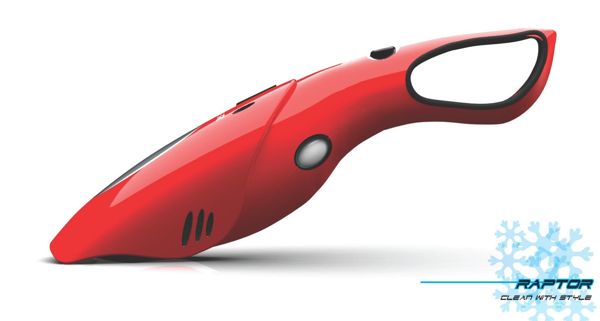 Forget the scary and troublesome days of house cleaning and go for Raptor, the futuristic vacuum cleaner to enjoy a comfortable cleaning. No lumbar and shoulder pains and every nook and corner of your house is free from dust. Thanks to the innovative work of the upcoming industrial designer Vyasateja Rao. He has designed an elegant looking and user friendly vacuum cleaner.
Faulty holding positions, stressful twisting, and bending of the torso makes vacuum cleaning a strenuous job, ultimately causing lumbar and shoulder pains. The futuristic Raptor vacuum cleaner with an ergonomically designed handle exerts minimum stress on your muscles and no groaning aches and pains after the clean up.
The designer has taken extreme care in designing this dust cleaner involving minimum stretching and bending of the body while cleaning.
Maintaining a straight posture during vacuum cleaning does not produce any muscular strain, bending at 20 degree causes a minor flexion and at 45 degree causes severe flexion. The objective of designing Raptor is to cause minimum flexion. The user friendly vacuum cleaner has been designed after a careful study of the function of lumbar, shoulder, and neck muscles.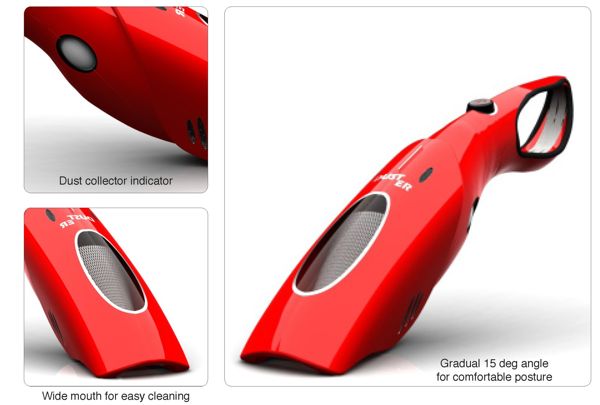 Ergonomically designed handle involves uniform weight distribution on the cleaner sparing over straining of the wrist. Various studies of power grip, pinch grip, finger loading and palmar loading were carried before arriving at a conclusion of the handle design. The in depth studies of all these grips provided a wider view of a handle design involving minimum strain. Initially, an ergonomic handle design of a soft material and with a wide cleaning mouth was cogitated, but further analysis revealed that such designing may allow accidental slipping of the cleaner. To counter this effect, a more streamlined curvature was applied in the designing of Raptor hand dust cleaner. Same thinking was applied to design the power grip of right posture to provide a stress free comfortable handling of the cleaner. Several tests were carried out with different ergonomically designed models before validating the final gradual angular neutral posture of Raptor.
The Raptor maintains a15 degree angle and is provided with a small inner motor, a reusable static dust holder and a dust indicator that
blinks when the dust holder becomes filled. The negative ions of the dust holder help the dust particles to stick firmly on it. Rechargeable batteries of Raptor can be easily charged through a DC output point.
Source: VyasatejaRao