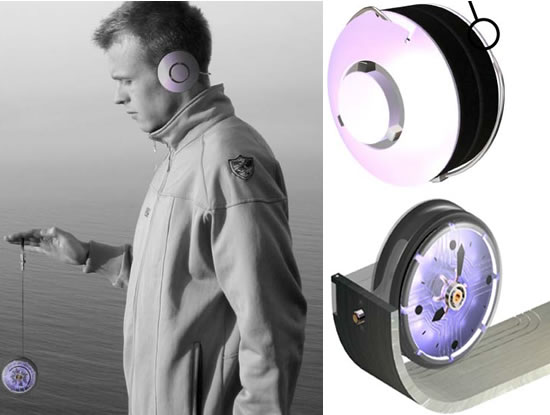 Insight:
Who hasn't ever tried a hand at Yo-Yo? As a mother, even now, I grab hold of one of my kid's yo-yo and try to master that slinging motion at times. However it isn't unusual to find teens walking down my lane with music streaming into their ears via an iPod or other MP3 players and yo-yoing away to glory. What a carefree lifestyle! Chris Aimone and Tomek Bartczak are all set to bump up more fun into their lifestyle with the Regen. Music lovers can now master the art of yo-yoing and yo-yo gamers can drown in endless hours of music with Regen. Cleverly fusing a music player into a yo-yo, the designers intend to bring the child out of every user. Highlight of this toyish music player is that it self-charges without depending on grid or batteries. Just 10-12 throws feed it power to run for an hour at least. So that brings in a green feather too!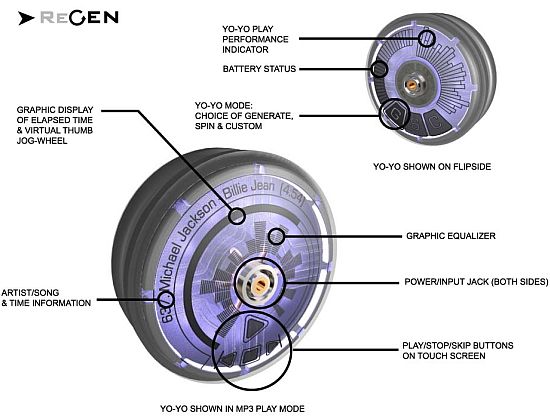 Design status:
Regen is still yo-yoing between the conceptual stage and production stage. Still on paper, I'm sure such a toying idea will capture some manufacturer's vision very soon.
Usability:
Integrating play with function, Regen consists of a MP3 player along with a wireless headset and a docking station. Tweaked with Bluetooth, user can listen to foot-tapping music via tangle-free headphones. Befitted with USB port, you can effortlessly download music. A gentle press between the palms is enough to get it started. The surface of the yo-yo displays touchscreen functions like play, skip and stop. The jog wheel takes care of the forward and volume. Details about the on-going song are also graphically displayed on the yo-yo itself.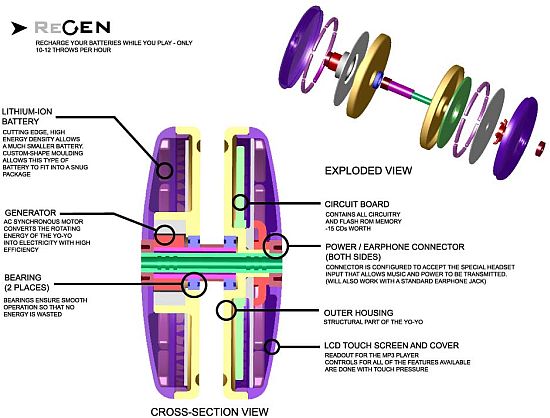 With a storage capacity of about 200 songs, Regen can be wrapped in to the ear phones that are designed to cover it up like the earmuffs.
I'm sure you all will also agree that Regen is a fun way to listen music!
Via Core77