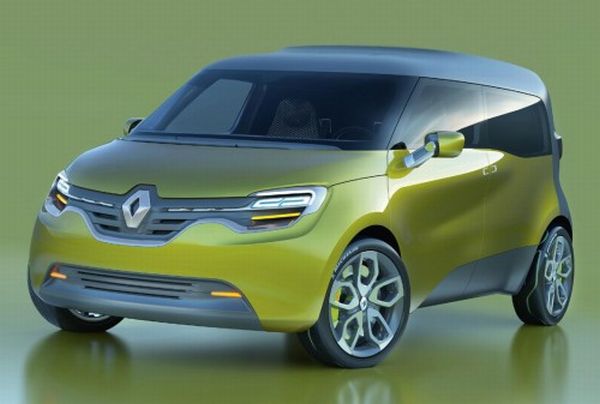 A respected name in automobile industry, Renault Motors, has unveiled its latest 100% zero emission car called the "FRENDZY." The car will be run on electricity and will soon be shown in Frankfurt Motor show scheduled in September 2011. The concept car is a multipurpose vehicle and can be used as a small business van or as a family car.
The best feature about this beauty is its versatility. The car is equipped with some make shift arrangements and hence can be shifted from family car mode to business car mode quickly. To support its dual functions, the car has an asymmetrical layout. The interiors of the car are split in design and functionality for both the uses. The passenger side of the car is designed with its working character in mind, whereas the driver side represents more of family side of the car. The passengers sitting at rear side of the car will not be able to access any window, instead they will have access to a 37-inch windscreen with multifunctional display. On the driver's side, there are regular windows and doors in sync with the needs of a traveling family.
Deyan Denkov has designed the exteriors of the car and has explained well in advance the reason behind the asymmetrical layout – it helps in making car multipurpose and is a step forward in creativity, making the vehicle more attractive and more futuristic. Inspiration for this car came from unconventionally shaped aircrafts like Beluga and the Antony 224.
The interiors of the car are designed by Ana Zadnik. She too echoed the same sentiments about its design. The interiors are designed in such a way that on one hand, it provides a spacious and clear-cut space for cargo purpose and on the other hand, the space is meant for four seats which is trendy and interactive in nature.
The driver's side (within) of the car is designed around the idea of creating a futuristic workstation, which looks like as if it is made up of molten metal. There are a lots of lights, which can be turned into green or orange color. In family mode, you can tune into orange color and in working mode, it gets green to add a dash of warmth to the interiors.
If the car needs to be turned into a moving office, than a Blackberry Playbook tablet PC can also be connected to the center console. As soon as blackberry is plugged in, it becomes an integral part of the system and configures itself to work with car's system.
Via: Diseno-art