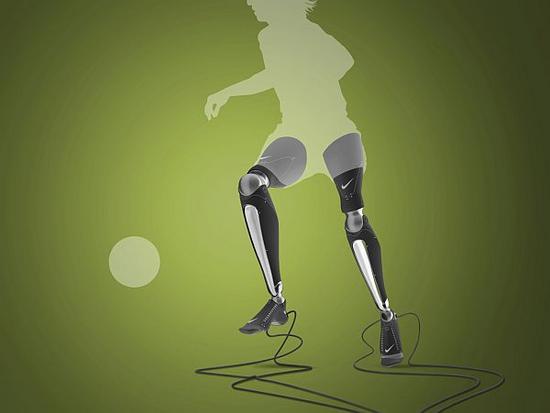 NIKE products have always uplifted the spirits of sportsperson's. Adding to this, the company is out with NIKE prosthetic (designed by Sam Weise) which will help people with disabilities to perform on field. With a flexibility to choose from various colors as per a person's taste, it will easily imitate the vigor and maneuverability of a person's leg muscles. An amazing aspect of this product being that it conceals all disabilities and supports by augmenting advantageous characteristics.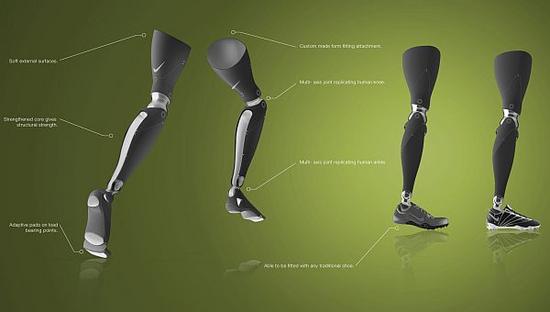 Fastened to the consumer's nerve endings, NIKE boost helps the prosthetic to have flawless control. United with nano pressure pads in the adaptive pressure pads of the feet is this one of a kind trait which allows enhanced control over the prosthetic. With an option to adjust this tailored prosthetic individually, which will alter the ratio of human muscles slow and fast twitches giving structural strength.
On the other hand, NIKE glide gives the user much required confidence, as its customized fit restores full functionality of an amputee. It will provide everyday comfort and help the user do all jobs easily.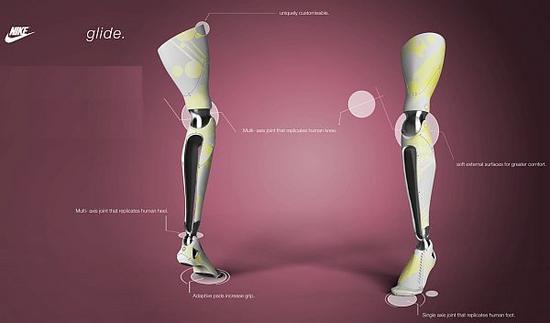 [Cheers Sam]