When it comes to muscle bikes, the first names that comes to one's mind is Harley Davidson. However, in developing countries like India not only one has to customize it according to the roads, moreover, it also comes along with high import duty. Therefore, Indian muscle bike lovers have to look for other alternatives. The bikes of Royal Enfield strike as the most affordable in this league. However,  there are other bikes too like Indian Chieftain Dark Horse that are starting to come into the picture. Let us see what it has to offer.
Indian Chieftain Dark Horse: The Harley Davidson of India?
Massive black metal body, a promise of extensive stamina, adrenaline rush and cruise temperament – that's how we can very briefly describe Indian Chieftain Dark Horse. The only difference in the new version is its black color and the name, of course. Other than that, it boasts the same engine and mechanics. Unlike the standard Indian Chieftain, the Dark Horse comes with a matte black finish, chrome covering on exhaust plus wheels and once again a thin strip of chrome on its intrinsically attractive front fender.
Two years back, Chieftain was introduced by Indian Motorcycle with two aims in mind – match or exceed the look of Harley Davidson cruises and creates a personality, bike lover can die for. It has lots of road presence, even if it is parked.  The bike has the power and style to make heads turn. Its long appearance and muscular aura will attract lots of admiration. Bike enthusiasts will stop riding to have a look at the Indian Chieftain Dark Horse. We have fewer words to describe
Design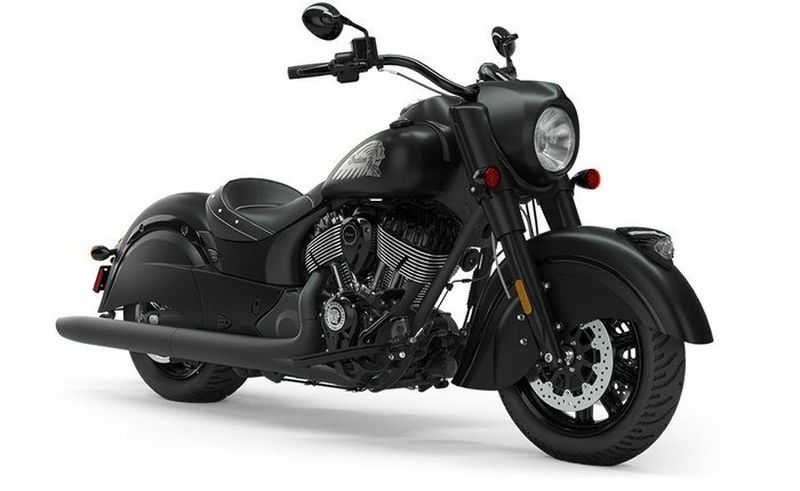 Image Source : auto.ndtvimg.com
Let us start with its design, the behemoth has a dimension of l2506, 1000, 1388 (mm): length, width, and height respectively. Warbonnet, vintage badge, and its design resemble the original Chieftain while powered windscreen and Quick Release backrest gives it a clear modernity. Fake petrol tank lid and a dummy pass light give it an attractive appearance. Apart from that, it has gone through a series of aesthetic technological changes to raise the bar for the rider's comfort.

With 25.6 inches (600 mm) seat height, the handlebar is wide enough and keeps your hands at neutral height. The seat is spacious to fit riders of any size. It has a typical laid-back seating position that resembles a small sofa. Due to the same traits, it goes smoothly into highways or tight city conditions and whenever required you can place your feet firmly on the ground. If you drive non-stop for several hours, you will not feel tired. It goes the same for the pillion. Footrests are not at the usual place as compared to other bikes, but once you are used to it, it's comfortable.
Soul and performance
With 1811 cc v-twin engine, it produces 73bhp of power at approx 5,000 rpm and 138.9nm of torque at 2900rpm. Now you know what is pulling this huge metal mass.
Revolution limiter comes into action only after 5500 rpm. The air-cooled engine is very efficient and that why it never hesitates to run on high gears and low speeds. Initial gears are quite tall which erases the need for fluent gear shifts in city roads.
Let us share our first ride experience. You can always use the second gear of our Dark Horse to crawl between streets and allow the dual exhausts to sing its glory. The sixth top gear is for highway drives and can pull the bike at as low as 70 km/h and hit the speed of 160 km/with ease. Try to reach the top speed of 200 km/h once you have a chance. There are no vibrations while increasing the speed, which gives you a comfortable cruising. With its sitting arrangement, you will not feel any difficulty while shifting gears or on road overtakes. Indian Chieftain Dark Horse has soft suspension settings and its heavyweight keeps it all settled on the road during undulation and crosswinds.

Indian motorcycles have been criticized in the past for its heat dissipation if the bike is running at low speed or stops. To cut that, the makers have included rear-cylinder deactivation with this model. When the engine reaches working temperature of 59 degrees, you will hear a slight voice modulation and its rear cylinder stops. Once you accelerate the bike, the cylinder comes back into action. The cylinder cuts off with a very subtle sound and there are chances you will miss it but still, you can check the same on front navigation dash as a notification.
Its 400 kg curb weight may feel a constraint on city roads, but if the highways are nearby, you got your companion. The petrol tank has a capacity of 20.8 liters. With a real-life fuel economy of 15 to 20 km/l, a full tank can you up to 300 km. In its side saddlebags, you can adjust up to 24 kg of weight.
Riding Modes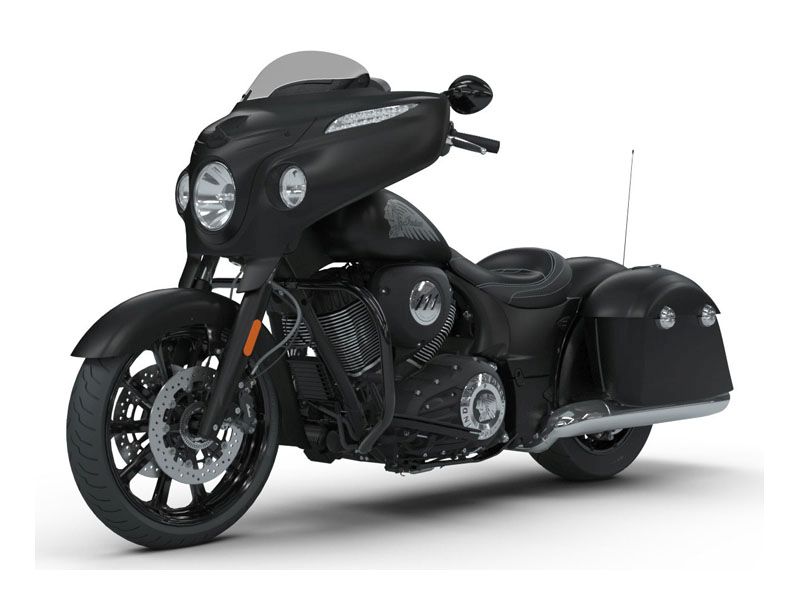 Image Source : cdp.azureedge.net
Indian Chieftain Dark Horse comes with a ride-by-wire throttle that gives you the option to choose from three driving modes – Standard, Tour, and Sports. Standard can be said the normal mode has good responses. With its soft throttle responses, Tour mode offers some extra buffer that can be used in case it's raining. Sports mode is a blunt one with exact throttle replies.
Electronics
With modern electronic features and advanced mechanical features, Dark Horse is a real motorcycle icon. The latest version of Chieftain comes with a 7-inch screen having zoom and two finger touch support. Bluetooth enabled music system, ABS equipped brakes and tire pressure monitor adds a great deal.
With all the information about the ride including navigation/ride data, the display has the controls for Bluetooth and 100 Watt stereo. The music player lies on the fairing and has the ability to play your favorite ones while you enjoy the ride on highways. Makes also provide additional speakers that you can attach with its saddlebags.

On both sides of the display, we have the odometer and speedometer that also displays gear position and engine oil life. Key less ignition/power button is also nearby, on the right.
Bottomline
If you want a smooth motorcycle with refined performance, quality features and which can be your style statement, Indian Chieftain Dark Horse is the right choice. It stands out in road presence and no other machine can garner more attention than this Indian Motorcycle cruiser, which is a rare thing to see on road. There are few others bikes like Harley Davidson street glide special that can offer better built, but lacks on power. The last thing to consider is the price of Dark Horse – if a budget more than 32 Lacs ($45,000), then you have to check this bagger. The roads will not be the same for you.