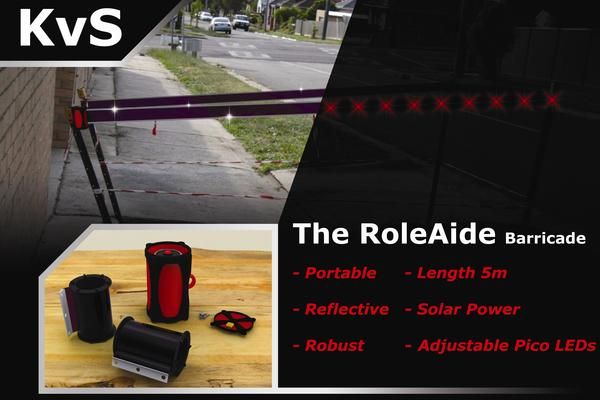 The necessity is the mother of invention.
We all have heard this quotation in our childhood. The RoleAide is another example of this. Now, while walking in the night when there is darkness all around rendering you unable to see anything, you will not have to worry about falling in a dig hole on the roadside. The RoleAide has been made keeping in mind the safety of people at such places where big holes are dug for construction and renovation.
The RoleAide is a barricade tape similar to conventional measurement tapes in looks. This flexible tape is made of organic solar cells that charge in the daylight. In the night, this energy powers picoleds that are located on the foil. Pressing the small function button lets you switch between pre-programmed sequences. The RoleAide's compact size makes it handy and easy to use. It has a powerful structure and can operate independently. During the day, its color and reflective borders make a good contrast with the surroundings. And at the night, the picoleds provide a better visibility. So it is visible in the dark from distances.
This product is embedded in a small box on the top of which there is a yellow lock. On the bottom, there is a small, yellow and round function button. The foil consists of organic solar cells, reflective borders, protection foil, picoleds and the necessary circuits. For a firm connection, the RoleAide is provided with a carabiner hook and cable ties. This tape is replaceable too. It is environmentally friendly as the protective rubber is normally made out of eco friendly silicone rubber. The other parts also are made of environment friendly products.
[Cheers Kenneth Van Steenberge]