Ross LoveGrove has come up with an interesting suspension lamp for the well-established Italian Brand Danese. The 100% Suspension Lamp specifically designed for Danese is an extension of 100% lamp design of Lovegrove. The design, exhibited at Milan design week 2011, is simple yet unique.
The body of the lamp is structured from aluminum sheet measuring 5mm in breadth. The most unusual fact about the design is that the circuit of the lamp has not been covered. Rather, it has been shown off as a part of the design. The suspended lamp, therefore, bears a printed circuit. The printed circuit, designed innovatively, bears a touch dimmer. The circuit is held at the center of the aluminum sheet. The lamp contains LEDs which are adjusted on the printed circuit. The lateral holes serve the function of modulating the light. The luminous intensity is further adjusted with the circuit appearing at the lower part again to stimulate the process with the touch dimmer.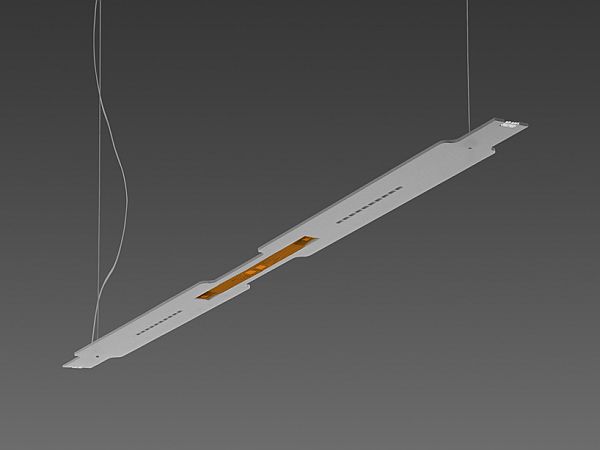 Remarkably, the product can be used alone or can be combined with other configurations at varied angles and used differently. Eco friendly element has also been incorporated in the simple design with the utilization of recycled aluminum. Flexibility marks the design with the presence of simple procedure undertaken and also easy to separate components. Additionally, the strip like luminary structure which implies negligible weight.
Via: Designboom