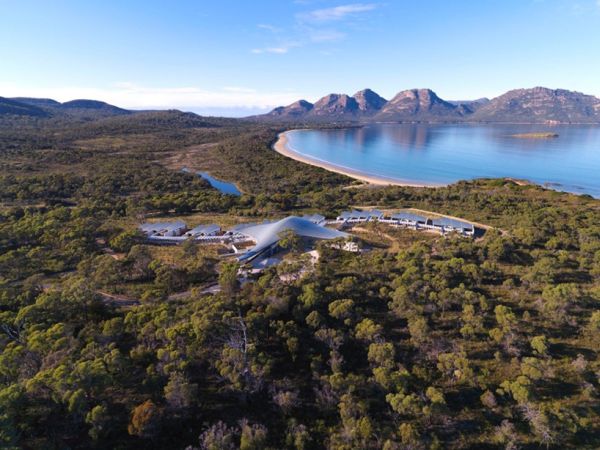 Circa Architecture has reinterpreted Nature of a Wasteland, and has created the sprawling, and beautiful Saffire Resort. The 20-suite resort is located in Oyster Bay in Tasmania, Australia. The aim of this project was to repair the terrain, as well as look at its beauty with a new vision. The resort's overall undulating structure, in terms of visual effect, is created to remind you of the waves and sand dunes. The resort consists of one main building and 20 surrounding private suites.

The main building houses the reception lobby, the restaurant and the lounge. The undulating roof of the main building has been built with Tasmanian wood. The structure of the main building virtually unfolds toward the surrounding bays and mountains. The entire resort has been created in a way that it harmonizes with the nature that surrounds it, including the sea, which is located nearby.
From the very social space of the main building, the resort's structure moves toward the private realm of the individual suites. There are a total of 20 such suites or private "huts," which in a way branch out of the main building. They have been designed to allow loads of natural light and also to ensure privacy. One can also enjoy a relaxing time in the reflection pool. The entire resort exists in an organic relationship with the terrain and enhances and highlights the beauty of the surrounding place.
Via: Designboom