Everybody is fond of large monitors, especially individuals working on Photoshop and people playing high definition games. There are professionals who need two or even three monitors at the same time to manage servers and network.
Whether it is a big screen or multi-screen, it will obviously take the space on your working table, because wall mounting a computer monitor is not a practical option. Well, the solution is almost here. Samsung introduced some desk space saving display solutions recently. Read on to know the details.

At CES 2019, the Korean tech giant revealed a new set of computer monitors featuring minimalist and modern designs. First is UR59C- a 32-inch monitor, second is CRG9 that is an ultra wide gaming monitor. Last and the most interesting is one is Space Monitor, which tries to take minimal space on your working table and brilliantly succeeds in doing the same.
CRG9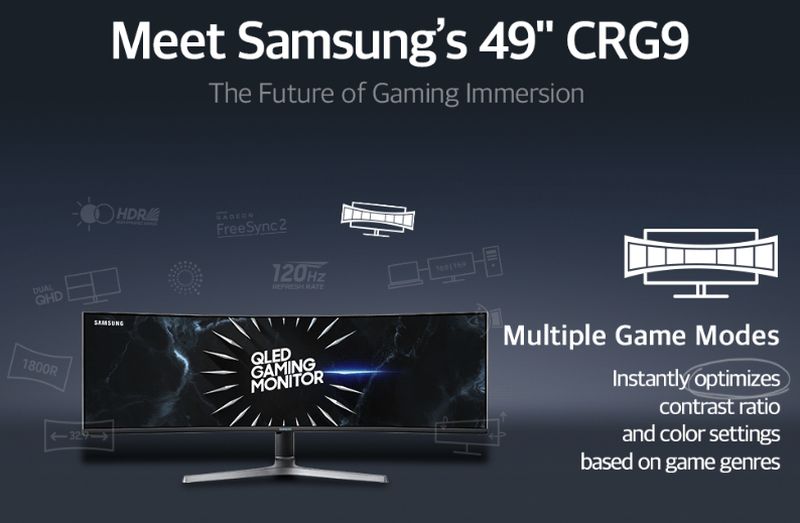 Another monitor in the line of advanced displays designed for multiple uses is CRG9, which has a screen span of 49 inches. Advertised as a gaming monitor, its maximum resolution is 5120 × 1440 (Dual QHD), 1,800mm screen curvature and aspect ratio of 32:9. This HDR enabled monitor gives you a refresh rate of 1,000 units and a quick response time of 4 milliseconds. With such specifications, the monitor delivers outstanding local dimming and spectacular viewing experience that is not available in any other monitor. To save the table's space, the compact monitor comes with a small stand.

Like UR59C, CRG9 has also the PBP feature where you can connect two video inputs. CRG9 packs USB 3.0, Display Port, HDMI port and connectivity for headphones. To minimize screen tearing, input latency, and stutter, it comes with support for AMD Radeon FreeSync 2 HDR.  Samsung's Quantum Dot technology is also embedded in the monitor to produce high colors. Samsung proudly states that this monitor is equivalent to two 27-inch QHD 16:9 monitors placed side by side. The Korean tech giant also added that the monitor will be able to play any games without any delay or lag.
Pricing and launch date for CRG9 is unavailable right now. We will update you about the information once we have it.
Space Monitors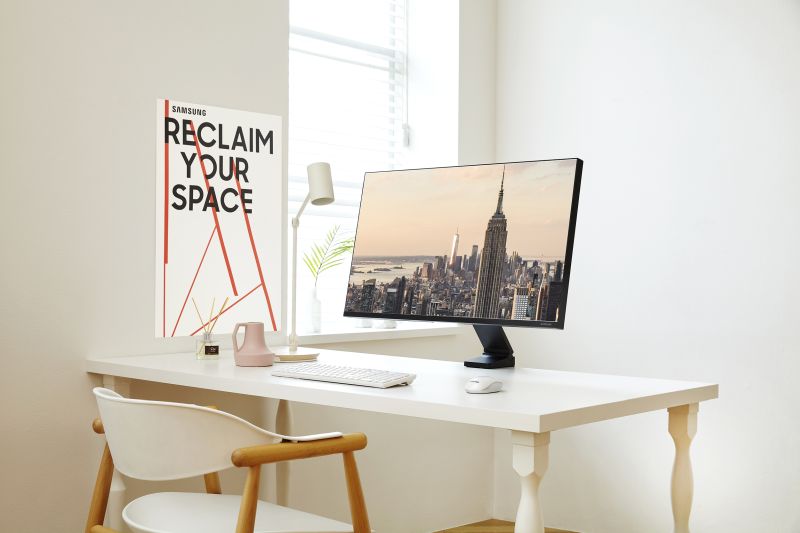 Let us start with the interesting Space Monitor. At first, the name might sound like the monitors are created for any computer works in space or satellites. But, this is not the case. The is called so because this model saves physical space on your work table. One look on the unusually designed monitor and we knew that it will change the way we work on computers.

Unlike most of the monitors that come with a round or square base that sits on the desktop table, Samsung's space-saving monitor just clamp on the edge of the table using a movable arm without taking much space. Cables always create a mess on and around the working table, but not with this model. Its arms will also hide its cables.
Despite the innovative design,Space Monitor is affordable. Price for the 27-inch monitor is $399 while the 32 inches will be available at $499. Both the versions will be available 23rd February onward. Monitors will be shipped in two sizes – 27 inches with QHD resolution and 32 inches that will have 4K UHD.
We stated earlier that the minimalist gadget clamps to the edge of or surface of the desk using a movable arm. As the arm is movable, it also has several other functions apart from just holding the monitor. With Samsung's Zero Height Adjustable Stand feature in the arm you can pull the monitor, tilt the monitor, even pull it forward enough to lower the screen along the desk's surface. Once placed along the desk, it will look like an attention seeking touchscreen monitor.
Once you are done with all the works, including pulling and tilting, a simple push will move it flat again. Samsung representatives suggest to place the monitor in front of a wall, however, that is not necessary. Perfect for individuals who love to have a clean working space or some IT engineer working on two or three monitors at the same time.
You cannot get all of it…

The only problem with the Space Monitor – you cannot reposition it as on the desk. Once you clamp it with the desk, it is fixed. You have to sit just in front of the monitor as it lacks the swivel ability as well. The screen also wobbles with the movement of the arm. So, we will say that the design is not perfect.Another feature that is common in modern monitors is the availability of a USB port to plug in mice, keyboard or any other USB enabled device, but the port lacks in the model. The USB-C port is also absent. We can wait and watch for Samsung to add some more features and stability in the next version.
UR59C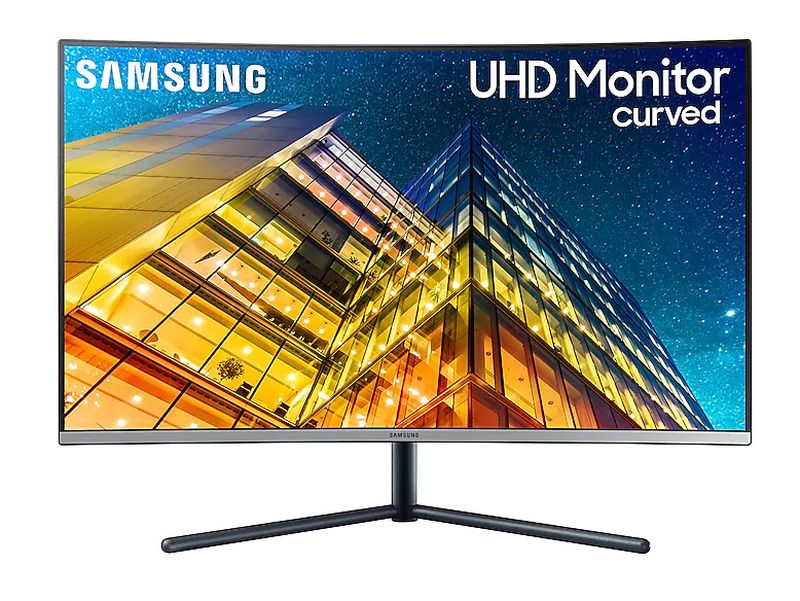 Next is UR59C, which is a "Korean" present to content creators who look for performance and versatility. The 32-inch monitor has UHD curved display with full 3840×2160 4K resolution to support up to one billion colors and a contrast ratio support of 2,500:1. Samsung states that its 1500R curvature offers "a truly immersive experience that shines while creating content and art, watching videos or gaming."With a sleek and slim design, UR59C is compactly made to save some space on your workstation.  The display is attached to a simple two-prong base that reduces its footprint. Its design is one step ahead of the regular monitors, but do not expect anything similar to the Space Monitors.

Designed for both work and leisure, UR59C offers Picture-by-Picture (PBP), wherein you can connect two different inputs with the monitor and view them simultaneously side by side on the screen at their native resolution. With Easy Settings Box, you can change the configuration of PBP, make it faster, change the layouts and size. The monitor will be available from April 2019 at a price of $499, 99. It will be available in two colors – dark blue and gray.