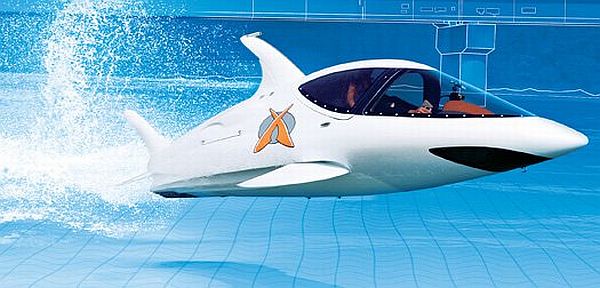 The Seabreacher X is the ultimate watercraft that can not only work as a submarine and a speedboat but also as a seaplane, albeit it stays in flight for a few seconds only. The ingenious creation, powered by a 1500cc engine which helps the 17 feet dolphin-like vessel, reaches the speed of 50 mph on the surface of water as well as launches 18 feet into the air from smooth underwater sailing position.
The seat, pneumatically sealed watertight cockpit, is flanked by six fins with a single jet controlling propulsion and steering. Two foot pedals in the cockpit allow drivers to manipulate the fins and control the jet stream created by the 260 hp gas engine that gets its oxygen via an air intake at the dorsal fin when it's underwater.
Inside the cockpit, the Innespace Seabreacher comes fitted with an iPod-compatible media system, a GPS and an LCD screen that beams live feed via a camera mounted on the dorsal fin. This thus acts like a digital periscope. At $81,000, the Innespace Seabreacher X may seem a bit on the costly side but then again it's probably worth every penny!
Man has found inspiration for his creation from nature and is an effort to understand our world better. We have constantly sought perspectives that are known only to creatures that are unlike us. We've created aircrafts to simulate the sensation of flight. We have created submarines to simulate what marine creatures get to see underwater. But, no body has ever tried to understand the delight that a dolphin must feel when it leaps up in the air and dives back again. And that's the sensation this fab new watercraft seeks to get you.
Via: Finding Out About