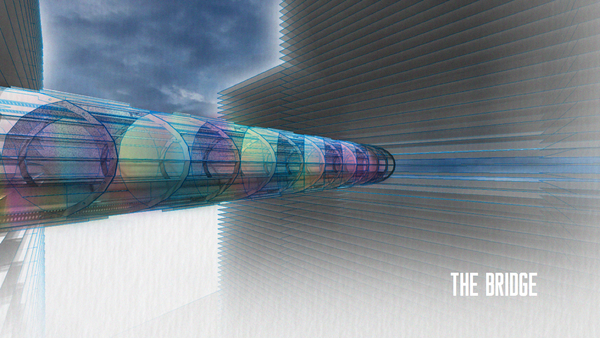 In a world increasingly at a loss for space in the cities, upgrading infrastructure for public amenities is a real headache. The challenge lies not only in the fact that any new construction in public spaces has to not only take up less space on the ground, but also has to fit it aesthetically in the natural urban landscape without becoming an eyesore. This particular design submitted by Carlos Silva responds to that particular need via a self-sufficient sustainable design.
Created for the Building to Building Pedestrian Bridge Community Challenge at DesignByMany, the concept was required to follow a modular design that could be assembled quickly (as in prefab) and could connect two existing structures in a cityscape. The design was also required to be adaptable to all kinds of building structures found in any city and was also required to maximize natural day light.
This pedestrian bridge concept called TSB: The Spinnin Bridge, draws on the requirements and uses the shape of a circle as its starting point. The module that forms the basis of the construction expresses itself through spirals that allows the movement of the exterior surface of the bridge to create energy using the flow of wind around it.
Since the bridge is created to interact with its natural environment and draw from the natural resources, it ultimately serves not only the primary function of being a suspended pathway between two existing structures, but also becomes a source of sustainable energy though its interaction with the wind, day light and the climate around it.
The main frame of the bridge is made out of lightweight aluminum and is designed to provide optimum ventilation that lets it adapt to its interior climate via the movement of the wind outside. The wind also provides resistance to the spoilers set up along the bridge and helps the structure generate power with the motion of the counterweights planted on the edges of the spinning surface.
The bridge is to have four transparent spirals overall with two of them fashioned out of Plexiglas with a litmus film covering that would allow it to modify the interior lighting by manipulating the impact of sunlight. The remaining two spirals would be made out of translucent Plexiglas with a film finish that would change color and allow it to react to outside temperature.
Via: Design by Many