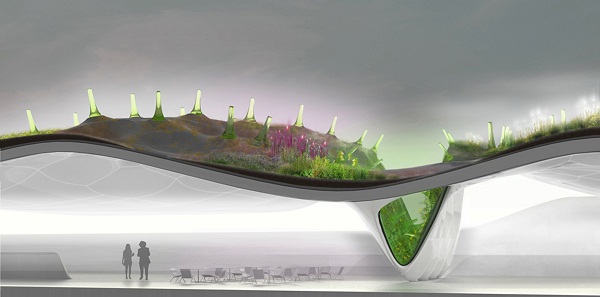 SERVO has come up with a very interesting proposal for a 4,000 square meter Bioscience Innovation Center. This center will be located in Albano region of Stockholm. Dubbed as Hydrophile, the center will flaunt a hydrodynamic vegetated roof that will have a depth and will make the plants and other vegetation to be covered or submerged in water. The shell of the Namib desert beetle consists of hydrophilic (love of water) and hydrophobic (fear of water) regions which play their characteristic roles in collecting and directing the flow of water. This principle has been adopted in the architecture and design of the green roof.
The Hydrophile will help in the cultivation of biotopes through a diversified roofscape which has systems to percolate water, i.e. cause the water to pass through its porous soil surface. The roofscape has several protruding and bulging surfaces which direct the flow of water for the irrigation of organic matter.
The highlights of the Hydrophlie structure and its plants are the thickness, design of its surface and the layout of its roof. The roof is designed in such a way that the water can be directed towards certain areas of depression where it gets stored to support wet meadows and fens. And its surface has varying degrees of thickness to support a variety of vegetation species.
The special thing about the design of this model is the fact that one can have a broad, overall view of the roofscape from several different points. While on the roof one can enjoy a walk through a dense landscape of varied vegetation surrounded by prominent structures that emit water, air or light. This building has a suspended ceiling that comes down quite close to the floor and that gives you an amazing view from below. Then you have an inside view of the auditorium and laboratory, which have been designed for the cultivation of vegetation in specialized and controlled climatic conditions.
Via: SuckerPUNCH