In a bid to revolutionize offshore gas production, giants of oil and gas industry are vying to produce advanced vessels. Finally, Shell has come up with their project of building the largest floating gas refinery, Prelude, at a whopping 10 billion dollars. Floating gas refineries have several advantages regarding security measures, operations and the overall cost of gas production. Floating gas refineries offer easier liquefaction process of natural gas and thus every oil majors are looking for the floating LNG (Liquefied Natural Gas) or FLNG.

This largest floating gas refinery will be 448 meters long weighing 260,000 tons. When filled with natural gas, it will weigh 600,000 tons. The length of the vessel will be almost similar to that of four football grounds and its weight will be almost to that of six aircrafts.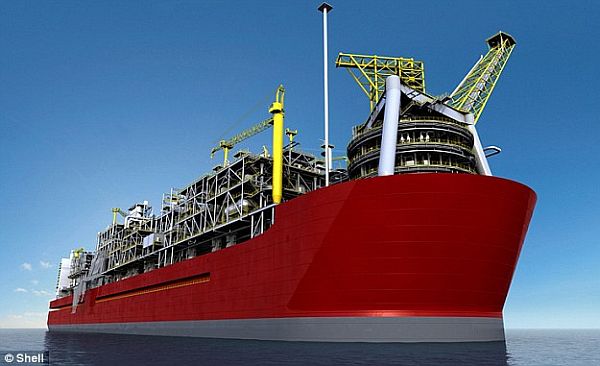 Gas from the sea bed will be raised in different platforms and will be liquefied in the ship in a cooling temperature of about 162C, reducing the volume of gas of about 600 times. This will prevent the cost of building inland pipeline networks and the gas can be shipped easily through tankers at any corner of the globe. Moreover, this type of gas extraction will leave less carbon footprints in the environment. Due to reduced extraction cost, this FLNG vessel will be able to meet the ever rising energy demand of the world supplying much cleaner and greener fuel.
Few hurdles like liquefying the gas at such a low temperature at sea and transferring the LNG to other vessels in choppy weather conditions need to be overcome successfully.
The building of this ship is assigned to a Korean Shipyard, which is due to complete the construction by 2017. The ship is estimated to produce gas equivalent to 110,000 barrels of oil per day incessantly from the Prelude gas field for 25 years.
Source: dailymail