Did you know that you do more than half your daily consumption of water in the toilet? Strange but true. Therefore, if you want to conserve water in your day to day life, choosing an eco-friendly designer toilet might be the best option for you. These might seem like a huge investment at once, however, once you consider the amount of fresh water you'll be saving, it is totally worth it. This Sink/Toilet combo is one of the best among such toilets.  Apart from it, we have also mentioned some other creative eco-friendly designer toilets.
Sink/Toilet Combo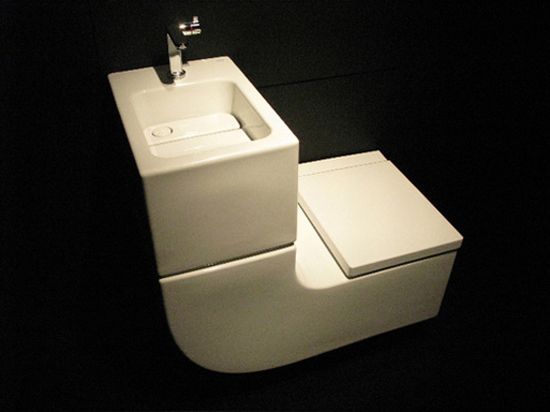 Shortage of water has been one of the major problems hampering urban development around the world. Displayed at the London Design Festival, the Sink/Toilet Combo by Roca is an all-inclusive water recycling system that not only reprocesses the used water to flush your toilet but also makes a neat and sleek bathroom accessory at your place. Employing Roca's "water-reuse technology," together with an automatic cleaning system to avoid flushing bacteria and obnoxious odors, the all-in-one system is suitable for small apartments, which helps the users reduce their water consumption by up to 25 percent. Integrating an efficient self-contained gray-water system, the W + W (washbasin + watercloset) system efficiently embrace waste-water management and draws the users toward a sustainable lifestyle without compromising on the décor and style of their place.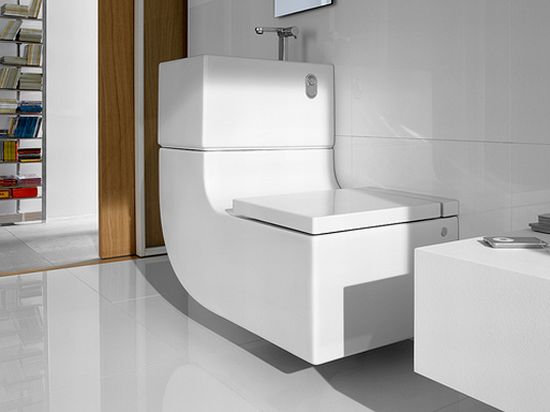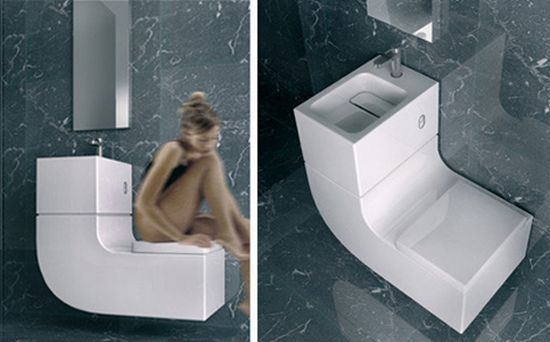 Some Other Innovative Toilets Similar to Sink/Toilet
1. Numi: The smart toilet from Kohler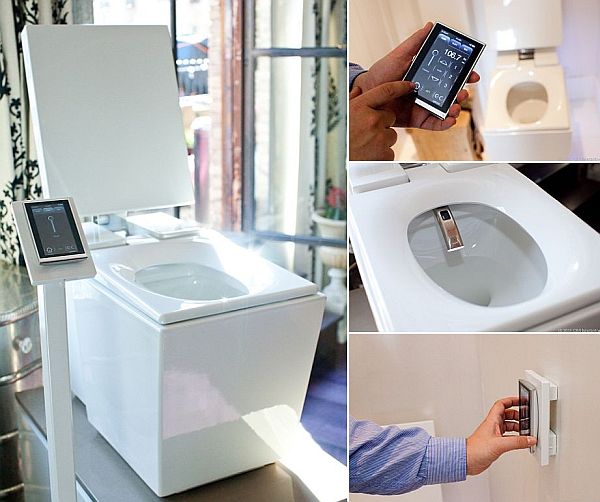 In the era of Smartphones and tablet PCs, even living space technologies are undergoing a change. So it is not a surprise then to hear about a smart toilet system. For most, bathroom is not a place for technical innovation. One would least expect any kind of technological innovation in the closet, but one company thought otherwise and brought in a pioneering system – the Numi.
The Numi is Kohler's high tech toilet system. Kohler has been synonymous with innovations in the bathroom and this product is no different. The Numi has so many things that it will blow your mind away. It comes with a remote control. The controls are displayed in tablet with capacitive touch technology. So if you want to flush, you can touch the ''flush'' icon on the tablet display, and pronto the closet flushes!
If you still want to use the controls on the toilet, there are additional controls at the back of it. You can even configure the Numi to your likings. The Numi has an automatically opening lid, which can be configured as well. The seat is also non-rigid. For those who like it to be a little higher, the Numi can accommodate that height by bringing itself to that height. Woo! What a toilet!
The Numi can clean itself. You can set it to clean itself at specific times. Water and UV light can be used for this purpose. The Numi also has ports for music players. You can also listen to FM radio from the Numi!
2. Robotic toilet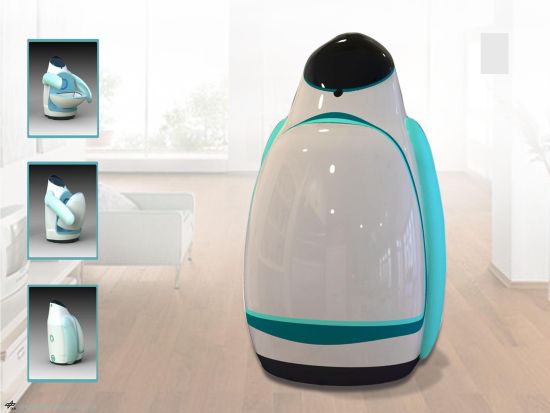 We've read and learnt about all the amazing developments in robotics that help paraplegics, physically disabled or people in poor health regain their independence and live a dignified life. However this particular concept goes beyond expectations to maintain privacy and personal dignity of the infirm. Dubbed as 'Nature's Call' the concept is a mobile robotic toilet especially designed for bed ridden patients.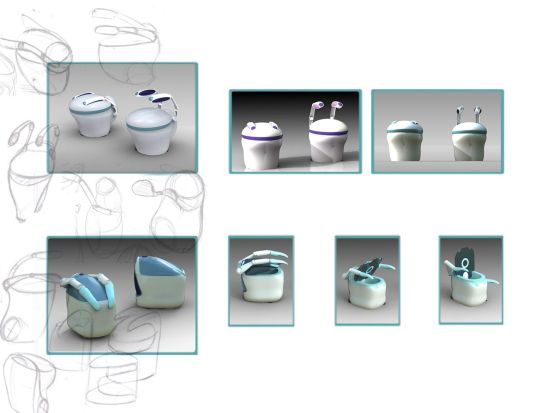 The interactive device approaches the sick person's bed upon request. Once used the device automatically rolls back to the station to clean itself. It ensures personal hygiene using a bidet and hair dryer function while at the same time maintaining privacy.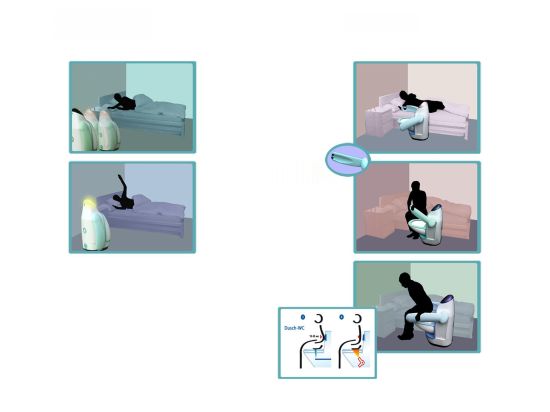 Developed as part of a study project on Ambient Assistan Living, the robot finds great use in geriatric care, retirement home, home care service and rehabilitation clinic calls.
Via: JamesDysonAwards
3.  Flo Toilet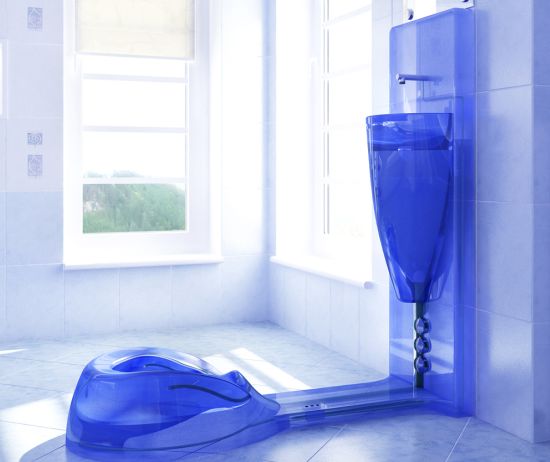 A team of ASU College of Design students, led by faculty members John Takamura and Dosun Shin, hopes to change the toilet archetype with their "Go With the Flo" design by the year 2030. The unusual trans-generational toilet design concept grabbed the "Breaking the Rules Silver Award" at the Northwest Design Invitational. The toilet concept met five "outstanding design" criteria – appropriate aesthetics, design innovation, ecological responsibility and market and user benefits. The ergonomic Flo toilet is a sustainable design concept for baby boomers, which functions like a squat toilet. The usage of the toilet, in a way, is very similar to yoga. It helps build and strengthen abdominal and back muscles. Flushing requires just one-half to one gallon of water. The Flo features an electromagnetic ball valve that flushes water from the tanks to the toilet. The Go With the Flo toilet is independent of electric power and doesn't feature any mechanical parts.
4. Toilet 2.0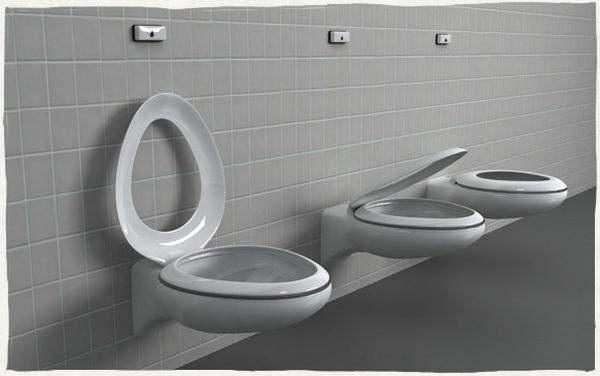 No matter how much we ignore, toilets do play a very important part in our lives. The amazing role of a toilet must be appreciated and not concealed. Today, we cover our toilets in beautiful bathrooms, but the basic function of these toilets remain the same. You will be surprised to know that a considerable period of our lifetime is spent in the toilets. Also, the toilets are the most water-consuming activities. Therefore, if you are considering to remodel your toilets, please have a look at the new Toilet 2.0 by David Hakkens.
Toilet 2.0 is an innovative lavatory that is not attached to the bathroom floor. It has a stylish new design to suit the decor of your restroom. Its shallow and wide bowl offers an easy maintenance and a modern look. It is made of a material called Corian that has been created by DuPont. Corian makes the Toilet 2.0 lighter, stronger and thinner as compared to the traditional porcelain toilets.
The Design
The designer has paid special attention to the cleanliness of the toilet. Toilet 2.0 features a special flushing technology. It has eight special cleaning points that release high-pressure water, which makes cleaning easy and complete. Thus, Toilet 2.0 does not require a traditional brush for cleaning. The high-pressure flush is enough to keep it perfectly neat. Not only this, Toilet 2.0 also sports an in-built air freshener that always keeps your toilet smelling good. Now, you don't have to worry about keeping an air freshener in your bathroom and you can enjoy a neat and fresh toilet every time.
The designer has also taken care to avoid wastage of water and, therefore, he has also designed a flushing system that can clean the inner pipes of the toilet by using the grey water from the wash basins and dishwashers. We really have to appreciate the new design of Toilet 2.0, which pays such special attention to the sanitation that is the most important thing for a toilet.
Although the features of the Toilet 2.0 are very attractive, we will not be able to find this in the market anytime soon. For now, it is only in a design a form.
Via: Gizmodo