Gone are the days when keeping track of time was a wearisome task for blind people. With the invention of a range of creative wrist watches, 'feeling' the time has become much easier these days. Here are six best Braille watches that would be immensely helpful for visually impaired: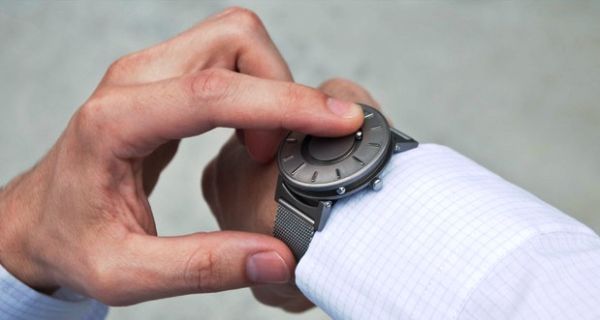 Seiko Women's SWL001 Braille Black Leather Strap Watch
This highly functional wrist watch has long been considered as the 'perfect Braille watch'. Instead of being small and simple, Seiko Women's SWL001 Braille Black Leather Strap Watch has a classy look with a number of accessibilities. There are raised dots within the glass-made outer cover, which can be felt easily by the users. Moreover, the hands of the watch can be separated without any effort, which is a great feature for the beginners.
Wenger TerraGraph Braille Watch
When it comes to the most accurate Braille watch that would not get damaged even after a long use, we have to include the Wenger TerraGraph Braille Watch in the list. Being strong, robust and durable, it will undoubtedly offer an awesome experience. It comes in an easy-to-open glass holder made of transparent mineral crystals. The dots or Braille markings present inside the glass case are tinted and raised to give a easy 'feel' of time. Armored watch hands and Swiss quartz movement are two other amazing aspects of the Wenger TerraGraph Watch.
Seiko Men's S23159 Braille Strap Watch
If you are a Seiko fan, this simple yet sturdy wrist watch would certainly grab your attention. The best thing about the Seiko Men's S23159 Braille Strap Watch is that it is exceptionally accurate in time. The elegant finish of the accessory makes it truly gorgeous. The outer case of the wrist watch is made of Hardlex crystal and once it is opened, the inner raised dots become easy to feel.
Atomic Talking Watch
The look of the Atomic Talking Watch might not be that impressive, but its features and facilities will certainly make you clean bold. As the watch is set to atomic time, you can always expect correct timings from it. Furthermore, you are informed about the time and date by a male voice once you push a particular button. Those who need a convenient and hassle-free Braille watch should opt for it without any hesitation.
Reizen Talking Atomic Watch
Here is another outstanding Braille Watch that comes with an audio cassette tape or printed instructions. Reizen Talking Atomic Watch is capable of setting or adjusting its time according to the daylight savings time and all these are done automatically. When you push the specific button on the watch, a male voice dictates the date, time, current day and the status of the alarm.
Avalon EZC Unisex Voice Series Low Vision Talking Watch
Avalon EZC Unisex Voice Series Low Vision Talking Watch is not able to set its time without human intervention. As the name suggests, it offers the instructions for setting the time as well as the alarm in both male and female voices. Like all other popular Braille watches, it also has a specific button to know about the date, time and ongoing year.