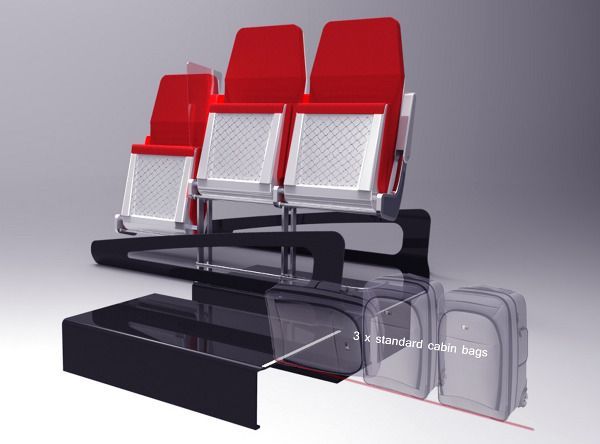 While traveling by an airplane, the biggest drawback is the space to store luggage near our seats. Overhead cabins are a good option, but for a plane of 149 passengers only 114 slots are available to place full-sized bags. To overcome all such troubles, Michelle Murphy has designed the Skylane seating system for short haul flights.
The concept will require eliminating the overhead bins to create additional space at the bottom of each seat. The seats will be raised a few inches above the ground to give birth to a much useful area. This will ensure that passengers get a place to keep bags right below their seat. The chair will be slim in nature but the edges will be enhanced with the help of slightly lifted upholstery. To provide extra legroom, the luggage wall can be opened. The wall's slight angle will make sure that passengers don't insert their feet in the luggage area.
The baggage placement areas will be distinguished with presence of rubber strips. Such a construction will make sure that the suitcases don't fall or move. Before the flight takes off, automatic flaps will shut, keeping all damages at bay. Cabin weight will be reduced with the usage of carbon fiber for seats and elevated flooring. Skylane seating system is a revolution in itself and vows to make short haul flights much more convenient.
[Thanks Michelle]