The popular mainstream designs of buildings show the direction in which modern-day architecture is heading. If what we see in exhibitions and expos is what we would get in the future, then the world is heading in an extremely positive direction. According to these concepts, the buildings of the future would not just be highly functional and aesthetically pleasing. In addition, they would be eco-friendly as well. There's nothing that proves this point than the designs of sliding house and other buildings mentioned in the article.
Read More: 5 – Futuristic home design concepts
Sliding house concept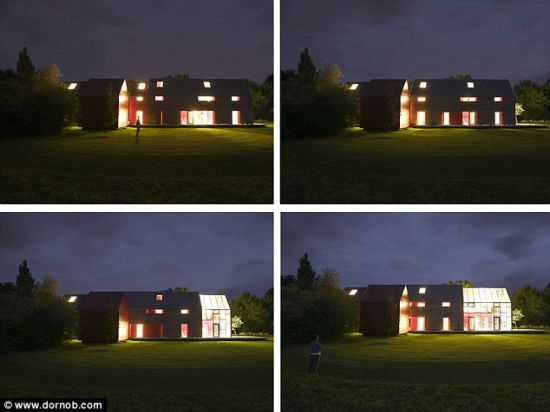 One push of a button and the Suffolk home starts to change shape. Ross Russell, with his friend Alex de Rijke, spent a year designing and building his moving house. It just takes six minutes for the steel and wooden shell that covers the building to slide forward as a canopy, pull back to cover the annex and yard or stop halfway, covering the bathroom and revealing the conservatory.
The 22-ton mobile shell can be moved to offer shelter and sun in different parts of the house. Thanks to the four electric motors powered by standard car batteries. The door openings are spaced to ensure safe exits in case the mechanism jams. The red timber cladding insulates the building in winter. Mr. Russell says…
In the winter we will have the roof pulled over to keep up warm. But on a summer evening it is a magical experience to be able to pull the roof back and sit in the sunshine.
Alex de Rijke, an old school friend of Russel and now an architect, says…
It is about the ability to vary the overall building composition and character according to season, weather, or a remote-controlled desire to delight.
Picturesque views from the sliding house change as the shell moves its position. Check out some more images and video of the sliding house after the jump.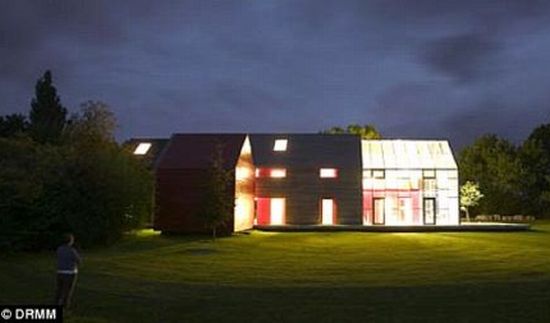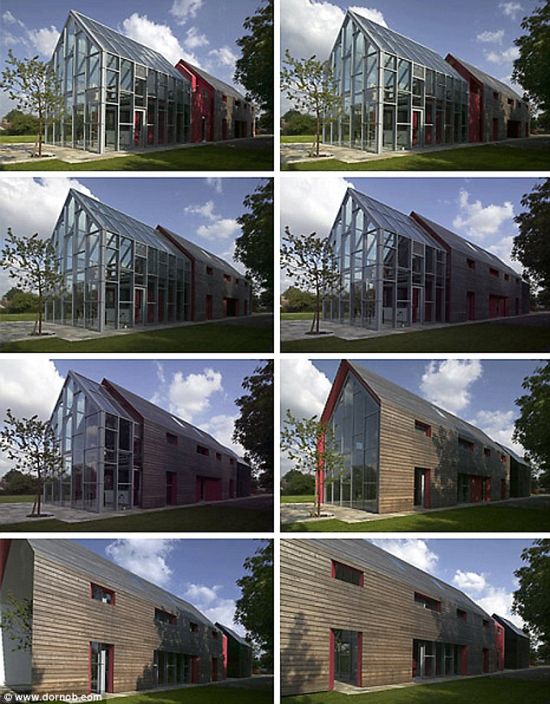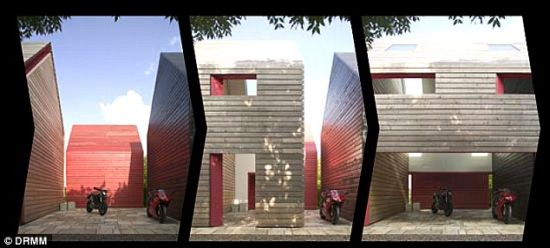 Some more innovative house concepts like Sliding Houses
1. Futuristic Floating Houses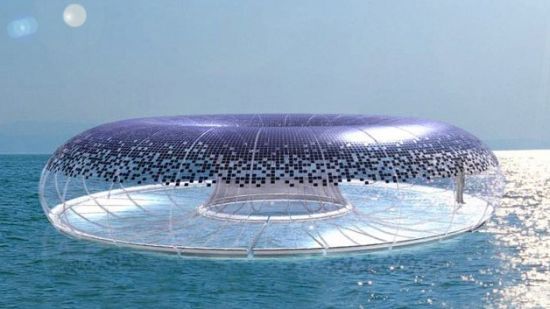 Inspired by the potential of the energy independence created by solar power, the Floating Houses project created by SolarLab conceptualizes a free-floating habitat that can potentially extend the boundaries of existing living spaces. Thanks to an ambitious integrated solar power supply, integrated water purification, and waste treatment systems, the Floating Houses seek to be fully autonomous and sustainable habitats that can offer unprecedented variety in terms of living spaces to citizens of the future.
For the time being, the project is focused mainly on developing a truly practical and sustainable floating abode. For the Institute of Water and Ecology that will be based on Lake Constance in Germany. It will also house an exhibition highlighting the sensitivity of water ecosystems. Furthermore, the prospects of using solar energy in many more radical housing and public endeavors in the near future.
2. Egg Capsule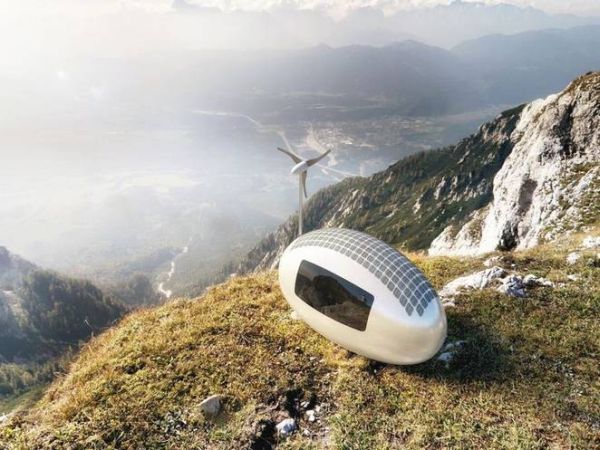 The unique shape of this capsule makes it attractive and different from other capsule homes. This tiny off-grid living pod enables you to live comfortably in any situation. Egg capsule comes equipped with bed, bathroom, shower, flushing, toilet, and a kitchen to let you enjoy all home comforts in any corner of the world.
The capsule does not require any electricity, as it uses solar energy. Built-in turbines and battery backup makes it a sustainable retreat. Egg Capsule is easy to tow and ship from one place to the other.
3. Tricycle capsule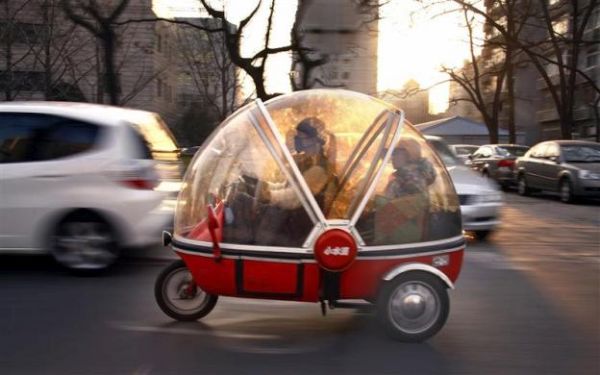 Like other capsules, this capsule attaches to a tricycle to help you move it from one place to another with ease. Apart from being lightweight, Tricycle capsule comes integrated with several essential things that are important for survival in harsh conditions.
4. Nano eco capsule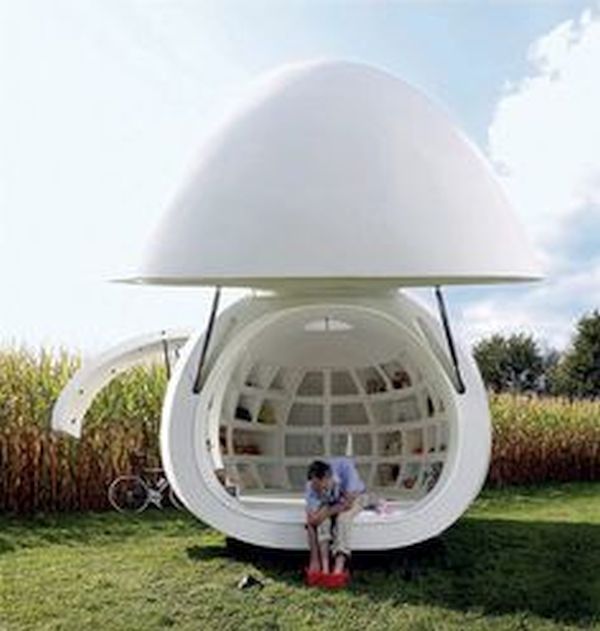 The small and sleek design of this nano eco capsule makes it different from other capsules. Considered one of the best capsules for its capability to reduce environment pollution, the nano capsule enables users to enjoy complete off-grid life in any part of the world. The small house provides adequate space and supplies for a couple, where they can survive for up to one year with ease.
Displaying the extreme of technology and science, each corner of the capsule is connected to batteries and turbines. These store solar energy to convert it into electricity. Nano eco capsule not only reduces the use of natural resources but also help you lead a meaningful life without harming the environment.
5. Polar capsule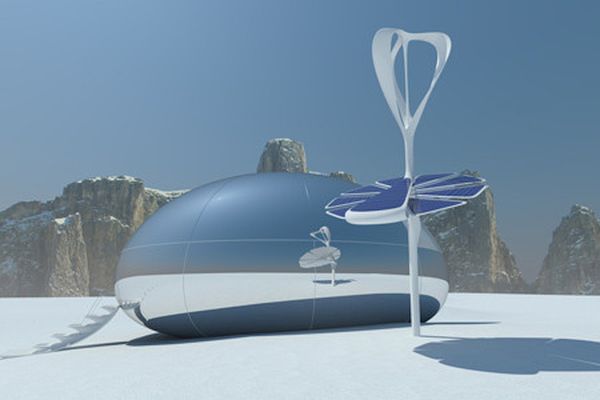 Polar capsule is beneficial for freezing areas so that people can survive there without any problem. The capsule comes built-in with bathroom, kitchen, and bed as well. The solar heating system enables people to stay comfortably inside even in areas with low temperature.
6. Redfern's stylish cluster houses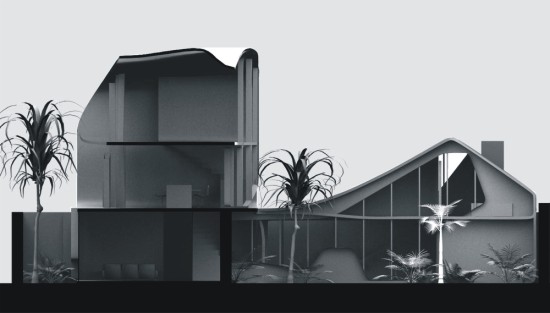 We all know that creating affordable housing solutions for clement locations is hard but creating them for extreme temperatures is even more difficult. Sydney EnterArchitecture aims at solving that problem through their stylish houses. The concept was created with the Sydney suburb of Redfern in mind and takes its inspiration from the 19th century archetypical cottages.
This prototype focuses on many things like, increasing the airflow and expelling the excessive heat that comes from the suns rays via an air layer. Materials like plywood and metal are planned to be used for the construction of the cluster housing. Overall, this archetype seems to be high on aesthetics and benefits, making this a practical design solution. Future plans also include similar designs in West Australia and UAE, while the construction at Redfern might commence by late November.
7. Invisible houses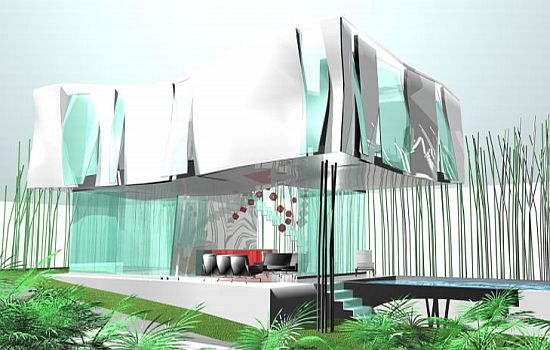 Welcome to the future! I could put the head as the 'Invisible House' but for the fact that the house pictured above isn't completely invisible or is rather visible differently from different angles I had to satiate my self with what I jotted above. Its architecture is such that it is designed to disappear. Kudos, to the carbon fibre usage which made this a possibility for the Australian firm, Enter Architects who did all this for a client from Sydney (and his name is the hollow man ha ha …). Jokes apart, the firm was assigned with a responsibility of designing a house that would hide down a laneway.
Deflected walls give this house an appearance that it is never in complete view and gives a different view each time viewed from a different angle. Building this house though was never an easy task for the material used wasn't commonly available and thus had to be borrowed from Formula 1 and Aerospace Industries. All that is awaited is its construction!
8. iT house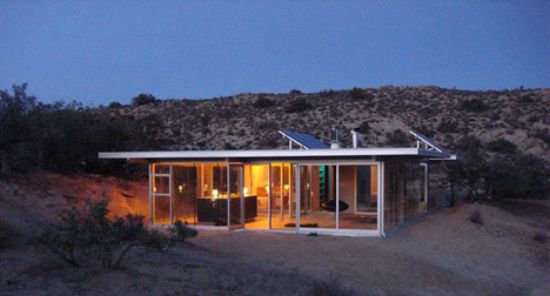 Taalman Koch has designed this very environment-friendly house that completely sustains itself in the desert environment. The house is basically built up of aluminum frames that Bosch uses for its assembly line robots. The structure itself is designed to be built by just two adults. The roof contains eight solar panels from Evergreen which provide this home with electricity.
The House also has it's own septic tank and a 2500 gallon domestic water tank. The home, just like sliding house, uses plenty of glass. It makes sure that there is adequate sunlight most of the day. Furthermore, it eliminates the usage of electricity. With all this, the iT house is a good looking ultra-efficient home which can sustain itself naturally, even in the middle of the desert.