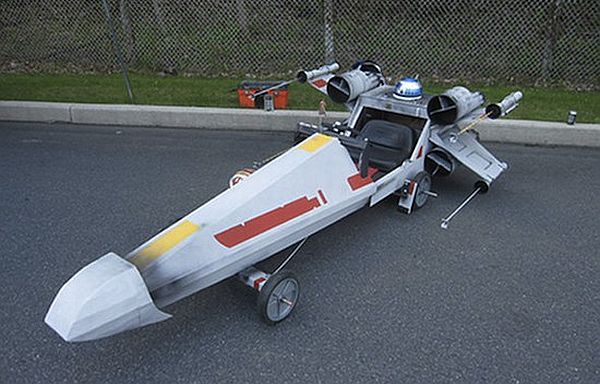 The Soapbox Derby has always been recognized as a premier event among various soapbox car racing programs in the US. And since 1934, this derby has been known for its strict regulations regarding the allowance of only un-powered cars, which are to be solely reliant on their state of gravity. Now, in the present scenario, despite that lack of 'motor' power, things are still about get that wondrous taste of an original sci-fi vibe, with the fantastically conceived T-65 X-wing fighter soapbox car.
Designed by one Papier Boy, the ingenious conception doesn't only look like those ubiquitous all-purpose starfighter of the Rebel Alliance, but it also includes the R2-D2 (those who are not getting this lingo, please refer to the Star Wars). And what's more; the Styrofoam R2-D2 can actually rotate its head, with its mechanism being controlled by a re-wired NES controller. The 'righteous' obsession with R2-D2 even continues on further with an iPod containing the droid's sound effects; and it is supposed to blare aloud as the vehicle crosses the finish line.
Built for the 2011 Nazareth Adult Soapbox Derby, now comes the part about this adroit tribute that will make us jump out of our seats – the whole conception along with its paraphernalia just cost around $75 (without the iPod). All we could say is 'may the force be with it' during the race. As for further detailed info about the construction process, check out this Instructables page.
Source: Dvice