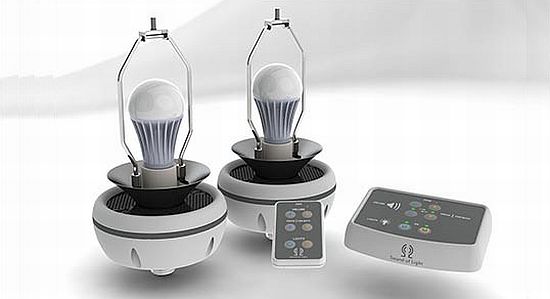 Sound of Light is a lightspeaker, which will offer both sound and light simultaneously. The product combines lighting with sound, which will travel wirelessly to the device from audio systems such as MP3 players, smartphones or tablets. The Sound of Light lightspeaker has been gaining attention thanks to the product's multi-usages and aesthetic beauty.

The lightspeaker sports a Texas Instruments 2.4 GHz Purepath Digital Signal Transmitter, which helps establish wireless connection between the device and the music systems. The product can be placed within a range of 300 feet from musical devices. The device comes up with two power options; 100V or 240V for the lamp on it.
It will accept standard bulbs and can be hooked on any light socket in your house. A multifunctional remote control will help users regulate the light and sound of the lightspeaker. The device highlights a 25 Watt Texas Instruments Purepath Class D amplifier to magnify the sound. It can operate up to four speaker lights.
The Sound of Light lightspeaker, which is compatible with Apple iPhone, is expected to hit stores in June this year. The system, which contains one lamp speaker, transmitter and remote control, will carry a price tag of $299. Additional lamp speakers will charge at $129, the company says.
Via: Gizmag