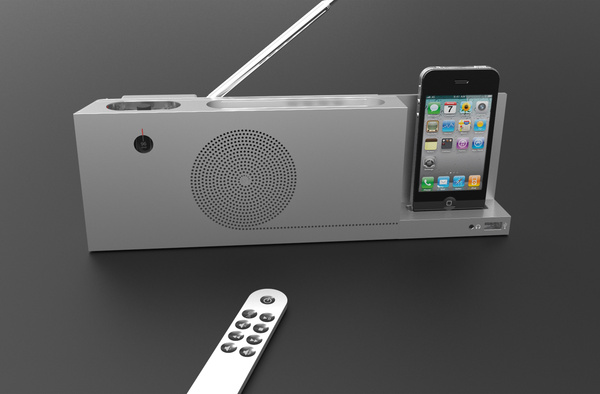 The tech tables are slowly turning back to the boom box era and the trend of playing music loud (as compared to the headphones) is making a long due comeback. The gadgets like this Speaker Dock are slowly finding a niche for themselves in the market.
This creation may be on the 3D drawing board, but it does point out to the burgeoning market for speaker sets, that go with our compact music players, be it the iPods or music series cellphones. This new concept created by product designer Ken Dunard, allows users to play their tunes wirelessly using their phones or digital music players.
The ergonomically designed Speaker Dock comes in a playful and modern shape that adds to the aesthetics of your interiors without compromising on the technological efficiency that the product is supposed to have. With a built-in FM radio tuner, the remote controlled gadget can be placed horizontally as well as vertically, thanks to the neat little stand integrated into the design.
The adjustable stand also doubles up as a peg so if you want to mount your speaker up on the wall, you can go right ahead. This sounds like an interesting idea, and although we already have seen products like this in the market, this speaker concept still makes a pretty persuasive design with its wireless capabilities and sleek, wall-mountable frame!
Source: Ken Dunard