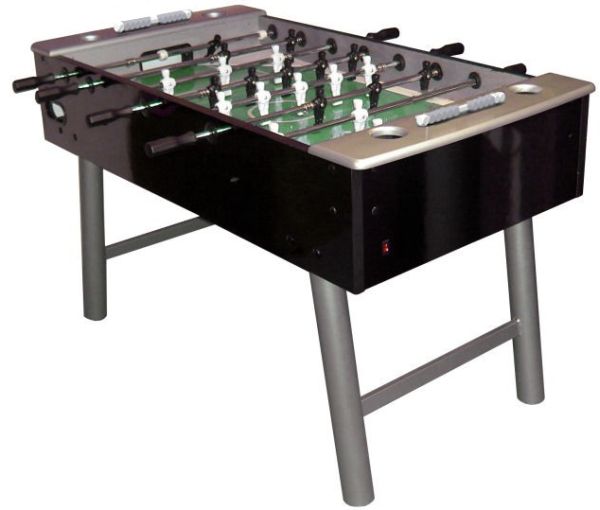 Are you sick of playing video games? The Strikeworth Aurora LED football table can solve all your woes! The Aurora LED football table is the perfect and most affordable antidote to boredom. An exciting game of football on a cool football table can live up any party that you host. The table is not only functional but extremely stylish with it's black veneer and anti-rust chrome top. It also has a green play field with white pitch lines. The entire set-up can blend seamlessly into any modern interior. The players are arranged in the British 2-5-3 format and are divided into the Black and the White teams respectively.
A football table is available easily anywhere. So what makes the Aurora table special? The makers claim that the single factor, which sets it apart from other is it's stability. The Aurora table comes with four sturdy legs made of steel to ensure that you and your buddies enjoy a passionate wobble-free game of football.
The "telescopic" rods do not poke out of the opposite side, this adds to the safety quotient of the table as well. The rods have high quality rubber handles that allow you to get a good grip. The Aurora table has a mechanism by which the ball is returned to the table when a goal is scored. After a goal has been scored, the ball passes through a tunnel and appears at the side of the table, ready for use.
The LED lights located at strategic positions and the pitch is flooded with an ultra cool blue light with one click. The entire set-up can be the life of any party. The LED lights are powered by a long lasting battery pack.The table measures 4 ft 7 inches and weighs around 63 kilograms. If you are gaming enthusiast or someone who just wants to have a good time with friends, the £395 (about $633) Aurora LED table will surely be a worthy investment.
Via: Libertygames