The Product
The Steampunk Bracer Arm Attachment is sure to leave you completely stunned. Hand crafted by Skinznhydez's Ian finch-field, the bracer consists of interchangeable blades that are absolutely light in weight. These blades are especially made from aluminium that equals the quality which is used in aircrafts. The bracer comprises of metals, nuts, bolts, brass, leather, rivets and similar other items. What's more, it is dyed using eco-flo dyes and finishers. The handle used in the bracer can be moved up and down as per the requirement.  Another interesting thing about this bioshock inspired bracer is that it has a rotating LED consisting of a speed dial and an on/off switch as well. The LED is powered by a 9v battery which lasts for a longer duration.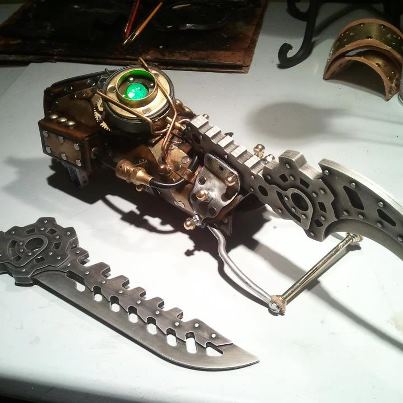 Dimensions
Talking about the bracer's dimensions, the wrist measures approximately 5 to 8 inches whereas the forearm measures around 9 to 12.5 inches. It also consists of some buckled straps that can be seamlessly adjusted. Further the length of the bracer is 10 inches. If we measure its blades, the hook is about 10.5 inches and its straight edge is somewhere around 14 inches.

Price & Availability
Initially, the steampunk bracer arm attachment was priced at $1150 but now you can avail it for just $849. Plus, you can also benefit from free shipping! You can buy this breath-taking piece of art at etsy.com. They ship the product worldwide at no extra cost! The creator of this extraordinary bracer must definitely be credited for such a work that involved a lot of innovation, creativity and unending hours of perseverance. Hats off to Skinznhydez's Ian finch-field who has crafted such a brilliant masterpiece that is not only durable but also chiselled to perfection!