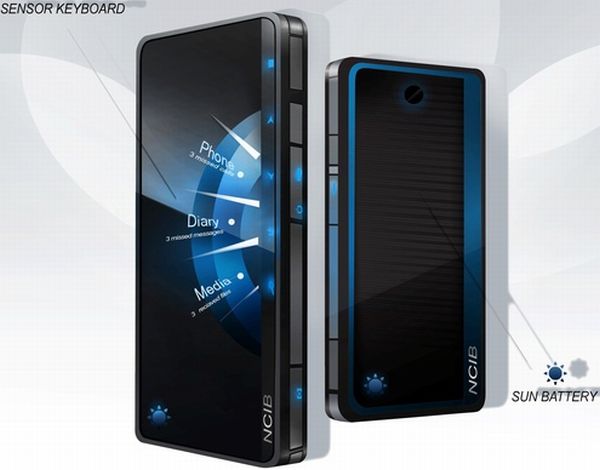 A cellphone conceptualized to run on solar power is really nothing new and we've seen lovely renders like the LG Leaf cellphone and the Aeolus cellphone that run both on wind as well as solar power making it into numerous forums. But rarely do we see a cellphone concept that not only runs on solar energy, but also provides detailed description on the kind of specs we can expect to find inside. This particular design concept comes from Georgian designer Yana Moskalenko and features an astonishing amount of detail.
The designer intends for the Solar Powered Cellphone to have a classic body type with black and blue being the two basic color schemes on offer. 114mm x 58.3 mm x 10.1 mm cellphone would weigh roughly 90 grams and would feature a multi-sensor TFT display with a 240 x 320 pixels resolution and 17,000,000 color scheme.
The phone would be compatible with HSDPA 850/900/1900/2100 (10.2 MB) and GSM 850/900/1800/1900 with a talktime of 3 hours on the GSM network and 30 minutes on the 3G HSDPA networks. Since the phone would run on photovoltaic charging, it could very well charge itself while it is still in use, although the designer notes that it would have a standby time of over 200 hours as well as a music player runtime of over half an hour.
With a choice between Symbian 9.3 and S60 rel 3.2 operating system, the phone would have a ARM 11 600 MHz as well as 45 MB of internal memory possibly expandable with a microSD card. All that is good and fine, but the designer intends for the phone to retail at around 3,399 GEL which comes to around $2000 approximately and may just be the deal breaker since most regular phones in this price range cost around a third of that!
[Thanks Yana]