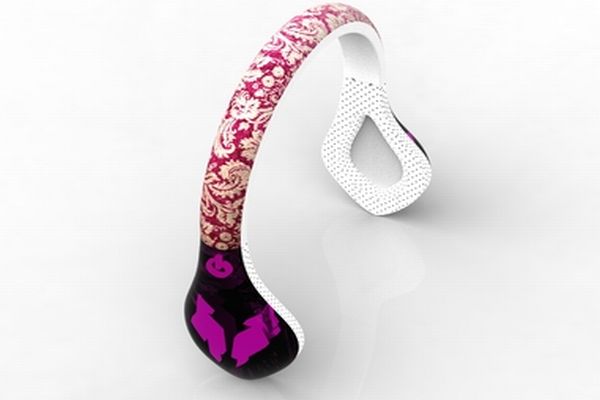 After witnessing monstrosities like these Concrete Speakers, we were a little more than glad to find this sleek-looking pair of headphones. Designed to work both as a music accessory as well as a hairpiece, the fashion-forward headphones pack quite a musical punch in its functionality as well. The Wolf headphones have been crafted keeping in mind the need for headphones to be comfortable in longer durations of use without compromising on sound quality.
The headphone, conceptualized by Brazilian designer Rafael Wolf Conforto, feature a state-of-the-art sound system built into it with selenium plates providing optimum acoustic vibration that enhance the quality of sound generated by your music player irrespective of the quality of the input soundtrack itself. All the internal circuits are wired using copper which ensures that sound waves travel even quicker through the system further smoothening out any dips in sound quality.
Sound output gets a boost from the perforated leather lining of the earpiece which uses a special ergonomic design to cushion the ear and let the skin breathe at the same time. The earpiece not only adequately muffles the sound but also reduces distortion via the interference of exterior sounds. The Bluetooth headset can be synced to music players with ease allowing wireless play, although users also have the option of using the 3.5mm audio jack to enable seamless plug-and-play.
The most appealing facet of the Wolf Headphones, however, is its semi translucent acrylic exterior that is illuminated with LED lights fitted inside. The fashionable exterior comes in a variety of prints and colors that allow users not only the option to choose from a wide range of color schemes, but also allow the headphones to function as a statement-making piece for the fashion-forward crowd. The set is also offered in occasional special edition schemes and users can always ask for the headphones to be customized with their own print preferences.
[Cheers Rafael]