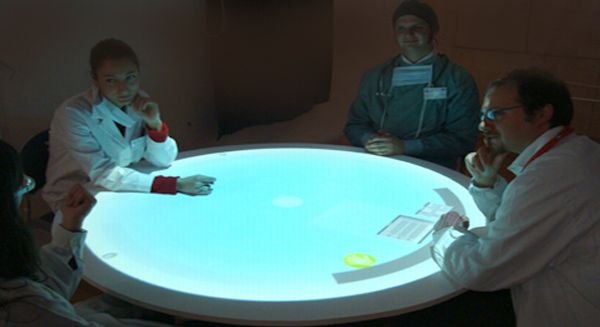 Created as a part of the Interaction Design Thesis Project for the Visual and Multimedia Communication graduate program of the University of Venice, the Tondo Multitouch Table looks to simplify the process of clinical audits and help medical professionals to find the source of a critical error that may have put a patient at risk with ease.
Conceptualized by Valeria Donatia, the interactive table looks at providing medical professionals a common interface that would help them discover reoccurring medical errors that may be caused by a few common factors in a number of cases. The table provides a platform where a facilitator or a physician in charge of assessing clinical risk, can confer with doctors, surgeons, nurses and technical staff members and try to determine the root cause of an erroneous incident that may have compromised the treatment being given to a patient.
This project aims to help hospital staff to feel less threatened when analyzing errors and help them prevent the occurrence of such errors in future by honestly determining what caused them in the first place. Developed after intensive research in the field of clinical risk, the system has been confirmed as an easy to understand tool by participants at the Clinical Risk Center of the Tuscan Health Authority.
The circular form of the table creates a sense of equality among the people who are seated around it which lessens the sense of threat for people who may have been at fault, making them more comfortable and letting them come forward with the mistakes they may have made. The table can accommodate 8-16 people with ease for a single audit. The main controls for the interactive table are housed in one place so that the facilitator remains to be in-charge of the audit process at all times. The controls allow the facilitator to bring up the necessary set of documents to the fore which are then displayed to everyone else.
By analyzing the day-to-day clinical history of a patient during their hospitalization period, the team can actively determine active and latent errors caused by one or more members of the hospital staff. The vivid and intuitive graphics allow users to examine the case with ease and in a relaxed environment, thus enabling hospital staff to locate and eliminate clinical errors in future treatments.
Via: Interaction Venic