While going out for a walk, do you ever see some wooden pallets masquerading tables and chairs? Well, if you are an environmentalist then it is good news for you. These tables and chairs aren't just masquerading the table. In fact, they are a part of an old architectural movement. It's called industrial decor and as the emphasis for many people begins to fall on sustainability and on recycling goods. It is becoming increasingly common to see upcycled and free-cycled goods like furniture. Earlier this movement was only limited to art shows. The following sculpture defines it in all its complexity.
Swarovski crystals + mesh bags from Diller Scofidio + Renfro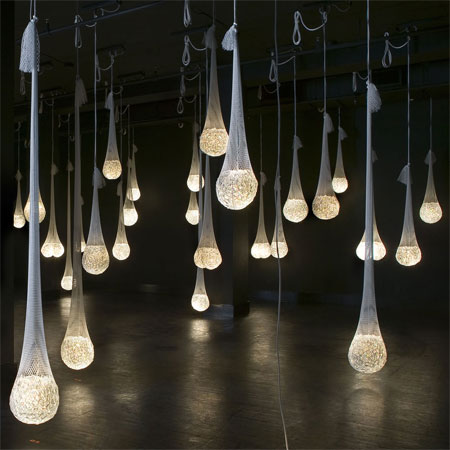 Creativity all over again! The mesh bags are usually used to put some fruits, vegetables or some material things, but look here, they are used in very different and absolutely outstanding manner. Also the crystals which we usually use on rings, chains etc, are used in an extraordinary way. Hundreds of Swarovski crystals put into these transparent mesh bags is a wonderful creation.

Swarovski Crystal Palace at The Moore Building, located in the epicenter of Miami's Design District is turned like heaven with the entrace of these Light Socks .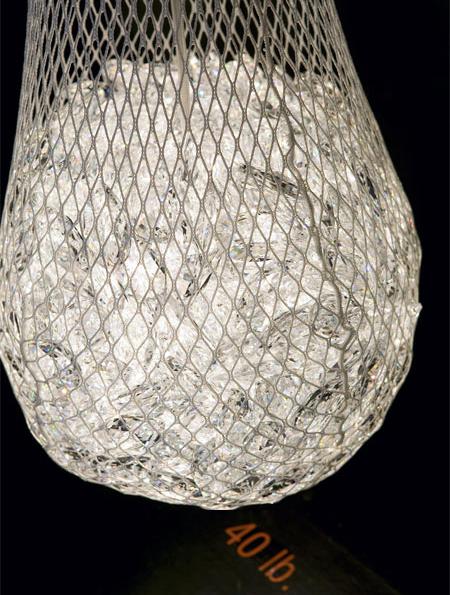 The creator of this wonderful eye-catching site is New York-based architecture firm, Diller Scofidio + Renfro. 48 'light socks' hanging from the ceiling in a pitch black room is almost like heaven brought to earth!
Look at the view, isn't it fantastic? I feel like rushing into this hall consisting of these bright hangings and feel the excitement!
Dezeen
Some Other Similar Modern Sculptures
Self-sufficient lighting column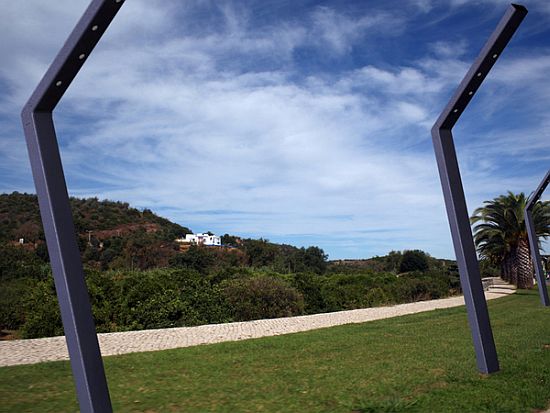 With rapid growth of the urban population, we need some self-sufficient or renewable sources of energy. It is only with their help that we would be able to meet the power requirement of cities.  Addressing the issue, Portuguese designer Hugo Silva has created an autonomous lighting column that combines LEDs and solar panels. This LED helps to illuminate the streets at night.
The new lighting column not only accumulates sustainable power during the daytime but also at night. Thanks to built-in motion and light sensors, generating adequate energy to keep glowing all through the night. Moreover, the self-sufficient lighting column presents a clean and ergonomic design. This is what it makes an outdoor sculpture, enhancing the physical environment of modern cities.
Wooden Excavator sculpture is a symbol of our industrial state of mind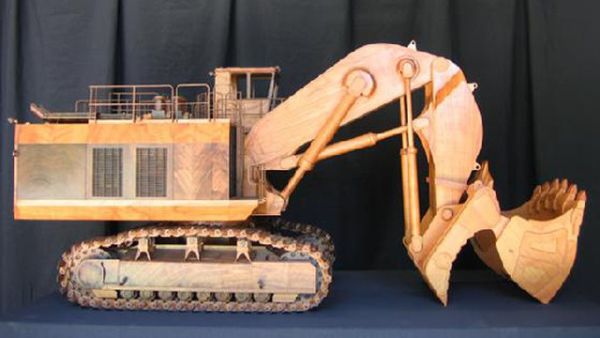 I like it when art really makes a statement and makes my gray matter tickle and this astonishingly detailed Wooden Excavator sculpture certainly has my neurons firing left, right and center. Put together by the art studio Rob Fisher's Woodchuck & Co., the 1/16 scale model depicts a front shovel-more specifically, the Caterpillar 5230B. The installation is crafted out of over 4000 parts that took a team of artists 3K+ hours to assemble.
Measuring 1.5ft x 2.1ft x 1.5ft, the hardwood sculpture is semi-functioning, i.e., it can roll on its tracks, open its jaws, has a hidden storage compartment, and can extend its cylinders but don't really expect it to help you dig up your backyard for the new pool. What really sets this piece high up on the art scale though is the fact that it juxtaposes the concepts of destruction and nature what with it being an excavator mostly used to bring structures down, that is made out of wood- the most poignant symbol of creation.
The sculpture also intertwines the notions of civilization being at odds with nature as well. The wooden sculpture thus takes on a metaphorical life of its own with its industrial nakedness starkly highlighted against the embrace of the timbery structure. The remarkable piece, although doesn't really strike one immediately as something you'd wanna display in your living room or hotel lobby.
Everything you need to know about Industrial Decor
This trend isn't only present in commercial spaces but is also present in residential spaces too. As a result of this burgeoning trend, I wanted to outline some of the key ways in which you can channel the industrial decor look for your own home – so let's take a look here.
Bedroom: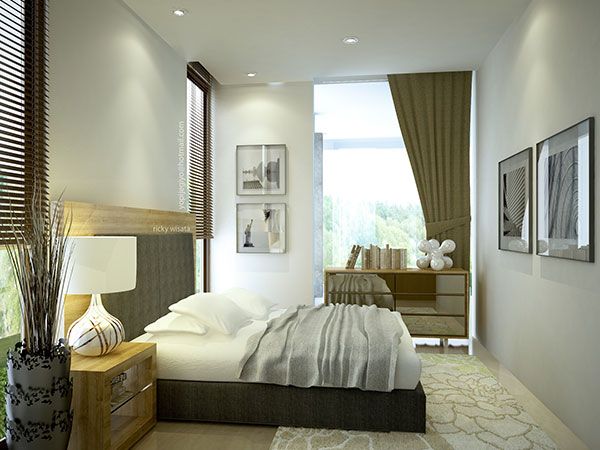 Plenty of exposed wood is they key for this look to be pulled off successfully – and if you pair it with some softer textures, you're going to have a beautiful look that you'll be happy to bunk down in each night. Try sourcing furniture from an industrial design store, or hit the second-hand shops for some great inspiration. You can think about adding some finishing touches to your industrial bedroom like posters, paintings and lamps; channel the vibes of a factory floor and think about the clash of metal with wood for a great look.
Lounge room: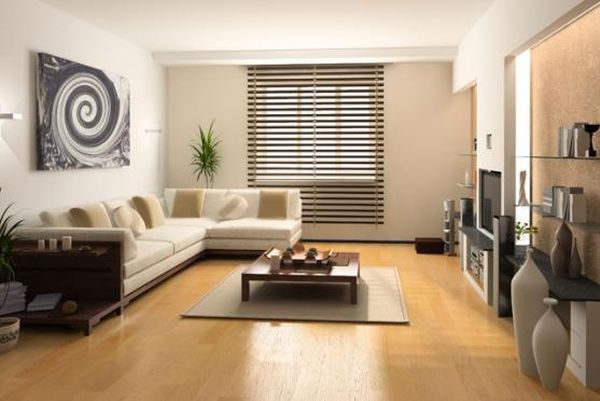 Your lounge room needs to be ultimately liveable first, and then stylish second. You have to be able to relax in here, so it needs to be a comfortable. Think about getting a beautiful couch or rug for the room and the adding the finishing touches through a hanging piece for the ceiling or with lamps that have exposed metal. You can also do industrial with a great coffee table or with the ornaments and curios that you put on display. Perhaps a Meccano set would be a great addition to the lounge room as it is kitsch and also cool.
Kitchen: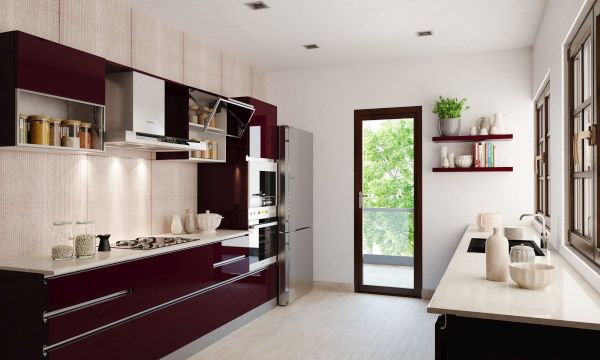 This is one of the most functional rooms, (if not the most functional room in your home). Therefore, you have a bit more room to get some freedom going here. Think about getting a really cool wooden bench top that can double up as a chopping board, and then contrast the wood with a really awesome coffee machine or juice press. The coffee machines by La Marzocco are incredible and the juicers by Alessi are also beautiful and modern with that oh-so-desirable industrial twist.
Entry foyer: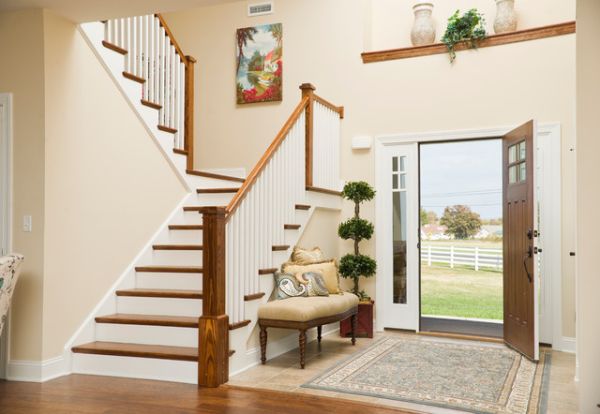 You can go as crazy as you want in the entrance foyer as it's not a hugely used room – so it can more stylish and less functional. Perhaps you have a piece that you've found in an op-shop that you can't find a spot for, or you have an upcycled metal shoe rack that would be perfect here. If so, excellent – you can place it proudly on show where your guests will first see it upon entering your home.
Final tips for anyone looking to get that chic industrial look in their home:
Plenty of exposed wood, steel and metal
If you have the option to get polished concrete or stone in your home you should totally go for it, as it adds an extra flourish to your home
Channel the spaces like warehouses, factories and other kinds of industrial spaces
Hit up the second hand stores, source items online and speak to furniture dealers for more inspiration
Hopefully these tips on hitting the mark when it comes to industrial design have been helpful for your home! Good luck and happy decorating!