As Dr. Prem Jagyasi said in his book Carve Your Life "Sometimes, you might find it impossible to change things outside yourself, but you must remember that life isn't about what happens to you, it is more about how you react to it." If you think that what you are born with is a curse, and you don't try, then you are doomed to fail. On the other hand, rather than focusing on your shortcomings, you overcome them, then the world would bow down to you. Here are some accessible wheelchairs for people with such spirit. People who do not want the world to identify them for their disability, but for their strength.
Outdoor Accessible wheelchair
Motivated by Bradford Woods, a residential camp for children with disabilities amid 25,000 acres in the hills of southern Indiana, designer Patrick Cannon has come up with an innovative wheelchair that effortlessly moves the disabled outdoors for therapeutic recreation, where they can enjoy the freedom of life. Hailed as "Outdoor Accessible," the wheelchair touts a frame made of carbon fiber, which gives it strength on rough terrains. Featuring rubber/solid tube tires, the outdoor wheelchair includes weather resistant fabric to cushion the back and the seat for more comfort as well as durability.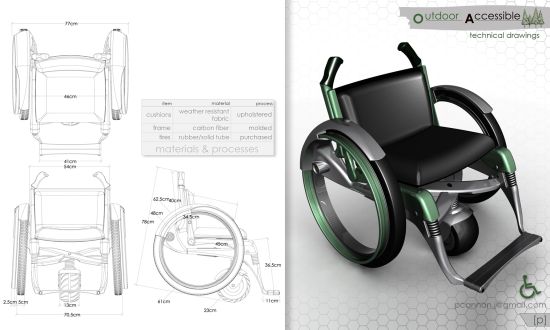 [Cheers, Cannon]
Some Other Innovative Wheelchair Designs
1. Vipamat Hippocampe swimming pool wheelchair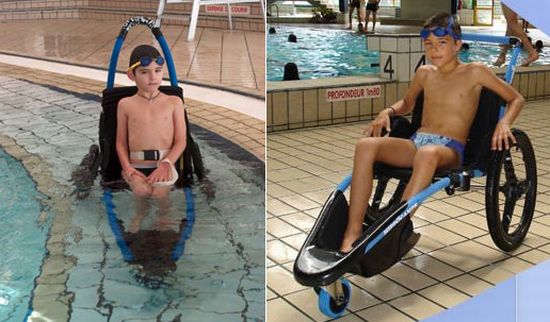 The Vipamat Hippocampe is an all-terrain and beach wheelchair that can be independently pushed, towed or pushed by someone. The latest model from the company is the Hippocampe swimming pool wheelchair. Designed for all persons with limited mobility, the Vipamat Swimming Pool Hippocampe is designed for public or private swimming pools, aquatic centers and fitness centers. This wheelchair will help the user move freely in the swimming pool to enjoy water sports activities. The Hippocampe wheelchair is designed to resist water and is really easy to handle.
Fitted with a directional wheel, it paces up and down the corridors of the swimming pool. It stands in water, moves without hassles and ensures optimal comfort, thanks to its seat in hydrophobic foam and the steerable front wheel. Three solutions are possible with the Hippocampe wheelchair to access the pool. In addition to the functionality, its energetic looks and sporty design blend in perfectly with leisure activities.
2. Elevate Wheelchair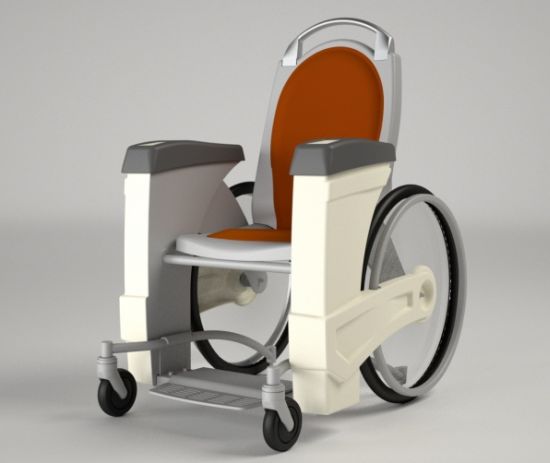 Fluency in mobility isn't the only sticky situation for a patient on a wheelchair. Apart from that, it's also the inability to reach out to objects on shelves and other places. Designer Nicolas Bonhommeau has worked out a solution for the latter in his Elevating Wheelchair. The wheelchair with larger rear wheels and handrails is designed to help the low mobility persons to elevate themselves off the ground. On this user-propelled-wheelchair, the user can rise up to access high objects.
3. Nimbl carbon-fiber wheelchair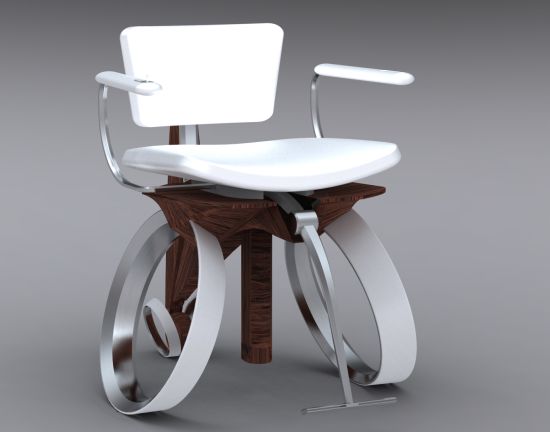 People have to do costly home renovations to make a safe and easy passage for the wheelchair users within the home, smacking the budget of the home. Designed specifically for domestic/indoor use, the "Nimbl" by designer Lawrence Kwok is a unique wheelchair that gives increased access without sacrificing mobility within the home. Featuring a carbon fiber tub which houses the 10″ lift actuator, motorized hubless wheels and interchangeable battery, the wheelchair also integrates a magnetically placed armrest remote that allows both right- and left-handed control.
Designed in collaboration with Tino Sacino, Danna Lei and Alison Ochoa, the wheelchair comes with short wheelbase to increase the maneuverability within the home. Users can rotate the armrests and footrest for easy transfers, while the customizable modular cushion system assures various levels of mobility as well as rehabilitation. Moreover, the Nimble comes with the ability to recline for pressure relief.
4. Elevating Wheelchair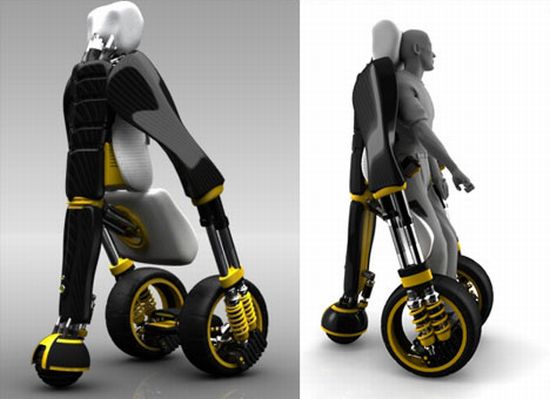 The elevating wheelchair was developed as a part of final-year university project,  by Jake Eadie. Jake is an Australia based designer. In the form of elevating wheelchair he has come up with  an innovative but at the same time practical way to help and support physically disabled. Furthermore, this wheelchair enables them to move around and accomplish their routine tasks. Intended to switch between two modes, sitting and standing, the electric wheelchair design is a clear-cut "challenge. It is not according to the able-bodied people's perceptions of wheelchair users."
5. Collapsible Wheelchair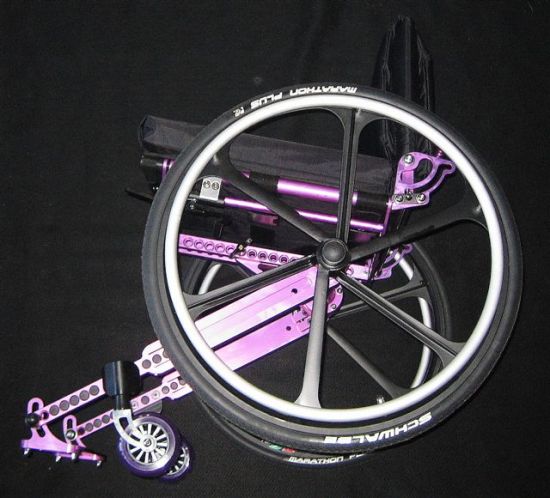 Mobile wheelchairs are perhaps the only means to ensure independence for people incapacitated by illness or injury. Joule Flow Designs has manufactured a collapsible revolutionary wheel chair in order to ensure movability with enduring comfort and ease. The wheel chair made out of mostly anodized aluminum and stainless steel has fully adjustable backrest with automatic locks to hold the chair in both upright and closed positions without swinging open. Entirely bolted together the chair can be assembled and completely disassembled too. The fully adjustable chair also uses spanners and allen keys along with optional decon spider wheels making it easy to carry while in transit. It weighs 15.54kg (33.08 lbs).
6. Wheelchair that bends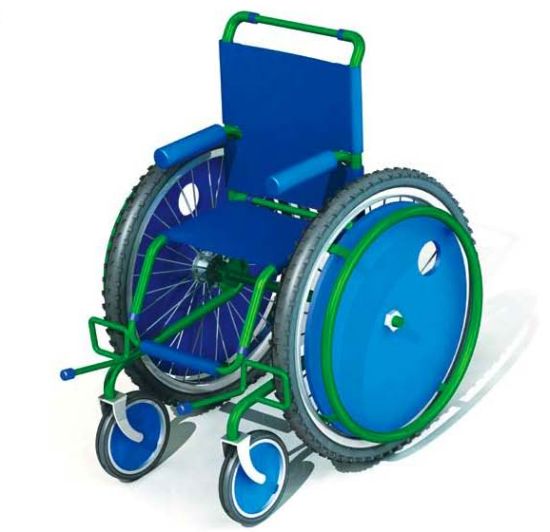 Katie Carlson, an industrial Design graduate from Ohio State University, designed an adjustable wheelchair for physically challenged children falling between the age group of 3-10 years. The frame of the wheelchair ranges from 10 inches to 18 inches. The widthwise adjustment of the frame is altered by three removable bars of differing lengths keeping with the strength of the frame. It also provides a footrest that shrivels to fit in the legs of multiple users.
7. Rex bionic legs
Adding to its apt features is the use of 24″ bike wheels that are suitable for all kinds of terrains and are easily available across the globe. For further comfort and convenience a hubcap is fitted for protecting fingers. Also a canvas seat expands with the frame for better adjustment. It is specially created for the users who are deprived of proper health care and cannot afford mobility devices. This adjustable wheelchair is sure to aid a number of needy children.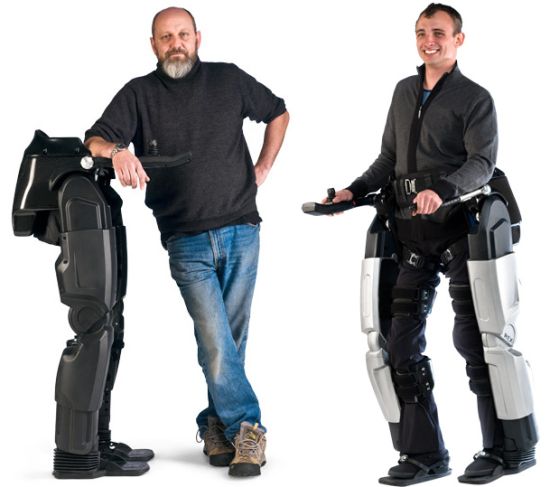 Rex Exoskeleton promises to change the lives of physically debilitated drastically. Fabricated by a New Zealand based technology company, Rex stands up as a viable wheelchair. It is a great contender against traditional wheelchair owing to its usability against the traditional armchair. Rex is a set of bionic legs which most importantly allows its users to self transfer themselves. The users can easily move in and out without any external help. What makes it suitable for paraplegics is the fact that the exoskeleton can support full weight of the person. This helps in making it easier for the person to stand, walk, move sideways, go up and down step. Furthermore, it also assists the person in walking on flat hard surfaces including ramps and slopes.