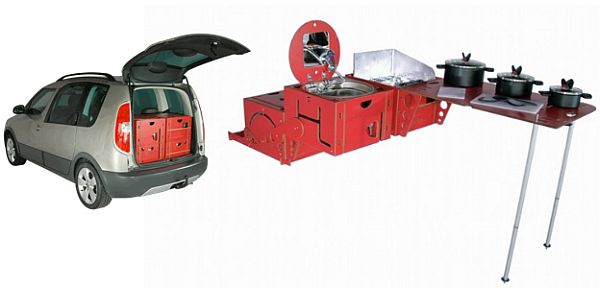 SwissRoomBox has recently designed a portable modular living system making it possible for many to live their dream of a mobile home. The system has everything you need to cook, live, wash and sleep, just out of the boot of your car.
The design which comes in deep red consists of various boxes interconnected to each other and once installed at the back of the car, different sections are dragged out as required. While on the move, you can access a dining table, bed, chairs, sink and even shower just by sliding box shaped containers over each other. It's as easy as steeping out from your kitchen to your bedroom. The whole setup can be established in 15 minutes without using any tools. All you have to do is to fix the base of the system to various points in the vehicle and connect a particular electric cable to the car battery. It automatically cuts off when only 11 volts are remaining and recharges when the car is driven.
Depending upon the size of your car, you also have an option to expand the system by opting for a portable toilet, however, it is certainly model specific. Moreover, curtains can also be fixed at the back of your car to enable you to have a sound sleep. Currently, available only in Europe, the designers have tried to keep it much affordable than other such standard living systems with a price tag starting at CHF 8630 (about $10,177). For those living in non-European countries, they can soon expect the SwissRoomBox to be available at their doorstep as well.
Via: Springwise