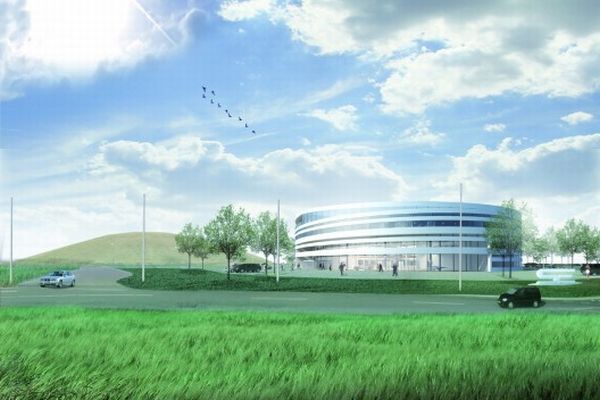 Syd Energi (SE) is one of the largest electric companies of Denmark and providers of high speed fiber network. Their best of the class service for their customers is a trusted fact in the entire country. Now, they have their new headquarters which is not only state of art, but also sustainable in nature. An architecture company, GPP Architects, recently received the 1st prize for the SE Headquarter Competition.
GPP Architects' winning idea is situated on a wonderful site in southeastern area of Denmark – a point which connects the countryside with the urban spaces and placed next to "The Hill of Light." This new headquarters for the employees of SE will, apart from a being a stupendous work environmentally, also be a benchmark setter in terms of architecture and sustainable development.
It has a very simple and evergreen design with a slanted cut on the top most floor that offers a round and dynamic building, also reflects the electric company's profile and the grandness of the western Danish landscape. Located right at the center of the building, there is a big, green atrium which provides light and airiness for all the work spaces inside the building.
The huge interior space of the building houses very large reception and showroom areas where visitors are greeted and meet the employees and from where, via the atrium, one can get an overview of the entire structure respectively. The visitors and employees are led through the building by a mind blowing sculpture of stairs and bridges in the atrium.
The first three floors of the building house a bag of departments with a combo of single and multiple workspaces in an open environment along with state of art meeting and relaxation areas. And the best of the lot is the 1000 square meter roof garden shielded from the wind by aluminum glass.
The panoramic walk on the top floor gives an amazing view of the surrounding city and the Atlantic Ocean. Right from the beginning of the design process, architects and engineers gave everything from the overall building design to the details of the windows, ceilings and ventilation a sublime solution of sustainable development.
The building also has carefully selected energy efficient solutions. The SE headquarters has a 1800 square meter solar panel roof and almost 10kms of underground tunnel tubes for the purpose of cooling and heating the thermoactive concrete slabs. When completed, the building will be the largest Danish building to fulfill passive house plus standard- producing more energy than it consumes, and among the top five in Europe.
Via: ArchDaily