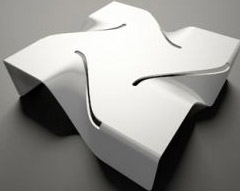 If mystery is what that attracts you then check out the new T-Vertigo side table. How can you add oxymoron to a piece of furniture? The design that has been inspired from Escher, whose works represented a continuous search for the infinity.
This table can be your favorite art piece and a star attraction to your hall or office lounge. The design strangely captures a still movement that bewitches your senses. It shows the movements of surfaces rotating in the universe with its curious yet sensual curves. It creates strong illusions with its simple lines giving away to spatial complexity.

A thing that captures emptiness and richness, simplicity and complexity and a still yet moving fantasy. It definitely is a thing for the future, the next generation furniture, a thing to get a place in the Star Wars studios.
Before you get lost in the brawny illusion, just to inform you, this table is made of Corian or Reinforced Polyurethane high gloss lacquered finishing. Its earthy dimensions are 90 x 90 x h27 cm. Its original, unique and inspiring design has been created by AquiliAlberg. Take a leap towards a new universe and find yourself lost in its chimera.
Source: yankodesign