IF you are looking to making some changes in your terrace garden or getting a new terrace garden altogether, we give you some really cool designs to check out before you do so. Find these amazing ideas of revamping your terrace and the garden in it.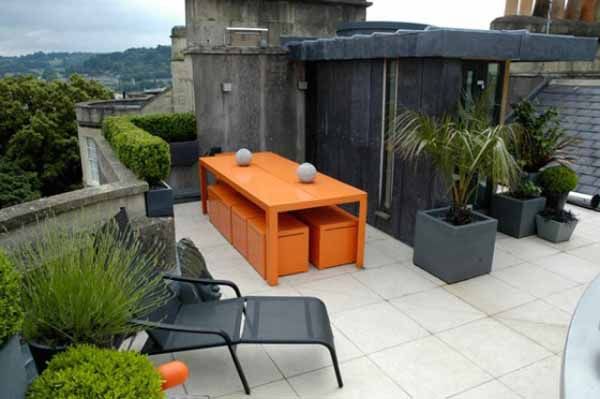 Terrace garden design ideas
Gardening is more than just a hobby nowadays. People do courses especially to study this art. With a terrace garden in your home, you can not only exercise your gardening hobbies, you can also add some really cool furniture, lights, etc and go on a creative spree and entertain guests as well. All of this with some really cool designs and ideas.
Pots and Jars – There is no natural soil on the terrace , obviously, so get some organic pots and jars for this purpose. Sow your seeds and plant your plants in them and place them on the terrace in designs. Organic shaped designs for pots and jars are ideal , they are contemporary and very stylish and will liven up your terrace garden. Do not overcrowd your plants and make sure they get sunlight by placing them properly.
Roofs – There is so much you can do with a roof. For one thing, you can do without a roof altogether. However, if you want to entertain guests at night or even during broad daylight, it will be really great if you can get a roof from wherein the Sun won't be too harsh during the day and from where you can hang a light fixture for the night. A glass ceiling which does not cover the entire roof is stylish and serves the purpose. Again you can go for organic roofs in various styles which are made of timber or bamboo. Go minimal with the lighting. Hang just one big light or several small lights but not the two things at once.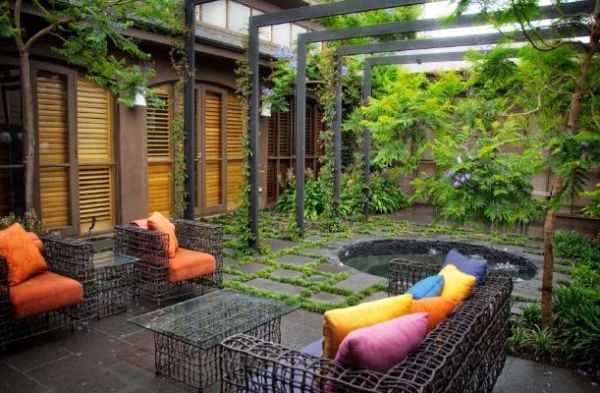 Fabrics – Fabrics can instantly change the mood of the place. With hanging flowing curtains and fabrics , you can make your terrace garden the place-to-be! They will keep out the sun as well as add an artistic feel to the garden.
Blinds and shades – Opt for organic blinds and shades in bamboo and timber.
Furniture – Furniture adds the finishing to the place. Go for sofas and couches for a comfortable relaxed touch to your terrace garden. You can also add sunbathing lounge chairs to lie down under the sun when you feel like.