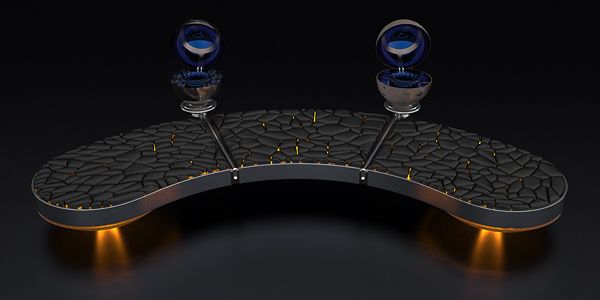 Nature inspires the most beautiful of designs. Have a look on the Cell Sofa and its beauty, finesse and detailing. It will leave you mesmerized, not only with its beauty, but with the fact how designs can capture the beauty and soul of nature. This sofa is an excellent piece of biomimetic design, which mimics the formation and structure of biological substances, thus creating synthetic products. Here is the secret behind this imagination; an amoeba! Yes, you read right! This inspiration can easily be interpreted by paying attention to the form of the sofa. It fascinates how layer by layer the complications of life represent itself in an aesthetic form.

The seat of the sofa is made of comfy 'cells'. The two globes are another attraction. However, unlike most of the designs the globes here (representing moon and earth) are functional and aren't there as mere show pieces. You can place beverages etc in there. Concept wise too, they have a lot to say. These globes represent a higher, superior power that is quiet on the outer side but full of strength. This strength presents itself through the central element of the globe that is visible once the globe is opened. Inside you will see a geometric basin of black color covered by a glass basin. This helps in creating alluring refraction patterns.
As you open the globe it automatically switches on the light under the sofa. There are also LED lights that are arranged under the sofa's cells. It symbolizes how light brings things to life. Quite impressive! The support of the globe has great finish and completes this entire circle of thought by linking it to the rounded tubes that denote flexibility, a necessity for any living system.

Via: Behance