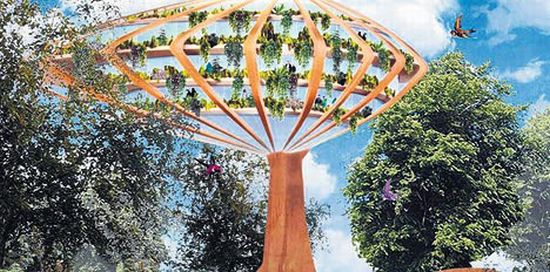 People love to lodge in the best of places, provided their pockets allows them the comfort of one such hotel. Designers leave no stone unturned in the effort to create a masterpiece, a place whose name reaches distance, merely due to the word of mouth. Definitely in this category is 'Boomhotel', the project of developer Jan
Looren the young, set in the green backdrop of Boskoop,
Netherlands. It comes across as an outstanding hotel in the shape of a gigantic tree, around twenty meters high, amidst the lush garden boulevard of Europe.
What strikes the eye is the unusual design of the hotel that
rests the lavish hotel on the lofty tree. It is planned to be furnished with all the comforts that any contemporary hotel can provide you with. It will unveil complete with garden centers, catering establishments, whirlpools, and amusement parks, besides other basic amenities. The dream hotel will require a massive amount of dough to take the final shape, where the sum could run to millions.
Via: Spunk