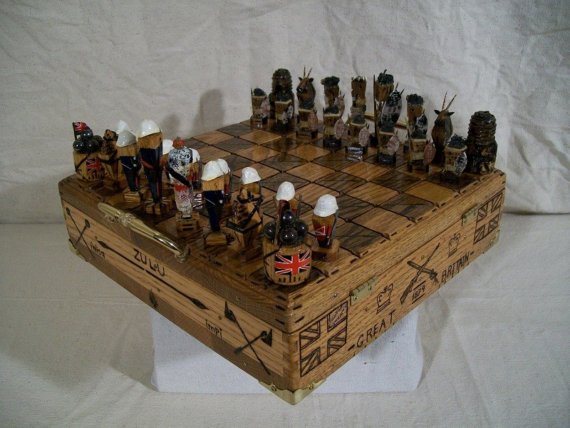 Any history buff worth his salt would gladly tell you that the Anglo-Zulu war of 1879, has always been considered as one of the most viciously fought wars in the 19th century, as well as remembered for being a landmark in the timeline of colonialism in the southern African region. Now here is an intricately designed and authentically themed chess set that does manage to hark back to those bloody yet romanticized times. Painstakingly contrived by design shop Olde World Collectibles and Creations, the set is touted to have taken around 70 work hours to complete.
The pristinely conceived set is wholly made up of Red Oak, while brass handles, hinges, and corner trim are used to decorate and protect the body. Coming to the historical theme, which actually accentuates upon its gritty allure, the four sides of the box are wood burned with dates, Zulu inscriptions, British flags and weapons used in that momentous war. Even detailed miniature weapons are used to decorate the chess pieces, to add that extra 'flavor'.
The detailing parts have been done meticulously and more importantly accurately. Wood burning has been used for ornamentation for each individual type of set, while many images under the lid and the pieces have been fastidiously hand painted. Moreover, authentic decorative components like feathers, leather, deer fur, twine, sinew and steel (all the Zulu stuff) have been included to recreate that special historical ambiance.
Coming to dimensions; the box measures approximately 12 x 12 x 3 inches. The chess pieces' size range from approximately 2 3/4 inches for the king to 1 1/2 inches for the pawns. From the functional perspective, wood stain and a clear coat have been used to protect the set as well as enhance its aesthetic appeal. And finally to any lover of history or art for that matter, this exquisitely crafted chess set comes at a price of $1200.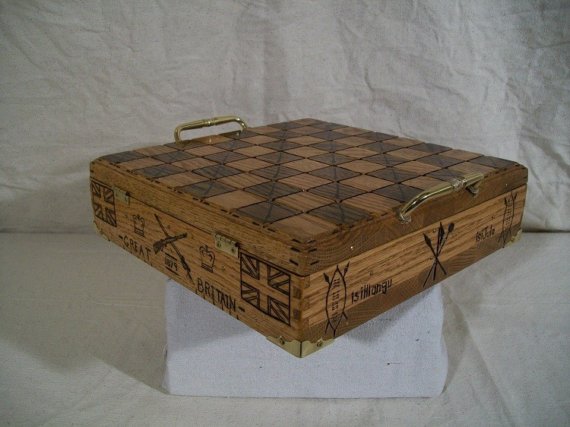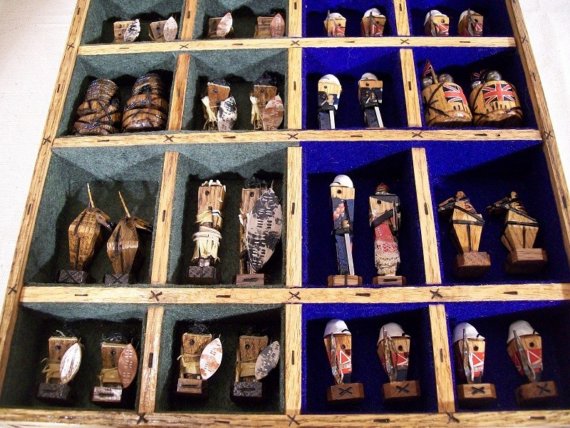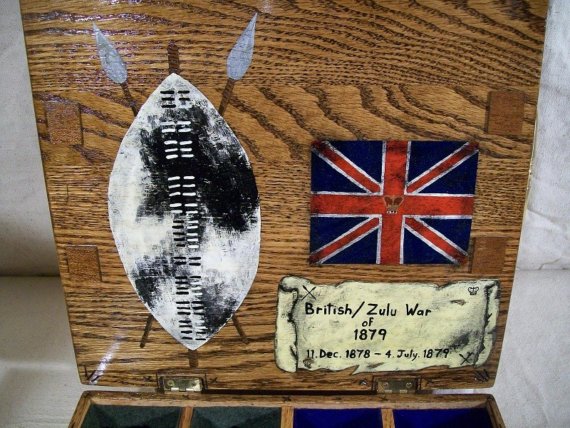 Source: Etsy