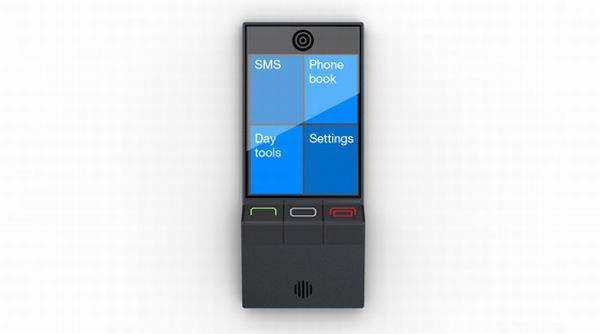 Authentic smartphones have conquered the cellphone market like a storm. But just ask yourself, how many applications come in handy after laying your hands on such complex gadgets? To make you relax from such overloads, Vienna-based designer Clemens Auer came up with "w00t mobile" at Warsaw Design Week that employs positive aspects of both a changeable touchscreen display and physical buttons.

An ultra-trim body and low-stuffed applications will give you an invincible ergonomic experience. w00t helps you text, call and access necessary tools like an alarm and calendar, staying away from heavy applications that give a choked-up impression. The modern touchscreen comes in handy in case of changeable content whereas traditional press buttons positioned beneath the thumb are put to good use for navigation and chief tasks.
The USP of the phone lies in its novel quality to gracefully store up the cellular phone while charging. To keep away from dangling or placing it on the ground, w00t has an interspersed slide-in currency plug used for charging the battery in slide. Space efficiency can be created through changeable touchscreen display in turn providing back gained space to ergonomics. So, dump all that is superfluous and embrace simplicity with a streak of modernity in a whole new form.
Via: Clemensauer