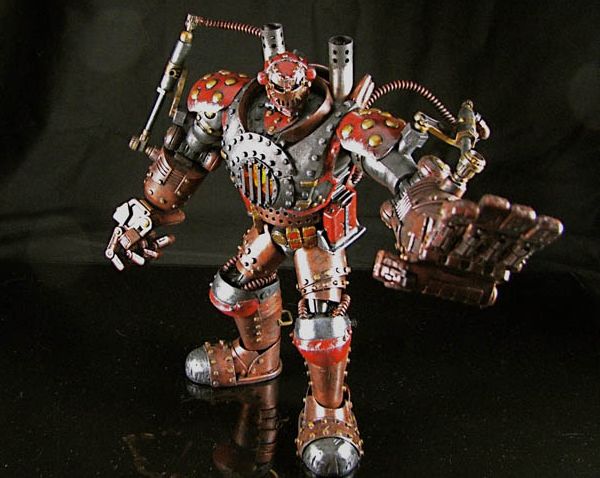 After the successful run of Nazi Star Wars action figures, Jonathan Kriscak is back with an all-new 11-inch-high monster glued together as an alternative Iron Man suit for Tony Stark. Iron Man, which was a suit designed for the '60s superhero Anthony Edward Tony Stark, when it first appeared as a fictional character in the Marvel Comics Universe, has been transformed to a steampunk action hero of the 20th century.
Kriscak, who founded PackRat studios, which specializes in developing, building and painting custom action figures, has painstakingly hand made and painted each part with model masters acrylic paints, giving countless washes, rubs and thorough detailing. He has altered the image of Iron Man and added his suit with chest and upper arms from an NFL Cletus action figure.
Further, he has added pistons taken from a Transformers toy to the arms, while the arms themselves came off a robotic Hulk figure. He hand made this suit from copper, steel and brass which is held together by countless rivits and weld seams. Then he has most interestingly added a flickering coal-furnace effect for the chest. The light effect which is arrived from a flickering tea light electric candle placed within the toy body, steals the entire attention of the toy at a single glance.
The switch for turning on the flicker is however disguised beneath a removable rear hatch. However, the overall effect makes it look like the Iron suit runs on steam power, fueled by the combustion chamber in the chest. This grown-up-man's toy is currently available on eBay and is up for bidding.
Via: Wired