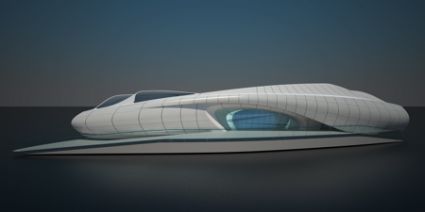 Wow! Marvelous design for a mobile exhibition venue for fashion brand Chanel. Isn't it? This traveling exhibition pavilion for Chanel was launched in Venice last week during the Art Biennale opening weekend.
The architectural structure of the Exhibition Pavilion utilizes a series of arch-shaped elements, with a courtyard in its central space. The glassy ceiling controls the interior temperature according to the climate conditions of each venue city. Natural light sliding from seven elements on the ceiling, meets artificial light pushed up from gap between the walls and raised floor highlights the 'arched' structure.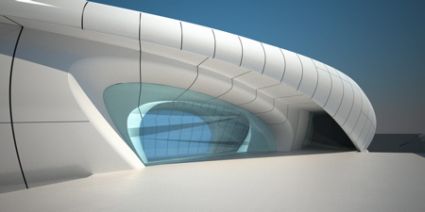 Out of seven elements, six are roof lights for artworks and the remaining one is a large opening that dramatically floods the entrance in daylight to haze the relationship between interior and exterior. It also utilizes the spatial rhythm created by the seams of each section that gives strong perception views throughout the interior.
The size of the Exhibition Pavilion will be 29m x 45m, a total of 700sqm. The overall height is 6m, with the floor raised 1.00m above the existing ground surface. In light of the extensive shipping between cities, each structural segment will be a maximum of 2,25m wide. In addition to this, the 65sqm central courtyard has large transparent openings to the sky above and is designed to host events as well as provide an area for reflection after visiting the exhibition.
Check out some amazing photographs here: