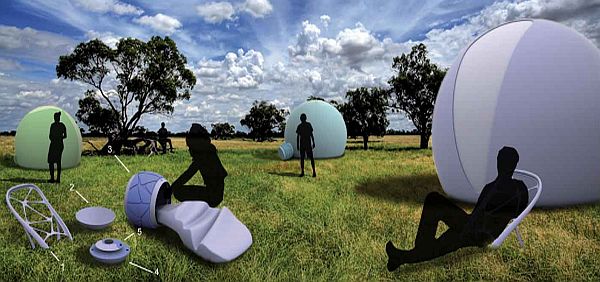 The product
Designed by David Bellisario, the U-TERUS is a living module for nomads or people who love to travel around. Not at all a conventional camping tent, this module features a lot more than you can imagine for a compact little shelter. Designed like a rigid oval-shaped pod, this easy to carry living comfort makes it a treasure for the modern nomads. The Eco compatibility of the product makes it even more desirable. The energy generator in the module's interior is hydrogen fed and all materials are recyclable. The plastic model laid on a poliplat base is made of polystyrene for displaying the spherical sections, and of balsa wood for the remaining sections. The entire model has been plastered and painted with spray paint. The scale is 1.10 for the sealed module and 1.20 for the open module.
The inspiration
As the title suggests, the name and design is inspired from a mother's womb. The Italian industrial designer holds the concept that humans are always in search of a shelter. This behavior of protecting oneself from the open air might be coming from the habit of living in the original home, i.e. a mother's womb. The module is considered metaphorically like a shell that protects and carries the uterus.
The target group
Are you an avid traveler but want the amenities of the modern world packed along as you explore the world? Well, then U-Terus belongs to you. Young independent travelers and all those who seek adventure make the ideal target users of this product. The conventional camps can never offer so many features in one package as this one does.
The usability
With U-Terus offering reduced dimensions and compactness, the inside space is comfortable and enjoyable. It is very versatile as it can be used in different kinds of environment and can be easily carried around and put together. All the parts of the module can be put to use once you reach your destination, saving you a great amount of space. For instance, the handle serves as a recliner backrest, the basin can be used to wash utensils or laundry, the wheel container provides energy for operating your electric stove, mobile phones, or laptops, the small table comes handy in the form of the deck, and stove is fed by the electricity from the generator. There is space for all your necessities, including the bathroom or shower area, storage space, sleep or relax area, and cooking or eating unit. Isn't this a marvel, all packed in a single little comfortable living space?
Now you have every reason to be adventurous and plan those trips that you have been longing for.