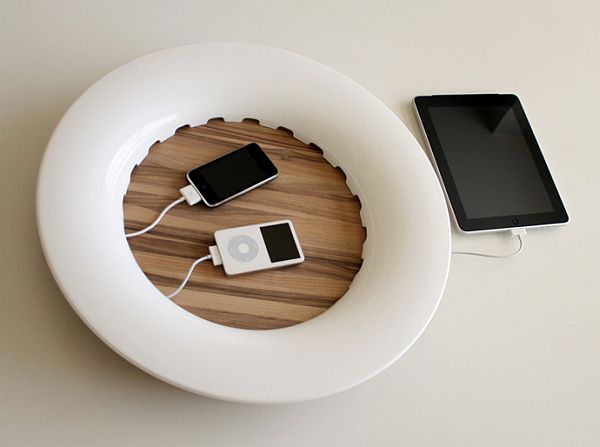 Charging electronic gadgets give a very boring appearance with wires dangling or intertwined with each other. But one look at the aesthetic UFFO dock and all such frames will become history. The dock has been crafted neatly after beautifully blending wood and ceramics together. The end product looks quite amazing with a streak of cuteness.

The UFFO dock will charge almost all gadgets like cell phones, iPhone, iPod, iPad, cameras and other tablets without any hitch. All the charging will be done with the help of a USB cable. The dock will act like another piece of decoration, thanks to its looks. So once you are done charging your gadgets there is no need to hide it in drawers or a closet like we normally do. To charge any gadget all you have to do is place on the wooden base of the dock which comes surrounded by a ceramic disc. One can neatly conceal all the wires by twisting them around the plate.
What looks like a plain piece of decoration has been made powerful with embedded technology. The materials used to craft UFFO dock are eco-friendly so another reason to introduce it in your life.
Via: Enandis