There's nothing more complex in this world than the human mind. It becomes clear when we see its thoughts manifest themselves. What's a better platform for that than architecture. Architectural movements like postmodernism and post-structuralism make it clear what we are capable of. However, when we think about such marvels we never extend them to our average houses. For most of us, houses are meant to be normal. This very assumption is making architects take a step forward and to prove our presumptions wrong and make these creative houses.
Unique Mushroom Shaped Holiday Homes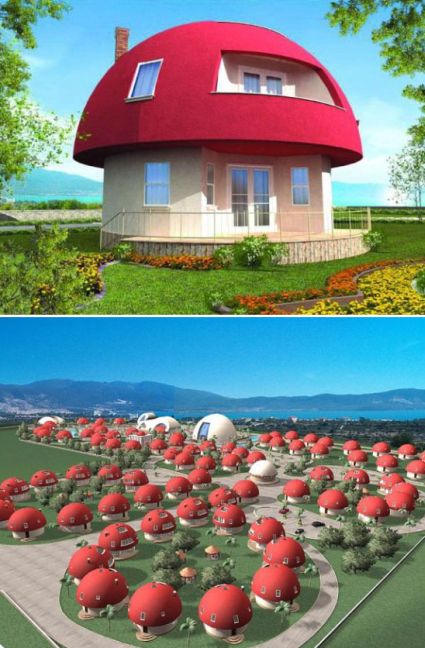 Some Other unusual houses made from unconventional materials
Your idea of fun-filled holidays would be beach, blue waters, clear sky and cozy huts. But what if the huts are these uniquely shaped mushroom homes? If you are already craving for such a distinctive destination then get set to pack your bags for this holiday destination coming up at Akbuk Bay, Altinkum, Turkey. The entire vacation village will be made up of mushroom-like homes. Altinkum means 'golden sands' and boasts of one of the best beaches in Turkey. In addition, these beaches are ideal for children as well. Located on 45,000 square metres, it includes beautifully landscaped gardens with water features, a cat and mouse design shaped restaurant and theatre, an olympic size swimming pool, horse riding paths, nature walking-trekking paths, a tennis court, sport areas and much more.
Via: Offbeathomes, Tiscali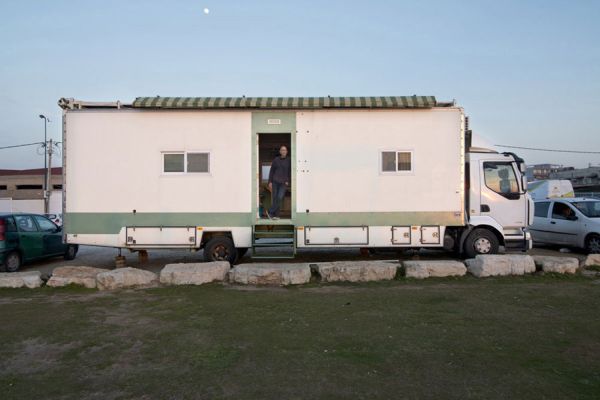 We usually put a lot of effort in constructing the house of our dream. We try using various new designs and styles to make it the best and unique from others. Likewise, there are many houses throughout the world that used to be something else and later were converted into impressive residential houses. Here we present you a short list of five most renowned and luxurious houses from across the world that used to be some other things.
1. Wood Truck
Wood truck is an excellent mobile home that is beyond expectations. The owner and designer of this terrific mobile home says that it give him the freedom of living anywhere according to his desire, together with liberty of not paying any kind of taxes or electricity bills. The home is well equipped with basic necessities and essential facilities. No matter where you go, no matter where you live, you can carry the comfort of the home with you.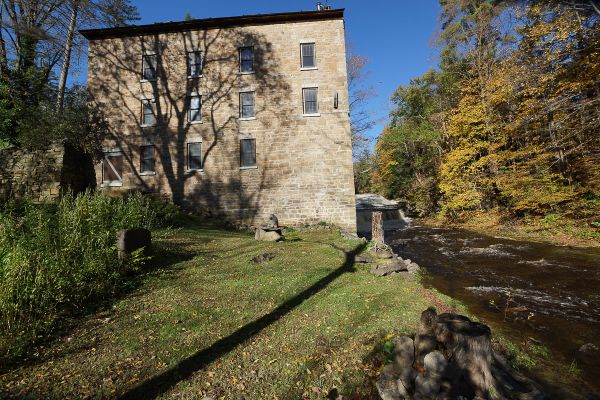 2. Grist Mill
Located in upstate New York, Grist Mill is a spectacular wooden house that used to have a four-story tall water wheel. Now the whole of it has become a four bedroom home. The wheel was converted into a beautiful house, well equipped with numerous original equipment that are now used for decoration purpose. Situated at a very convenient location, you will not find anything lacking in this spectacular home.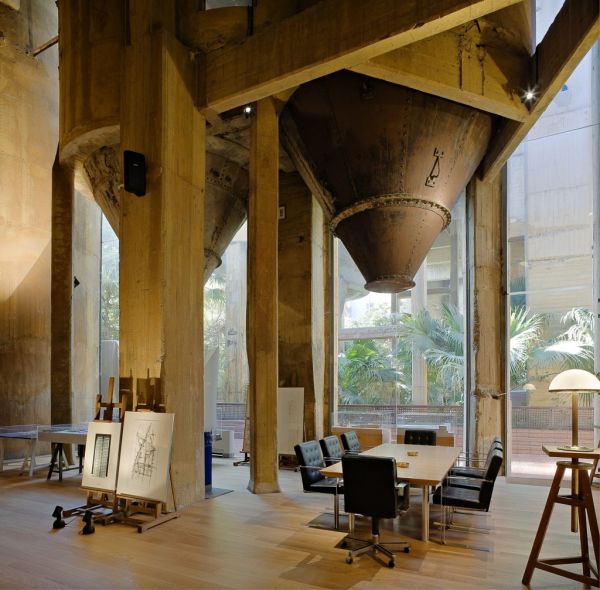 3. Cement Factory
You will surely drop down your jaw after seeing this commendable house built in a cement factory. Every single corner and room of the house looks well groomed and stunning. The place serves as a house together with head office of one of designer firm Taller de Arquitectura. Designed and equipped with modern furniture, the factory houses also features a massive collection of books in its separate reading section.
4. Water Tower
Designed by Dutch firm Zecc Architecten, Water tower is a wonderful residential conversion located in Netherlands. The building of the water tower features some nine levels along with a rooftop terrace and large windows. Water tower looks very attractive from the inside and outside as well. Eye catching beauty and superior facilities makes the tower worth appreciation.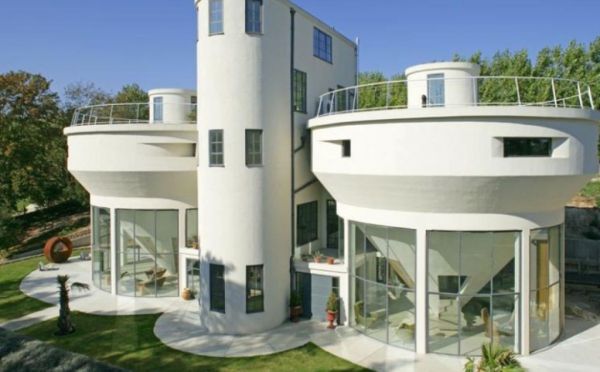 5. Water treatment Plant
No one would have ever thought that a water treatment plant could be converted into a residential house with glorious beauty. Located in Kent, England, the eye pleasing beauty of this house is unexplainable. Water treatment plant covers the total area of eight acres and is a beautifully designed six-bedroom house. Besides, it features a gym, a heated pool, Rooftop terrace and a cinema room. S
These converted residential houses are far much superior from anyone's imagination. They are not just simple houses but a living paradise for those who can afford it. However, those who cannot afford it need not be disappointed. Almost everyone can afford shipping container houses. Here are few of the best ones out there.
Some beautiful and affordable shipping container houses
Shipping containers are very strong, durable, affordable, and lightweight, which make them a perfect choice to build homes. They may not be primary material to create home for many but they can contribute a lot to recycle old containers and create sustainable home. Here we have a list of some exciting houses made from old shipping containers.
1. PV14 container house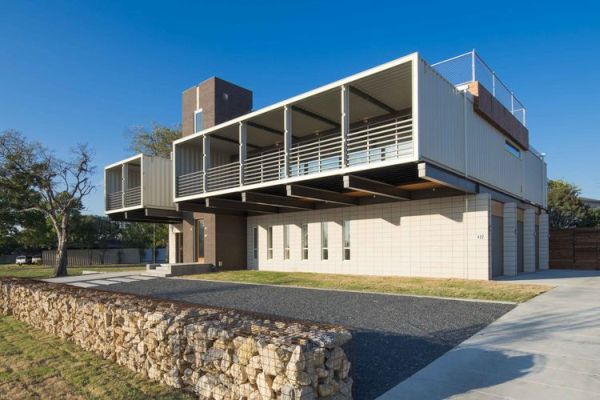 PV14 was one of the most interesting projects, as the builder has to build a house from shipping containers. Michel Gooden is the man behind this amazing house who converted 14 shipping containers into an amazing house. One of the most beautiful houses of the UK, the container house comes with all lavish facilities that any modern house should have.
It includes a swimming pool, a lawn, an open kitchen, terrace, and much more. The ceiling of the house was left open to give the house a unique look. The home also includes a 1400sq ft roof deck, a 40 ft swimming pool, and stunning three bedrooms.
2. Weekend house made from 31 shipping containers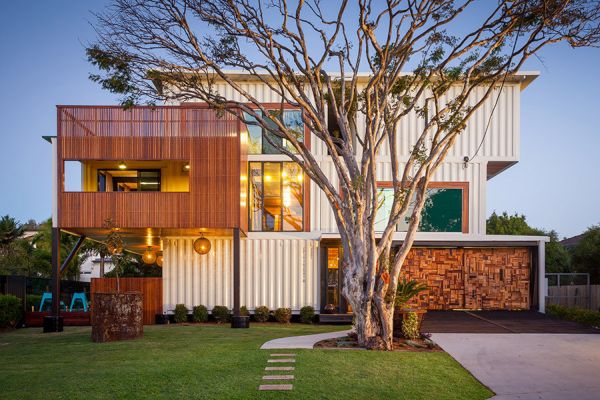 Bold combination and bright interior makes this house a great choice to make in Australia. Builder Todd Miller has converted 31 shipping containers into an amazing and desirable house. Located in Graceville, about eight km from the Brisbane, Queensland, it can be one of the finest places to hang out with your family and friends.
The jaw dropping design and the architecture makes the house a great property to have or visit in Brisbane. The unique design and facilities make it a perfect weekend home.
3. Dream house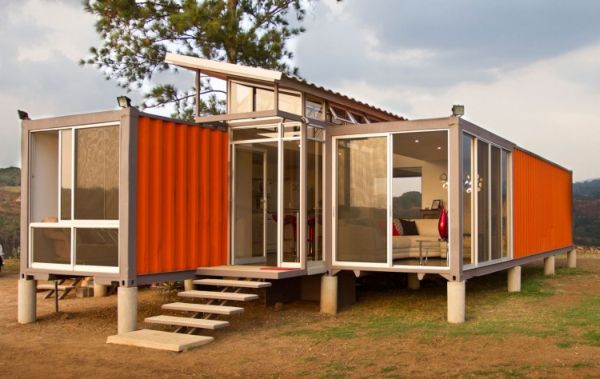 Located in San Jose, Costa Rica, this is really a dream house made by architect Benjamin Garcia Saxe from shipping containers. Made from a couple of large shipping containers, this cozy 1000 sq ft home costs around $40,000. Glass doors, windows, and unique ceiling design will not give you any chance to recognize this home as a shipping container. This home comes with bedrooms, bathing areas, kitchen, and much more that you expect in a modern house.
4. Six shipping container home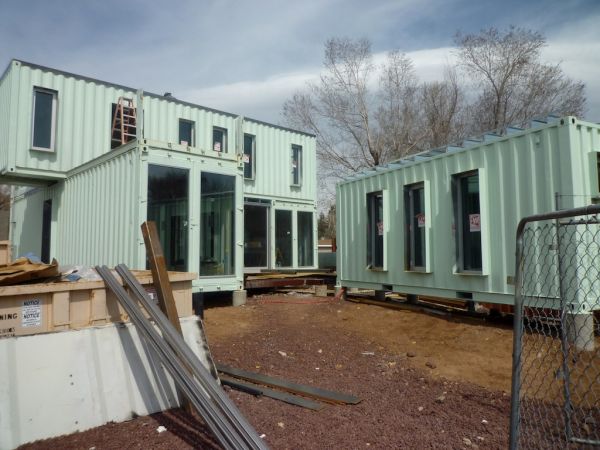 Located in Flagstaff, Arizona, this is one of the most attractive shipping container homes in the region. The beautiful stacked six huge shipping containers make it a cozy place to spend a grand weekend. This home features concrete floor, glass windows, industrial finishes, and more.
Shipping container can be great choice to construct homes as they are strong, durable, and lightweight, which makes them a great choice for building small homes. You can also choose colored shipping contains to build your dream home.