Ultraviolet-C (UVC) light is an effective solution for reducing or eliminating surface and airborne pathogens. Similar to computer and telephone technology, the aesthetic of UVC fixtures has evolved from large and obtrusive to sleek and subtle. As the awareness ofthe science of UVC disinfection increased, industries are now looking to incorporate affordable, efficient UVC fixtures into their workspaces.
One product category garnering a lot of attention is UVC Upper Room Fixtures. As a room's natural air current continually circulates air to the upper room zone near the ceiling, the UVC light in Upper Room Fixtures disinfects the air before it circulates back down. Here's why these germ-killing machines are becoming so popular:
They Can Be Sleek
Perhaps the biggest advantage of UVC upper room fixtures is their minimalistic design, enhancing the safety of an area without distraction. This means that any type of workspace or business establishment can integrate UVC upper room fixtures easily without having to modify the space to accommodate the same.
Aside from their sleek appearance, UVC upper room fixtures are engineered with a lightweight design. This makes for an easy installation, whatever the configuration of the space. Safeology's Upper Room UVC Linear Wall fixture, for example, only weighs 22 lbs., which is extremely light considering its size and capacity. It provides large room volume coverage, with each fixture capable of disinfecting a 400 ft2 / 3,600 ft3 space (20' x 20' x 9'). These fixtures can be easily installed in offices, hotel rooms, boutiques, spas, and restaurants, and are designed to disinfect large rooms easily and safely, even when occupied. 
They Can Be Hidden In Plain Sight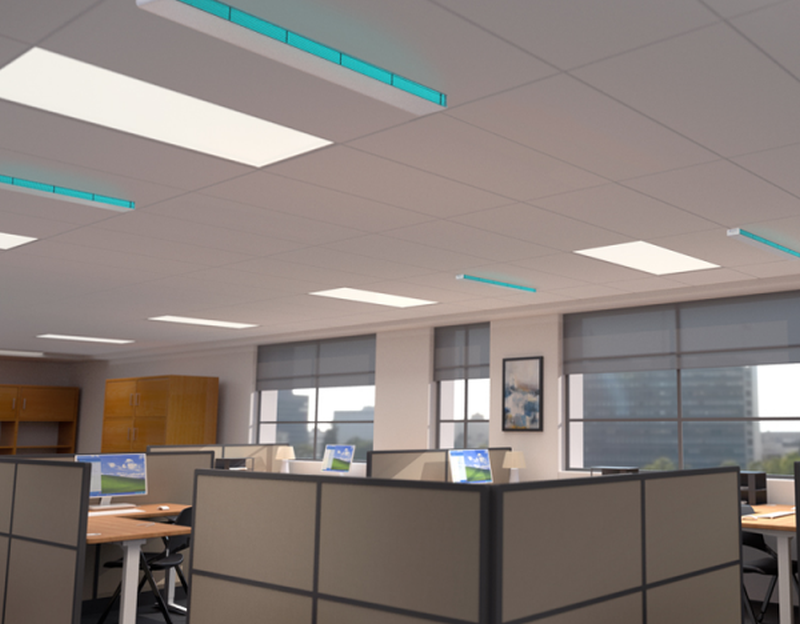 With their streamlined design, you can barely notice the presence of a UVC upper room fixture installed in a room. They can be strategically engineered to be only 1.5 inches high, making it simple for businesses to prepare for easy and unobtrusive drop ceiling installations or wall mounts.
Aside from being physically inconspicuous, UVC upper room fixtures can operate in complete silence. They will not disrupt any surrounding workspace or establishment while they do their job. This is an important feature as UVC upper room fixtures are designed to disinfect rooms and keep people safe without disrupting their activities. 
They Can Elevate Your Space
The COVID-19 pandemic has raised overall health consciousness on a global level, with many people becoming more aware of germs and where they reside. By using sophisticated UVC disinfection technology, facility owners and managers can use health safety to their advantage and provide current or potential tenants a clean space that differentiates their building from others. 
Conclusion
The sanitizing power of UVC light can benefit just about any industry. But beyond its effectiveness, well-designed UVC products can fit into any space seamlessly, blending in, and even enhancing the environment. They are the ideal solution for businesses serving customers with high levels of expectations.
Article Submitted By Community Writer