In the digital age we live in, photo editing is indispensable. To produce exceptional, distinctive, or professional photos for use in marketing, advertising, or other endeavors, we use photo editing software. The leading AI-based website in the world, VanceAI, offers creativity series in addition to productivity and editing tools. To help you independently establish a distinctive profile, VanceAI offers AI-based tools like the VanceAI Photo Restorer, Toongineer Cartoonizer, and AI image colorizer. Its popularity stems from the fact that it may offer different AI solutions on a single website. The characteristics of the VanceAI creativity and what they produce will be discussed in this review.
Part One: What do you know about VanceAI?
VanceAI is a website that offers cloud-based services to quickly and easily produce exceptional images. Powerful algorithms built on VanceAI'sdeep learning and AIfoundation have been trained to automatically process photos. VanceAI offers AI-based creative series tools for creating original profile images on your own that are as attractive as you like. The tools that VanceAI offers are all quite good, have great features and work on macOS, Windows, IOS, and Android. With any supported browser, anyone may use VanceAI's cloud-based services and use AI tools that don't have any former knowledge of picture editing or graphic design. Productivity tools, creative series, and picture editing tools are the three categories under which VanceAI's products fall.
Excellent Features of the VanceAI
With just one click, VanceAI's incredible productivity, creativity, and image-editing features can transform any image into a masterpiece.
Provides online one-click photo retouch facility.
Offers a one-click method to transform the image into a cartoon portrait with AI Image Cartoonizer.
Brings antique pictures back to life in about 5 seconds.
Easily add natural hues to images online by colorizing them.
Using VansPortrait, you can instantly turn a photo into a line drawing to make stunning artwork or a portrait.
Pros & Cons of the VanceAI
Pros
Approachable through any supported browser
Excellent features with flexible pricing policy
Make crispierand amazing portraits with one click
All AI tools under only one website
100% data security
AI-based tools to automatically process image
Cons
Limited free credits to use
Limited editing options to choose from for free users
Part Two: Review of VanceAI Creativity Series
To create original and creative images, all AI-based tools, including VanceAI Photo Restorer, AI image colorizer, and other creativity tools, are accessible on a single website. Fortunately, VanceAI includes a series called compressive creativity that consists solely of a list of inventive tools for altering an image in various ways to produce stunning photographs and effective graphic designs with fantastic results. Thankfully, there are programs available that can colorize your old images to bring them up to date so that you can display them once more. With just a few clicks, you can obtain ancient photo restoration, cartoon-inspired photos, AI photo retouching, auto colorizing photos online, and much more.
Photo Restorer by VanceAI to Bring Old Photos Come Back to Life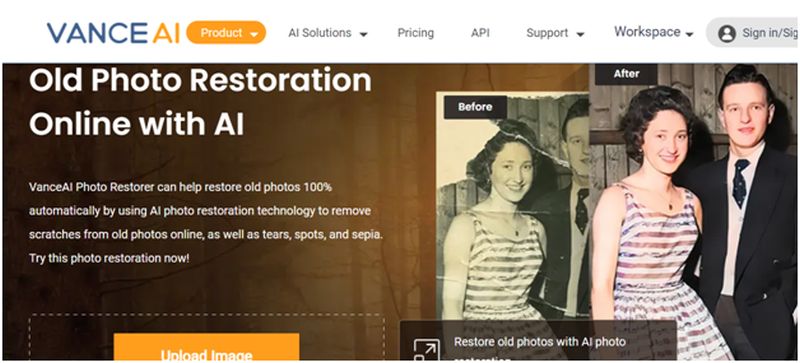 VanceAI Photo Restorer is a helpful tool for quickly restoring old photos to their original state. VanceAI Photo Restorer uses artificial intelligence to fully automate the restoration of damaged antique photos. This artificial intelligence AI-based program aids in the removal of scratches, tears, stains, and sepia to provide realistic details in old damaged images. VanceAI Photo Restorer is a straightforward and user-friendly solution for ancient photo restoration without the need for advanced photo editing abilities. With VanceAI Photo Restorer, you can automatically add human faces to old, damaged photos and fix their flaws as well as improve their color and clarity.
Toongineer Cartoonizer By VanceAI to Cartoonize Yourself Online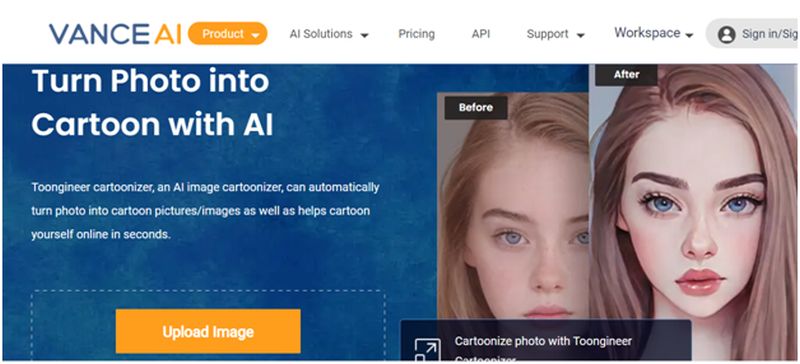 With the help of the wonderful image cartoonizerToongineerCartoonizer, you can quickly and easily cartoonize yourself online using a photo of yourself. Because it can permanently destroy all uploaded photos after 24 hours, ToongineerCartoonizer is secure to use. ToongineerCartoonizer includes an AI technology that automatically creates cartoon images with just one click, requiring no additional manual labor. ToongineerCartoonizer and AnimeGANv2 work together to instantly turn pictures into cartoon graphics. AI Image Cartoonizer enables you to independently produce original cartoon-style artwork or inventive cartoon profiles in front of your eyes in just 5 seconds, much like a professional cartoonist.
VansPortrait by VanceAI to turn Photos into Line Art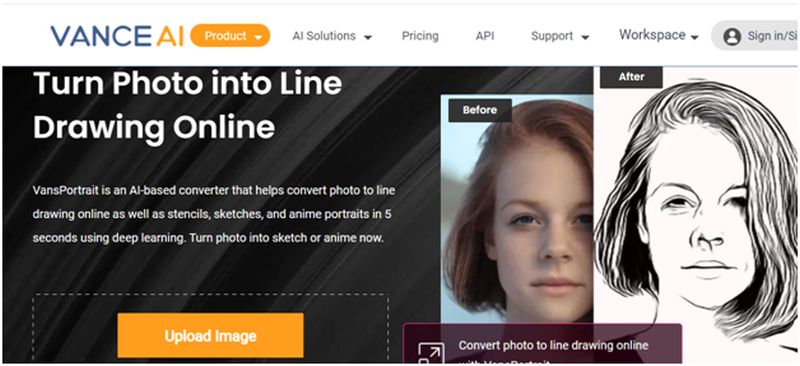 VansPortrait by VanceAI is a converter that uses AI image processing to transform pictures into line art online as well as stencils, doodles, and anime portraits in 5 seconds. With our AI stencil maker, you can instantly transform an image into a line drawing or stencil with just one click. VansPortrait has sophisticated AI algorithms built in that can automatically create sketches from pictures. With the help of this inventive sketch creator, you can effortlessly convert images into line drawings or other forms of line art like a professional artist.VansPortrait is also known as an artificial intelligence (AI) photo outline creator that uses GAN, a deep learning technique, to automatically recognize and collect the lines from a picture and convert them into a line drawing in seconds. If you want to try something new and make line art or line drawings to get more likes on social media, this is the right tool for you.
AI Photo Colorizer: Colorize Photos With One Click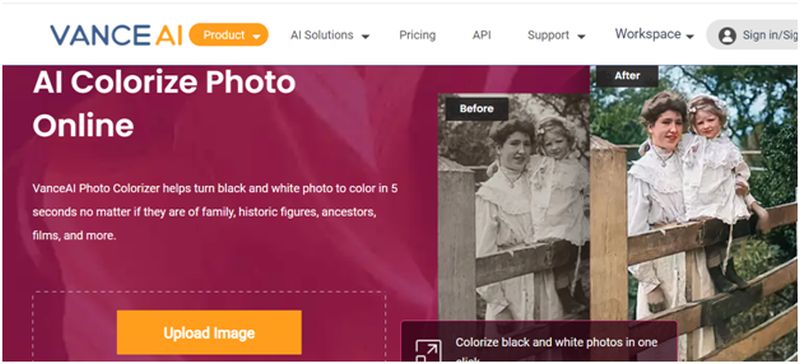 An AI-based program called Photo Colorizer from VanceAI provides a lot of capabilities like noise reduction, color correction, and HDR effects. No matter if the images you have are of your loved ones, historical people, ancestors, wildlife, or scenes from movies, AI will colorize them. It is a fantastic online AI-powered photo colorization tool that aids in photo colorization. Your black and white images can be converted into color with VanceAI's Photo Colorizer to give them new life and vibrant colors. The greatest AI picture colorization algorithms are used in this AI photo colorizer to colorize photos online with accurate and consistent results. The incredible features of AI Photo Colorizer also make it possible to remove blur and noise from ancient photographs.It gives the potential of adding natural colors to your black and white photos by utilizing a DCNN instead of conventional filters, and it permits batch processing to colorize a million images.
VanceAI Photo Retoucher: Retouch photos with One Click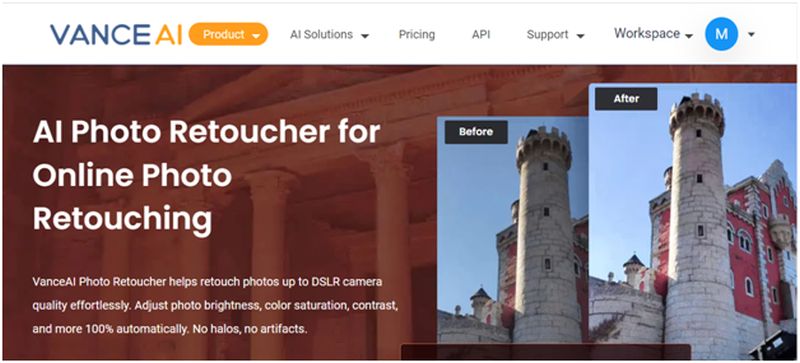 VanceAI Photo Retoucher is part of the VanceAI creativity series and flawlessly and quickly retouches photos to produce a distinctive profile. Because of its strong algorithms, AI Photo Retoucher automatically adjusts photo brightness, color and hue saturation, contrast, and more for online AI photo retouching. This AI-based online photo retoucher enables you to transform dark and hazy smartphone photographs into amazing and eye-catching portraits in only 5 seconds.With only one click, VanceAI PhotoRetoucher uses deep learning and AI photo retouching techniques to produce even more spectacular outcomes with realistic details. Our AI photo retoucher can automatically identify dark regions in a photo and potentially make them look brighter by altering color contrast and brightness without sacrificing image quality. It doesn't matter if you're retouching portraits, landscapes, product photographs, profile photos, or antique photos.
Part Three: How to Use VanceAI Photo Colorizer
Method 1: Visit VanceAI Photo Colorizer Official Product Page
Step one: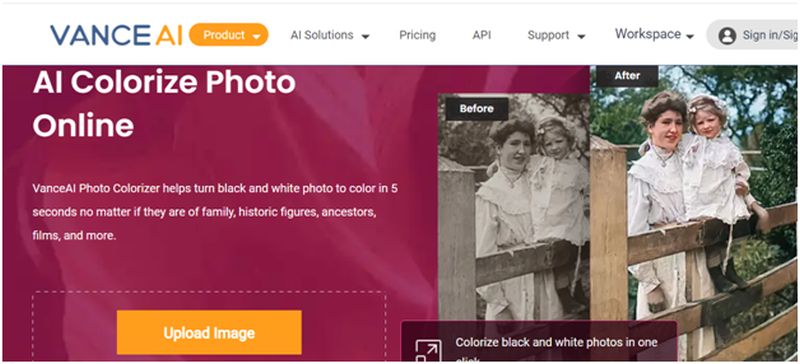 Visit VanceAI Photo Colorizer'sofficial page to upload the image which you need to colorize. Upload your file in any supported format by hitting the "Upload Image"button.
Step two:
You will see as you upload images VanceAI Photo Colorizer will automatically start processing to turn your photos into colorful photos. It willtake just a few seconds tobring your photo back to color.
Step 3: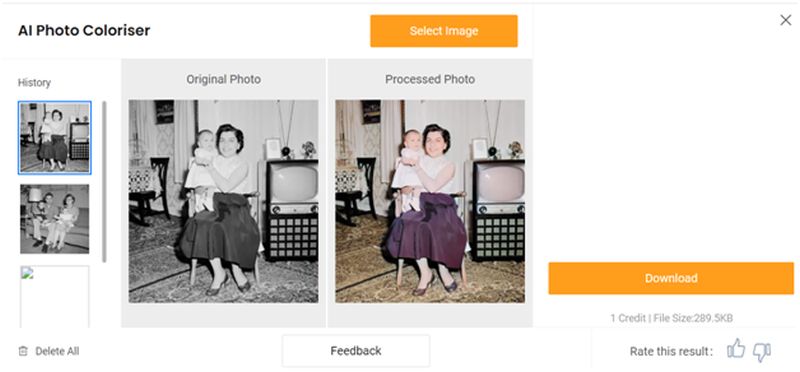 Upon completion of the process, you will see the processed image in the download section. Hitthe "Download Image" button to save your colorful image. That's the simple steps on how to use VanceAI Photo Colorizerto colorize photos online.
Method two: Go to VanceAI Colorizer Workspace to Process the Image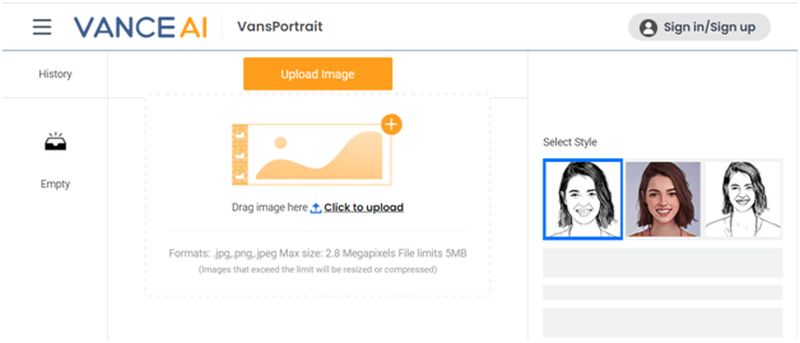 If you want to cartoonize photos online instantly then visit VanceAI Colorizer Workspace. Just upload or drag and drop the image to turn it into a cartoon portrait and hit the processing buttonWithin seconds you will see your crispycartoon profiles right before your eyes.
Conclusion
Users also like the website VanceAI, which offers editing and AI image-improving tools. It has developed a substantial library of productive, artistic, and editing capabilities to provide users with some degree of independence while handling photos. With only one click, VanceAI creativity tools and cloud-based services enable users to produce imaginative graphics. You can develop a special profile on your own using our tools for creativity to stand out in the crowded digital world of today. VanceAI creativity series is a fantastic option for successful graphic design since it offers all the resources needed to create an impressive portfolio, including the ability to colorize photographs online, recover outdated photos, and more.
Other Tools Offered By VanceAI
BGremover
For graphic designers, photographers, and other similar professionals, BGremover is a really helpful application since it makes it easy to get a translucent backdrop and opens up a ton of new possibilities for image modification. BGremover has extremely high accuracy while removing undesired objects from the image background thanks to the AI systems integrated into it. BGremover performs optimally to highlight your essential elements while quickly removing image backgrounds.
Photo Editor from VanceAI
VanceAI also offers VanceAI Photo Editor, which includes a variety of tools for editing both new and old photos to bring them up to date for various tasks. Using the VanceAI Photo Editor, you may crop, rotate, and compress your photos to prepare them for further editing. By automatically enlarging photographs up to 4 times and removing any blurriness and noise from it, VanceAI Photo Editor offers a one-click option for adding texts, effects, and improving photos to high quality.
Article Submitted By Community Writer