Owning a boat isn't as big a luxury as it once was. However, due to this very reason, maybe people are taking it for granted. We are overcrowding the oceans with vessels, which, in one way or the another, harm the ocean life. No matter whether it is about the fishes or the phytoplankton, each piece of life on this planet connects to each other. Even the plastic that we throw into the ocean can have a grevious impact. Therefore, it is important that we preserve them as they ultimately connect to our own life. Don't worry, for that you don't have to give up on boating altogether. You just have to prefer boats that leave a minimal impact on the oceanic environment. Verseka portable boat is once such boat.
Verseka portable boat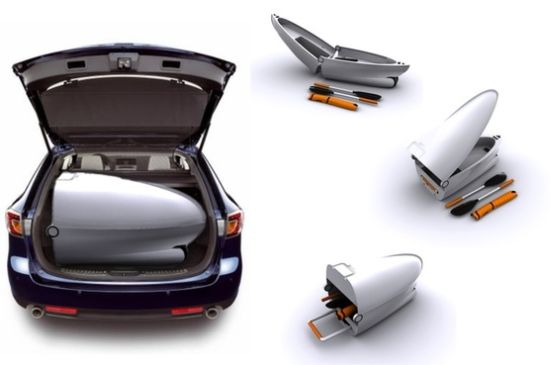 You must have heard or seen the boats shipping the cars or vans. But the transportation of a boat in an average four-wheeled vehicle sounds a bit unusual. However, Lithuanian designer Matas Jonaitis has come up with a transformable boat dubbed "Verseka". You can fold it into half of its size, so that you can easily move it up to riverside locations with minimum fuss. Ideal for fishing and fun boating in small rivers or lakes, the Verseka portable boat becomes as compact as it easily slips in the boot space available in a regular vehicle.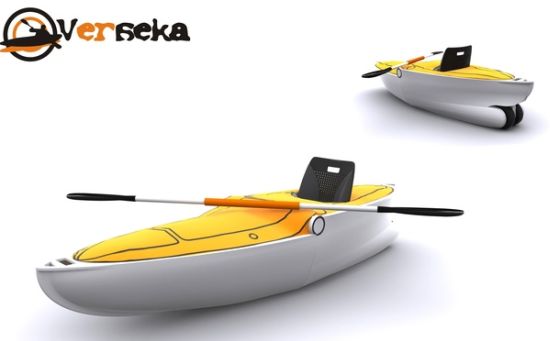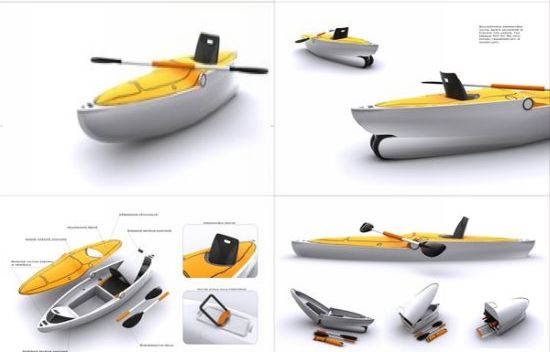 Via: Behance
Some more innovative boats like Verseka portable boat
1. Ilha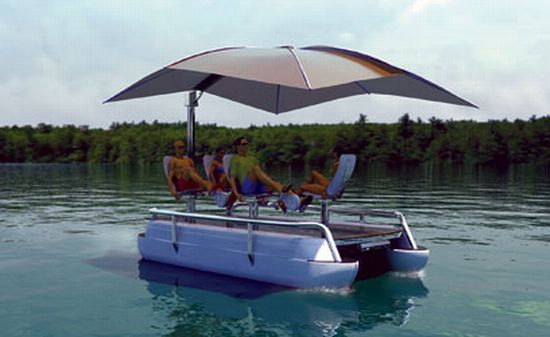 Nature has blessed us with several gifts which keep entertaining us with their enchanting appeal. Boating is the way that engrosses us totally to the depth of magical and intoxicating rivers and lakes. The deliberately designed Ilha by Alexandre Bellerose offers an environmentally friendly approach to preserve nature while extracting pleasure from it.
This little graceful boat stores the energy contributed by each passenger by foot paddling. It does so through a well-constructed system, allowing the user to paddle at his own pace.
Adding to your thrill, the exclusively designed caterpillar tracks let the boat go around the shallow water. In addition, the well-integrated water gun splashes water all over making you wet. It features an electronic assistance mechanism. Furthermore, it is capable of opening up its wings to form a small, firm and personal island. Its foldable and light weighted seats can be adjusted for more space. Moreover, you can also easily rotate the foldable sunshade accordingly.
The design merges the splendor of nature with its conservation. When nature can serve such bliss, it becomes our duty to respect all its resources. One way of doing so is by minimizing their exploitation through our acts.
2. Lancia di Lancia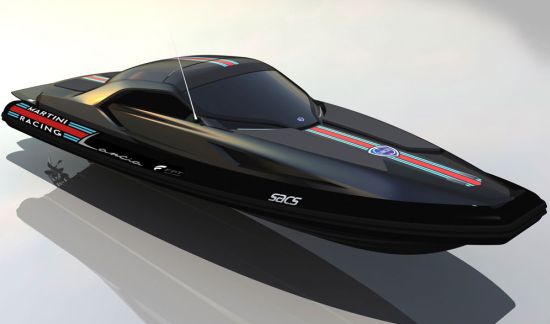 Drawing inspiration from luxury cars, Italian car maker Lancia has come up with its first speed boat. This boat brings the comfort of on-road drives to sea cruises. Dubbed "Lancia di Lancia," the speed boat generating power from the latest engine from Fiat Powertrain Technologies is capable of producing 1120 hp in the water.
Lancia di Lancia is designed by Christian Grande. It comes integrated with modular furniture, i.e. a dining table and a sofa that turns into a bed for a couple with a simple touch of a button. It is slated to be officially unveiled at the Lido of Venice on September 4. The best thing about it is that it gives the flexibility of removing the top and windshield for a thrilling cruise on the mounting waves. The Lancia di Lancia also includes vintage headlights with LED technology for night riders (sailors).
3. ZEBO (Zero Emission Boat)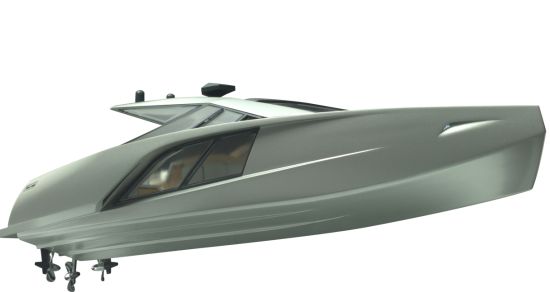 The ZEBO (Zero Emission Boat) by German designer Simon Gorski is a highly functional motorized boat. It generates power from a fuel cell in combination with a wave generator for an emissions-free ride. Featuring a recyclable Aluminum Monohull, the day-cruiser is not only eco-supportive but also touts excellent gliding properties while reducing the weight to a large extent.
Capable of accommodating up to six persons comfortably in its central cabin, the sustainable boat (12 m long) is capable of reaching a top speed of 35 knots (65km/h) and can explore an action radius of 200 sea-miles (370 km). And the huge cutouts and window areas give a whole new perspective to the activities on the water.
4. 1Liasion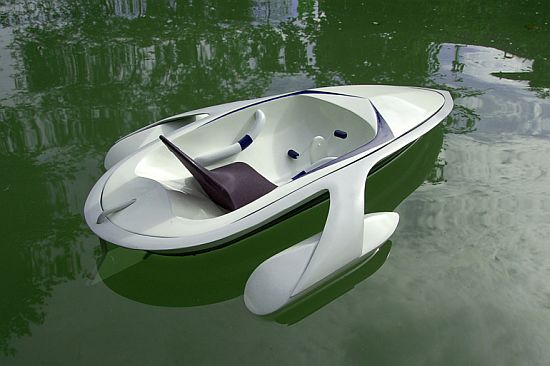 Paddleboats may be a sustainable mode of transportation but it requires a lot of energy and physical fitness to paddle the boat during stretched expeditions. However, '1Liaison' is a paddleboat with a difference that runs on an onboard battery. It is charged by the paddling only when the user feels too exhausted to paddle the boat.
The pedals are connected to a dynamo that juices up the battery. Therefore, the users have to paddle hard to ensure that the battery is fully recharged for their high-speed boating expedition.
The 1Liaison is a concept design that if it comes in production will change the mindset of people about paddleboats. It offers not only an eco-friendly ride but also a pedal-electric hybrid design that makes boating a fun. The sensor system of the paddleboat measures and guides about the speed of paddling required for charging the battery.
Via: Ecofriend
5. Kahuna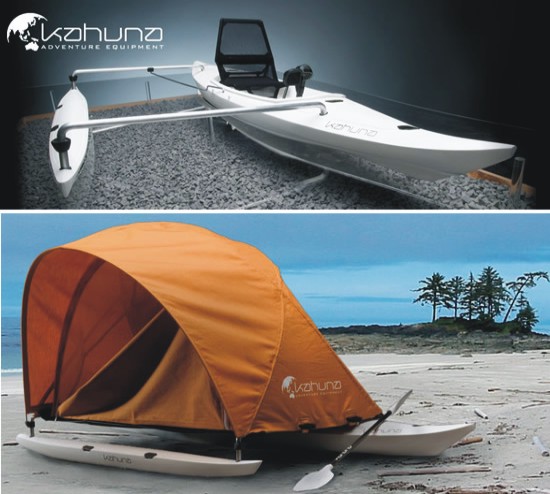 How many boats offer multiple utilities? A little more information about the boat 'Kahuna', and you will certainly know what I am talking about. Designed by Mario Wess and pedal/crank mechanism engineered by Hobie Kayaks, makes this its main drive, called the Mirage Drive.
Normally after sailing, we need a resting ground to de-stress and relax. Regular boats aren't a great resting place, especially if you're an outdoorsy person and the boat is in the middle of no-where. In such a situation you're stuck in a rut and have to compromise by staying in the uncomfortable boat.
This versatile boat, unlike others, can transform into a comfortable tent whenever you reach your destination. Since a cloth can be mounted between the outriggers to serve as a base, there's absolutely no need to worry about insects, sand or water getting in. The insides are detachable and also have folding seats offering more comfort and stability, making it ideal for lazing around.
This boat merges style and comfort with great ease. Not just that, since the materials are made of natural materials, it is biodegradable when converted into small pieces making it an environment-friendly stylish masterpiece!
6. Family pleasure cruiser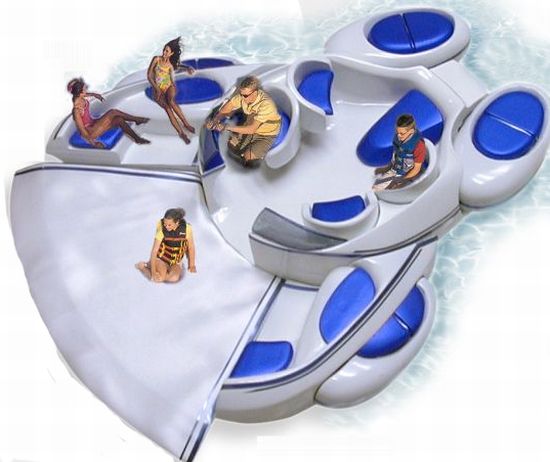 Let it be for a family function or to encourage constructive communication, the family pleasure craft by Patricia Vincent is an eco-friendly cruiser designed for a pleasing family experience. This design is aimed at unifying the entire family and offers many activities like fishing, surfing, swimming and sunbathing that can be enjoyed by all members of the family.
This purposely designed boat comfortably accommodates 4-6 people with rotational seating encouraging easier communication. You can also enjoy the feel of a "personal beach" by opening the front portion of the boat that converts into a huge deck.
You can further explore the surroundings with four detachable electric powered watercraft. This fiberglass constructed boat operates on a jet propulsion system and is thoughtfully colored in blue and white, blue symbolizing trust and loyalty and white concealing the scratches on the boat and also keeping the boat cool by reflecting heat. A family that boats together stays together.
Thus, this family-centered boat not only gives pleasurable moments but also facilitates communication, turning your family into a closely knit family.