If you would have a choice between choosing two types of clocks, which one would you choose? Would you go for modern digital clocks that show not only time but the temperature and humidity as well? Or would you rather choose the old traditional clocks? Although digital clocks have a considerable advantage over traditional clocks, the latter never go out of style. In fact, to make them better compete with their digital counterparts, clock designers are coming with new and innovative unusual wall clocks. These not only show time but have a considerable aesthetic appeal as well.
Traditional clocks never go out of trend
Traditional clocks are everywhere – in your home, your workplace, school. They tend to become boring quite fast unless they possess some attractive feature which sets them apart from the rest. Thankfully, a number of manufacturers have realized this and are now involved in the production of themed unusual wall clocks which not only help you check the time at your convenience but also jazz up the walls of your house. They do not lose their novelty as fast as normal clocks and on top of that, it feels good when a person visits your house and stops to admire this piece of equipment. Not only do these clocks have an innovative appearance, but they are quite funny too.
10 – Unusual wall clocks to keep track of time
1. Ganz Gala Rooster Clock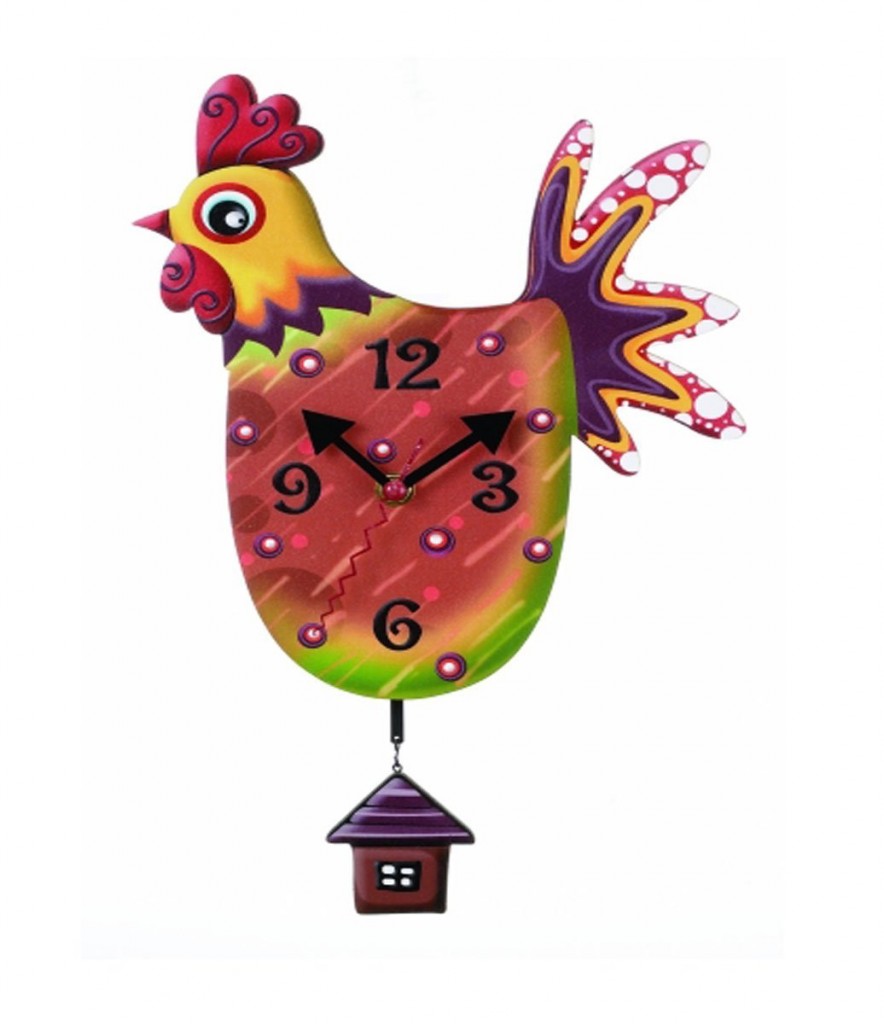 The Ganz Gala is a wall clock in the shape of a rooster with comes with a swinging pendulum along with quartz movement. It has a height of 13-3/4th inches and is composed of mdf wood. A keyhole is present by which the object can be suspended from your walls. The clock needs a single AA battery to run which is not included along with it. You can find it online at a discounted price of $33.96.
2. Allen Designs A DOODLE Rooster Pendulum Wall Clock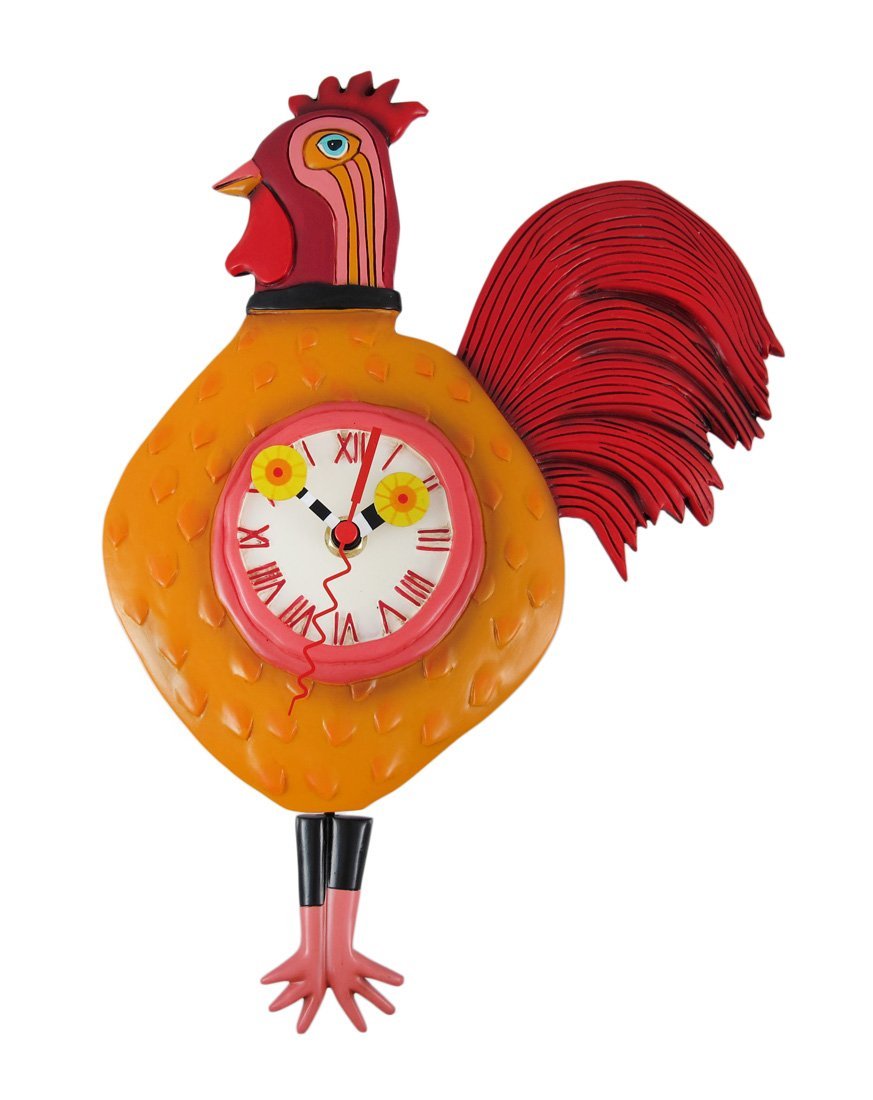 Another rooster-shaped clock to adorn your walls with, it is almost as tall as the previous model. Cold cast resin imparts durability to this wall clock which is likely to make a great gift.
3. Octopus Clock Mirror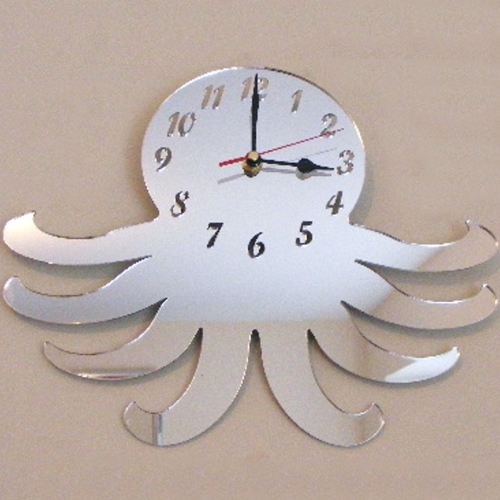 This is a clock cum mirror which is available in an innovative shape. Made up of lightweight and shatterproof acrylic safety mirror which happens to be about 3mm in thickness. You can use the hook on the back to hang the clock. Requires an AA battery to operate. Goes with all kinds of environments because of its silent tick feature. However, it is not water resistant.
4. Kitten Wall Clock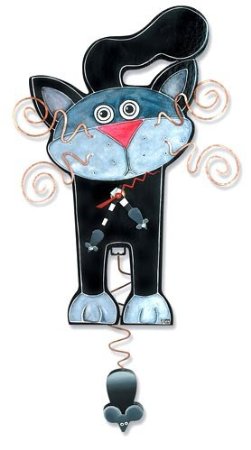 Pop art design which depicts a quirky kitten with wiry whiskers paying attention to a mouse. High quality and durable, this unusual wall clock is a fun way to keep track of time.
5. Infinity Instruments Fisher-15″ Metal Wall Clock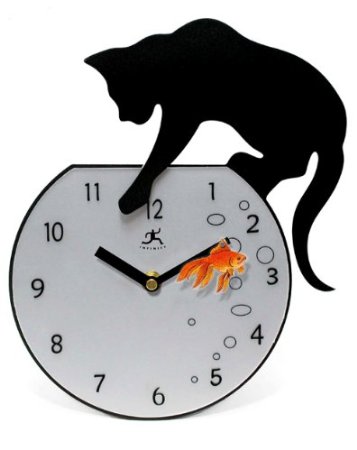 The clock looks like a fishbowl and even has a cat on top which seems to be eyeing the fish inside. You can easily grab it at an affordable price.
6. Monkey Wall Clock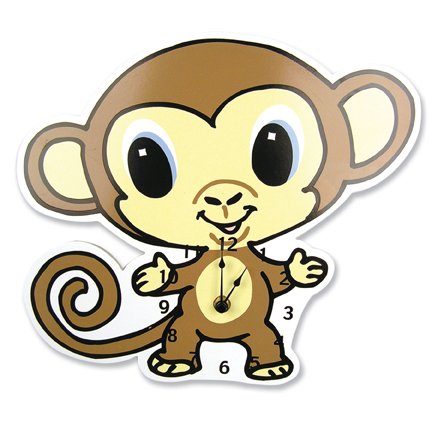 This funny looking monkey is sure to be a hit with kids and will suit the walls of your kid's room.
7. Melted Metal Clock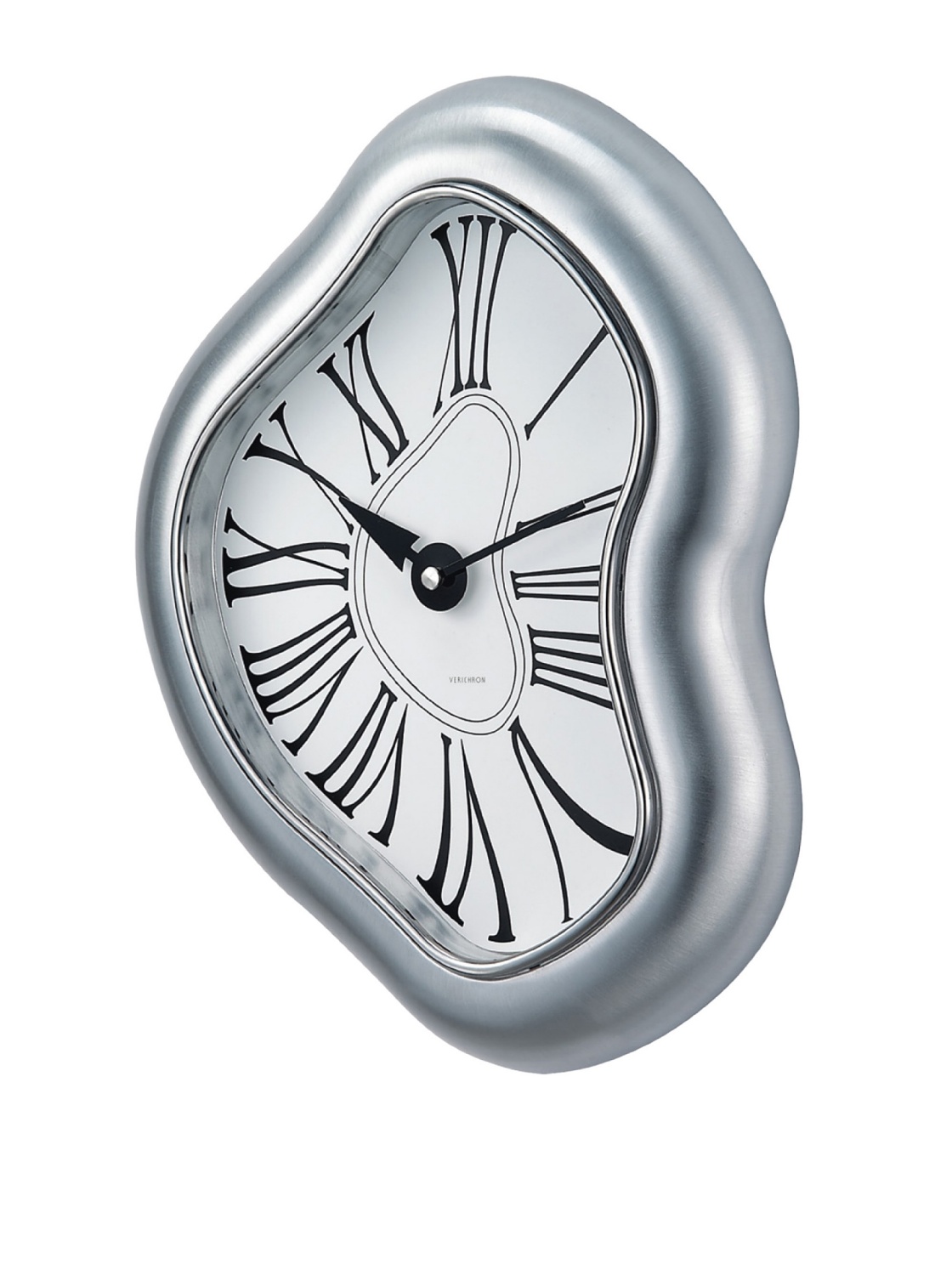 A melting faux shelf alarm clock having dimensions of 5-1/4 by 2 inches. Made of cold cast bronze, it is completely weatherproof and boasts of an antique finish. High quality quartz movement ensures perfect time.
8. Retro Silver Modern Metal Salvador Dali Wall Clock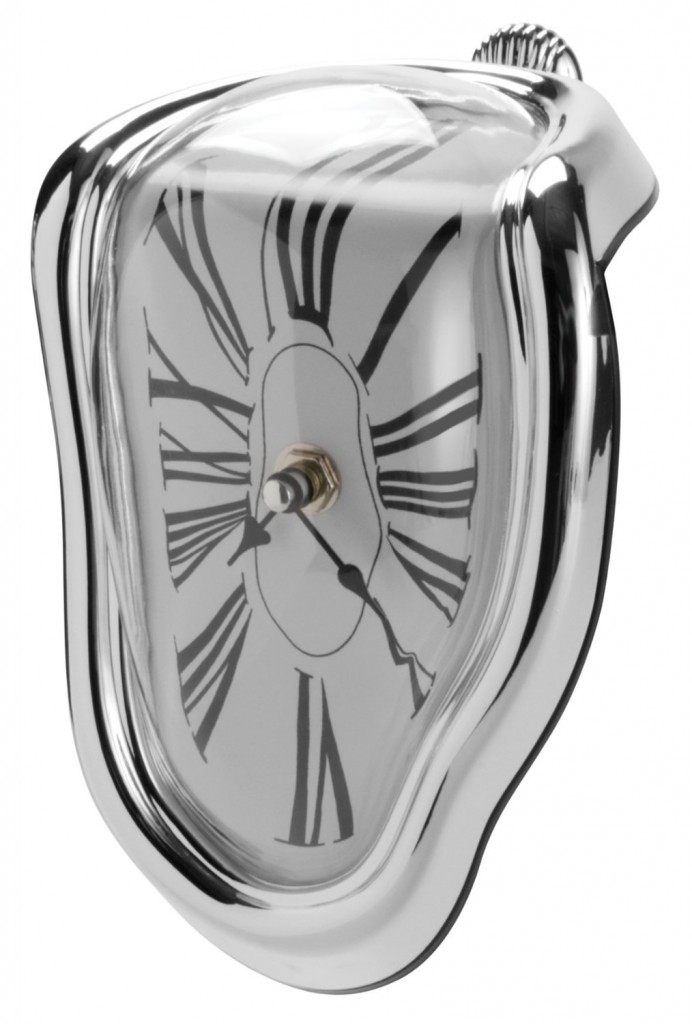 Wall clock with retro design inspired by the paintings of Salvador Dali. Possesses a white clock face housed within a metal body which is protected by a glass covering.
9. Humpty Dumpty Pendulum Wall Clock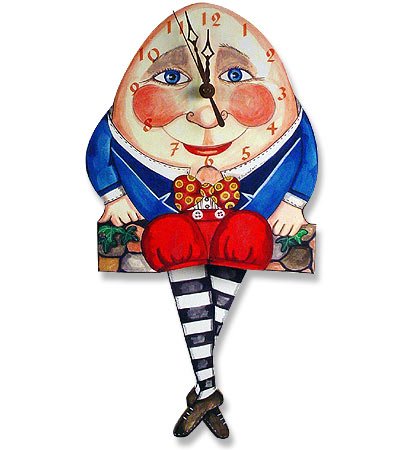 The design of this wooden wall clock is derived from the classic nursery rhyme character. Comes with quartz movement and swaying pendulum limbs. The clock is handcrafted in the USA.
10. PIZZA Life Size Pepperoni Pizza with Extra Cheese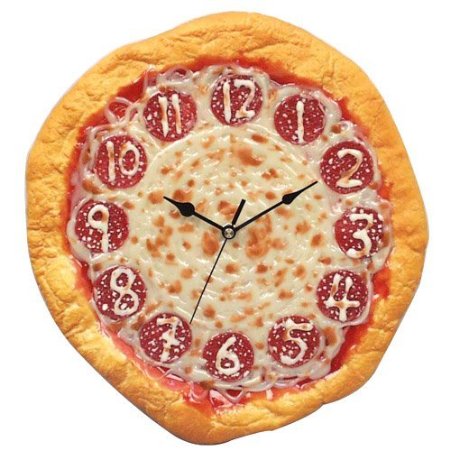 Jumbo sized Arabic numbers have been cast from cheese. The hands depicting hours, minutes and seconds are all coloured black. The clock has a diameter of 12" and is operated by one AA battery.
11. Sundial Clock: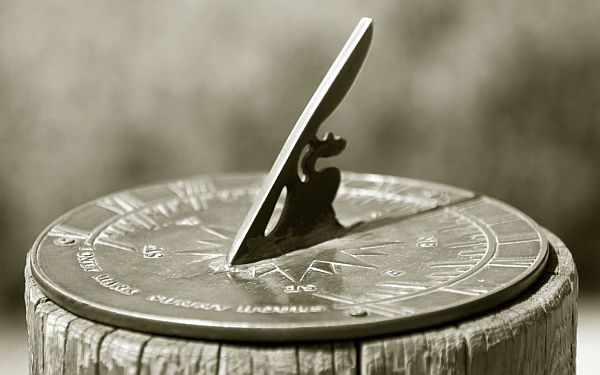 The Sundial Clock has a unique design and the circular metal disk of the clock holds all twelve numbers to the surface perpendicularly. The numbers appear when their shadows are cast on to the painted white base. It appears like simple, parallel lines when viewed straight, and overlapping numbers are visible when viewed from the side. Thus, this unique clock design gives a classy and modern appearance to your home.
12. Little Time: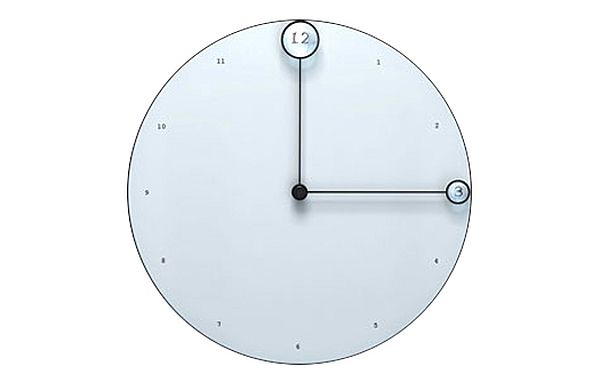 The numbers on Little Time clock are represented in microscopic size, hence the name. Both the hour and minute hands of the clock feature magnifying lenses, enlarging the numbers as they pass over them thereby making them not only evident and readable but also bringing attention to the current hour.
13. Eyes Clock: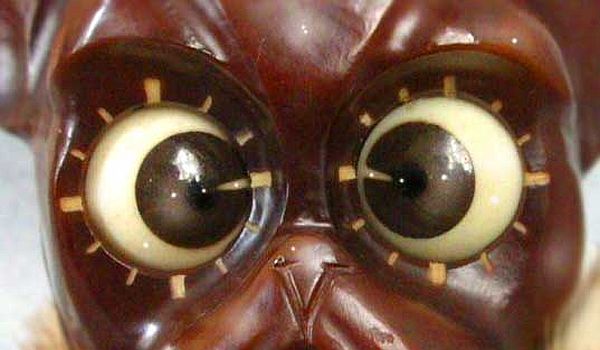 Eyes Clock has rolling eyes that really roll around as time beats on. It tells the time in a new way with its rotating pupils. The left eye displays the hours while the right gives the minutes. The digitalized display is easy on your own eyes making this ideal to use in home or office. The eyes clock is really an ideal one that not only shows you time but also it is a great fun to have such a clock at your home.
14. 11+ World Clock: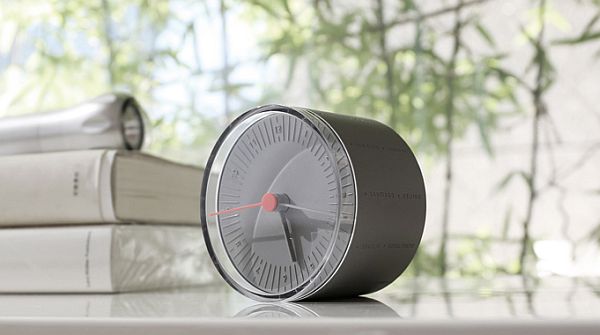 11+ World Clock is a contemporary clock designed by Korean design studio 11+, which allows you to keep track of the time in 24 different time zones around the world. The 11+ World Clock has a cylindrical design and it sits on its circular edge, with the clock face on one of the flat sides. Names of 24 time zones are printed around the cylindrical body, out of which two for each number on the dial to correspond with the 24-hour clock. Additionally, cities with a 12-hour time difference are coupled, consequently London sits with Auckland, and New York goes with Bangkok.
15. Insert Clock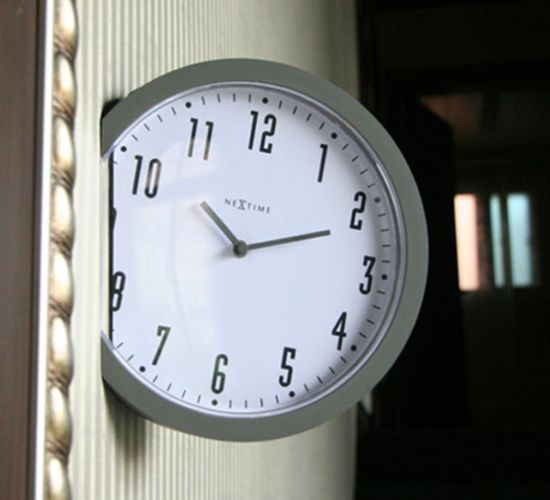 Designed for clock manufacturer Nextime, the "Insert" by designer Leo Yiu is a simple, but at the same time unique, wall clock, which is sliced from one side to create a flat edge for mounting in a way as if inserted in the wall. Protruding at an angle from the wall it's mounted on, the clock by the Hong Kong-based designer alters the viewing angle to present "a simple idea to change the way we see the clock."
Summary:
Contemporary clock designs have replaced the classic clock designs. Modern clock designs are just about telling right time but also serve as a decorating accessory for your home. All designs mentioned in the article are unique and classy that one can use to modernize or to add a spark to your home.