Who doesn't like a nice and cozy party in the backyard? Throw the party by the poolside and add speakers and barbecue to it, you need nothing else to make it perfect. However, cleaning a barbecue grill and storing it properly can be troublesome for busy homeowners. Nevertheless, when you have innovative barbecue like the vertibral at your disposal, that's not a problem. This and other barbecue design concepts in this article solve this and many other problems. It might be a while before any of these concepts sees the light of the day, but we might as well find some solace and enjoyment in the ideas.
The Vertibral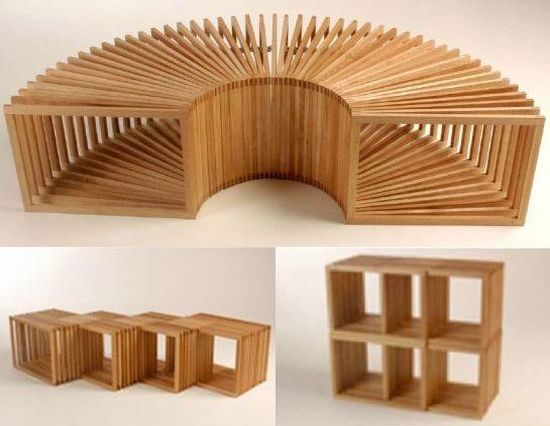 Just like its name suggests, Vertibral borrows the idea from the vertebrae of the spine to give furniture the same flexibility that spine gives the body. Its not simply a modular furniture concept, but allows for more complex shapes by giving flex to the individual blocks of furniture. Each box is fashioned from thin wooden square ribs, 12 in all, which are hinged at the middle to let them fan out. This pivoting is what specifically makes this furniture similar to the spine, opening options for Vertibral furniture to be waved and combined into many patterns.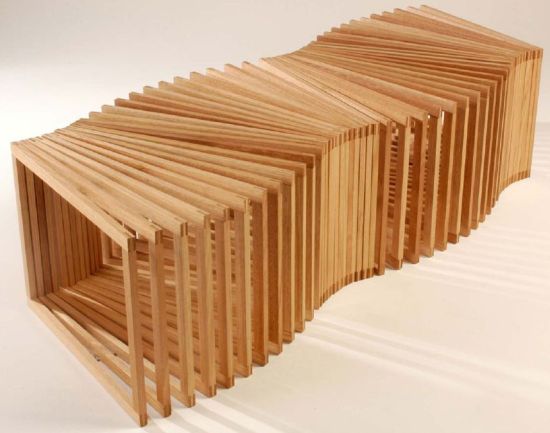 Intuitive combinations of the Vertibral's parts would form seating and tables. Whereas slightly more complex patterns like bookshelves can be made -although a little lifting is required. More artistic shapes, which have nothing to do with furniture, such as sculptures can even be thrown together.
Furthermore, the Vertibral is as easy on the environment as it is on the eyes. It is built using environmentally friendly materials and processes. That includes everything right from its wood to its stainless steel hinges and even the wood finishing. Designer Joseph Keenan's creative thinking has led to a deceptively simple concept. It is surely gonna be appreciated for its simplicity and artfulness.
Source: ESO
More innovative barbecue concepts like Vertibral
1. Fold and Go Portable Charcoal Grill
When folded for portability this barbecue grill looks just like an attaché or briefcase and by opening it you have the most sleek and highly functional grill table. It can be used outdoors as you will be able to carry it in the boot space of car. The simplistic design makes it more user friendly than contemporary models of barbecue.
2. Grillo Portable Barbecue
The Grillo Barbecue can be folded in a manner similar to the way you fold an umbrella. It can be folded quickly and carried easily. You do not need to make elaborate arrangements for using this barbecue grill. The lightweight portable grill has been made in such a way that the users will find its height very convenient for cooking.
The flower petal like folding surface is pleasing to the eyes and also can get folded swiftly. For making it safer to use solid fuels and add a better aroma to your grilled foods the Grillo comes with a stainless steel mesh. Cleaning the cooking surface can be done with the help of water and cleaning brush.
3. Focus Creations Wall Mounted Barbecue
This lovely foldable barbecue grill can be fixed to a convenient wall surface. When not in use you can fold it up. It does not clutter your narrow backyard space yet let you enjoy outdoor cooking. The round cooking surface is user-friendly and clean up is also not too difficult.
4. Traverse Concept Barbecue
Eddie Licitra is an industrial designer who has invented the Traverse Concept Barbecue. Often American homeowners find it difficult to pack their barbecue during traveling or shifting home. The Traverse Concept Barbecue can be folded conveniently as it is also a hand truck. Licitra has used color coding technique for cautioning users about which parts of the grill are too hot to be touched during cleanup.
5. Alistair Messom's Barbecue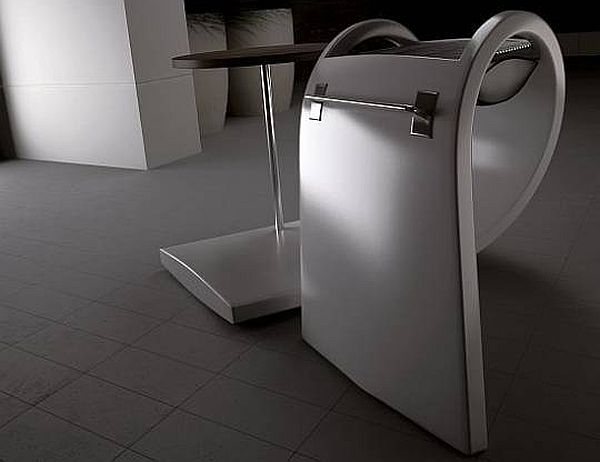 Alistair Messom has given an ultra modern, sexy design to a barbeque concept. The barbeque resembles the shape of a loop, which makes it a fascinating conversation piece. The concept features a hardwood side table where you can prepare and serve food, while the grill is made from sheet welded together and coated with powder. The grill is available in walnut or oak, and offers additional stainless steel fixtures.
6. The Helios Solar Grill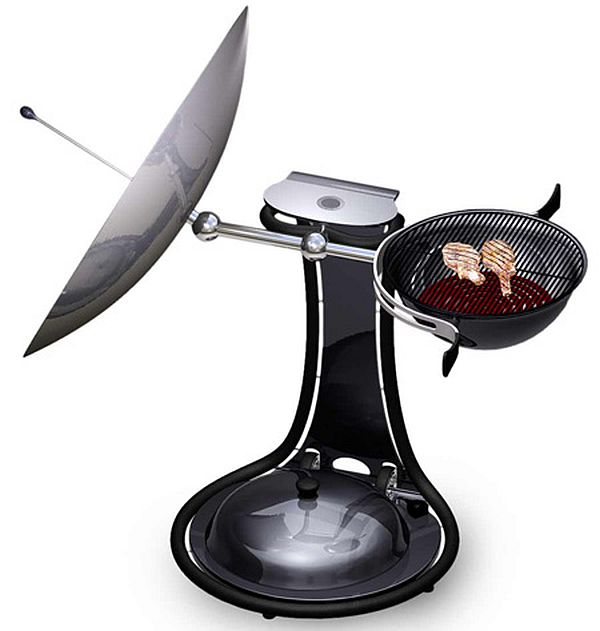 Helios Grill is an eco-friendly concept that uses sunlight to grill food. The reflective parabolic dish focuses sunlight onto a solar receptor. Helios is a concept that is designed to maximize safety, as the reflective solar dish remains in the opposite direction while you do the cooking. In case the day is not sunny or the weather conditions do not allow you to use solar power for grilling, you can use the retractable plug nestled at the bottom of the device and can use electricity to accomplish cooking.
7. The BBQ 360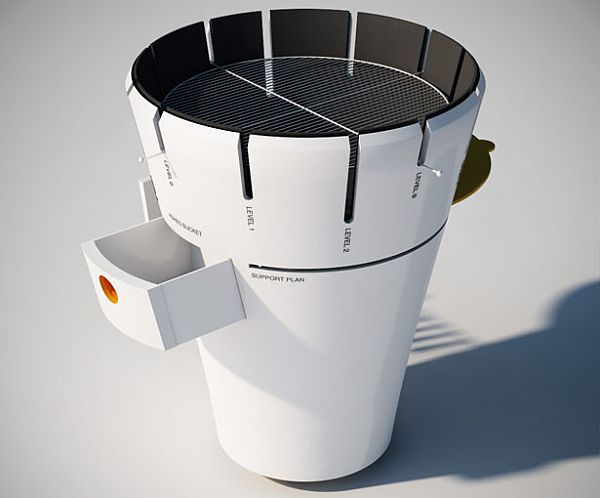 BBQ 360 is a concept by Marco Marotto that makes the task of grilling a lot more simpler, as it is a compact device, light in weight, cooks to perfection, and is super easy to clean. Furthermore, this barbeque device has a cylindrical shape that resembles that of a waste paper basket. The best feature of BBQ 360 is the slots that provide three broiling heights over the burning coals. In addition, it also features a retractable shelf, removable drawer, a toolbox to keep spatula, dustpan, brush or fork, and the wheels for the ease of mobility.
8. The Mesa Indoor Grill Station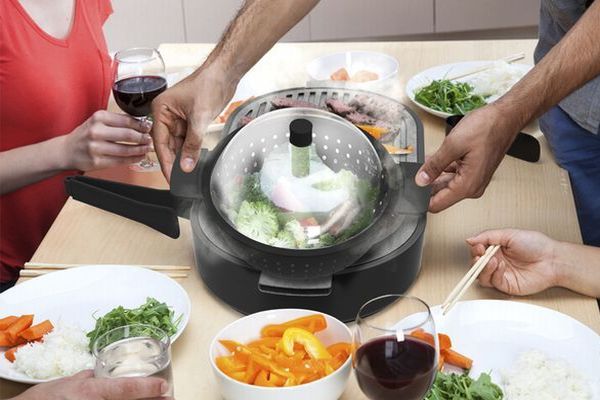 This indoor grill station concept is perfect to make house parties even more fun. The brainchild of designer Tim Hayes, the Mesa Indoor Grill Station features separate cooking surfaces each with their own temperature control system, a secondary cooking surface has customizable attachments, an all-purpose griddle, and a removable cord.
9. The Puuur by Barbecook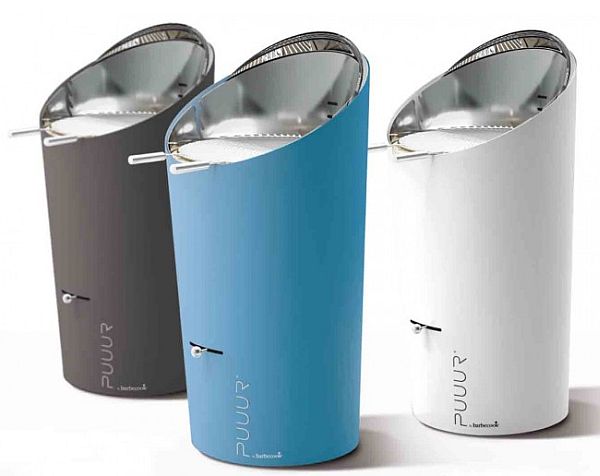 In Puuur, a cylindrical stainless steel barbeque grill with a reflector shield reflects the charcoal heat back into the ceramic bowl, thus, saving the amount of power that otherwise goes waste while we cook. The Puuur is a modern design and is available in three colors. It is super easy to use, is light in weight, and is easy to clean.
10. BBQnique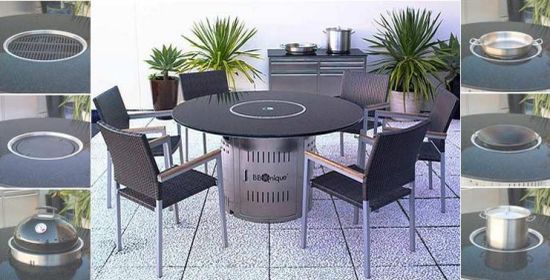 The BBQnique by Steve Zagar is a unique barbecue unit that doubles as a dining/coffee table (for up to eight people), after you are done with the cooking. Presenting a control valve, ignitor and a burner, the BBQnique effortlessly transforms into a stunning outdoor table. Furthermore, it offers a stylish yet practical cooking as well as dining space for smaller courtyards, balconies and even houseboats.
Easy to clean, the multifunctional barbecue table comes with a natural granite top and stainless steel base. In addition, it also has a grill, hot plate, wok, oven, and stove. Therein you may bake and serve a variety of meals to your family and friends. Moreover, the BBQnique featuring a 9kg gas bottle that lasts 2-3 times longer than conventional BBQs, hence causing less harm to the environment.