Do you want to do something for the environment today? Well, you can. Just ditch your vehicle and opt for public transportation. Remember, public transportation isn't just eco-friendly, it's budget-friendly as well. There are many cities all around the world that support public transportation. If yours is one, then don't let it go to waste.
Furthermore, there are designers from all across the world are coming up with innovative concepts to promote public transportation. If your house is far from your bus stop or metro station, you can even utilize something like folding bikes to cover the distance. There are limitless options available. Here, in this article, we have mentioned a few of them.
TSS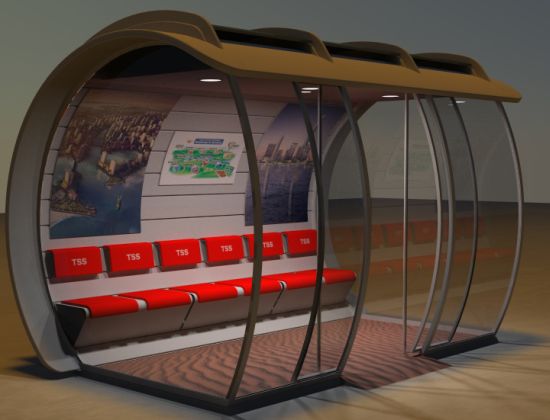 In this fast-moving era, comfort and luxury remain the top priorities. Therefore, it becomes difficult to attract commuters toward government-backed transportation. Refurbishing public transportation, the "Traffic Shelter System" (TSS) offers an innovative shelter that gives access to different public modes of transportation to commuters. Furthermore, it does so without striving in the open. Featuring an integrated air conditioner, it also has automatic sliding doors and complete wheelchair accessibility. In addition, the TSS helps passengers to move across and reach their destination with minimum fuss.
The shelter creates an optimum expression by allowing the customization of the inner design. Moreover, the TSS offering separate sections gives extra protection to women and children. The Traffic Shelter System not just allows comfort to commuters. Moreover, it also helps in controlling the traffic on the road and sustaining the environment by supporting public transportation.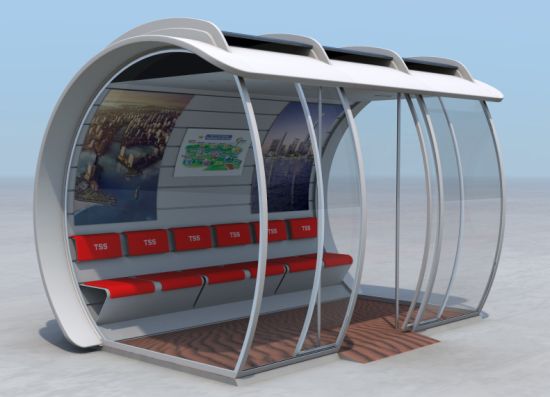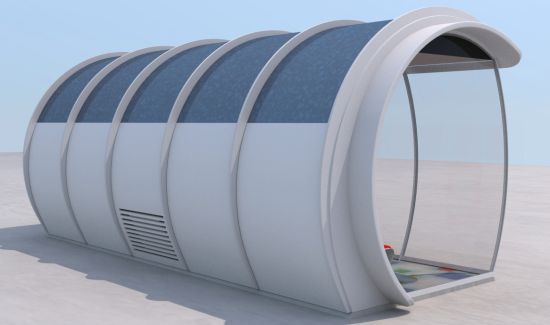 Via: Trafficshelter
Some more concepts that promote public transportation
1. Peugeot Capsul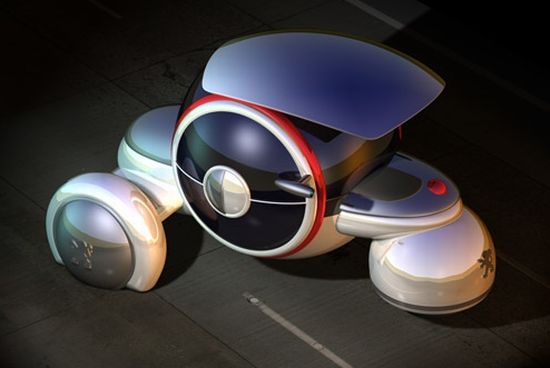 An entry at Peugeot design competition, the "Capsul" by David Portela is a public vehicle for personal use. Taking its power from two small hydrogen engines in the wheels, the Peugeot Capsul provides clean and safe commutation in urban environments. Users can hire the vehicle for personal use to roam in and around the city.
It consists of recycled or recyclable parts. These include glass, aluminum and green plastic. Moreover, the sustainable vehicle comes integrated with solar nanotubes to harness solar energy as an additional power source. The two-seater smartly personalizes the public transportation to provide eco-friendly commutation on city roads.
2. Public Transport System Concept at Prato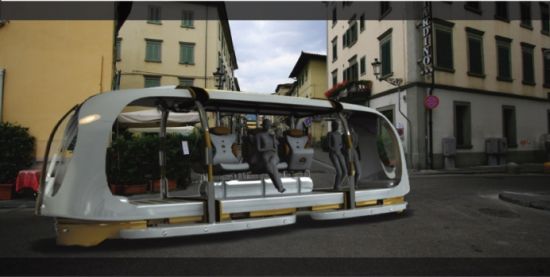 So you want your concept to have something different? Here's the deal, design it down to the minutest of details; for instance, the place where the concept means to locate. That's supposedly the reasoning that has gone into this concept for a Public Transport System. It is exclusively for the roads of Prato, Italy and makes clear as much in its tag. The 'Prato-Italy Public Transport' is a concept by Jake Eadie. This system consists of a vehicle that utilizes power of computer. Furthermore, it also works on electricity and has six wheels. Supposedly meant for tourists, this vehicle drives leisurely at 5 to 15 km/h.
A seating capacity of 6 people with space for another 4 to 5 to stand, the system has glass walls on all the four sides. No doubt the concept, though beautiful, has very limited applicability. Not to forget, it does have some green credentials going for it. Tourist corporations perhaps would take interest in Eadie's vision. More images follow.
3. KoH public transport system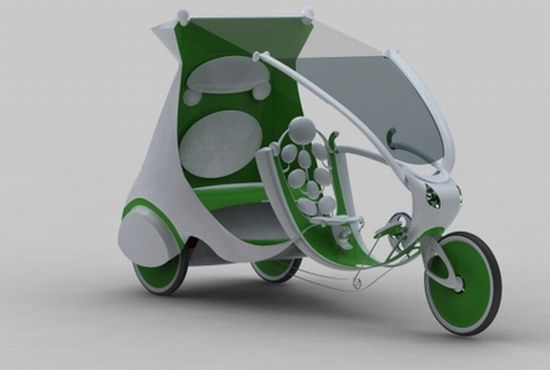 Designed by Juan Pablo Zapata Martinez, the KoH is an eye-catching riksha concept for public transport. KoH (meaning horse) generally refers to bicycles. In addition, it also stands for an ecological transport system. The project specifically performs in the city of Bogotá, Colombia. It is as an alternative to public transport for short distances. This designer rickshaw intends to help create jobs for the poor.
The formal proposal uses the fluidity in the organic shapes for transit through the city with other vehicles. The sides of the KoH have been left open for visibility and natural lighting. The aerodynamic shape of the vehicle is another highlight. Finally, the colors used represent their environmental object. The KoH is handled by one person in the front cabin, with two passengers in the back side.
4. Solar-powered hovercraft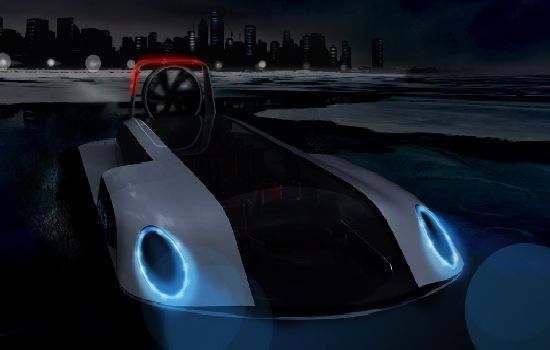 We've come across several futuristic transportation design concepts touching odd extremes to offer a sustainable mode of commuting. It isn't that we are going to present a relatively simple idea that manifests with the touch of a magic wand but definitely a concept that would be wholeheartedly applauded by all Finnish naturalists just in case it happens to see the light of the day.
Designer Lukas Medeisis's plan for Helsinki's future transportation 2020 aims at re-establishing a link between nature and capital city's residents by shifting public transportation from city center to the coastline. This according to the designer would offer daily commuters resplendent views of the long forgotten coastline as they commute every day. To offer speed and comfort, the design envisages a hovercraft-type vehicle dubbed as AirFLOW which is also apt for commutation given Helsinki's typography largely characterized by frigid undulated terrains covered with frozen ice.
Powered by a hybrid engine, the craft has two solar-powered electric engines placed in front under the steering propellers that get juiced by transparent solar modules on the laminated polycarbonate roof.
To ensure a safe ride in the dark, the AirFLOW is equipped with LED front and rear lamps. The vehicle has space to store bicycles too and features sliding glass doors on both sides to enjoy natural beauty.
5. Maglev public transport system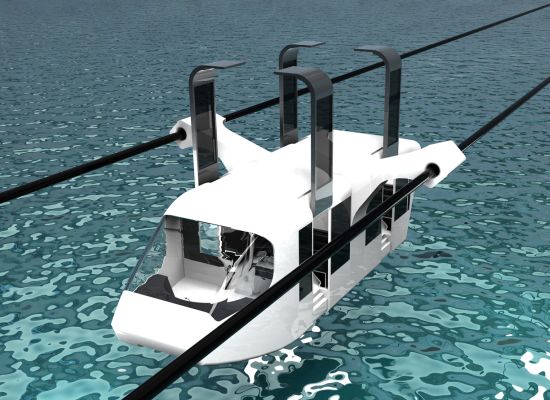 The pace the urban population and thus the number of vehicles are increasing on city roads, we will have to look for some alternative public transport system to keep up the pace of city life all across the world. Intended towards congested cities that we can foresee in next 10-15 years, the Maglev by British designer Chris Hanley is a public transport system that embarks a brand new way of traveling with new flair of roller coaster like experience, and that too with the safety of an average bus.
Based on the magnetic levitation (maglev), the new means of transportation keeps the city dwellers away from chaotic jams and run along its track, allowing an efficient as well as emission free ride. Suspending above the lanes or streets of the major cities, the new system will use skyscrapers as stations to board and deboard passengers. Rotating the central wing at 360°, thanks to its radical design, this public transport can maneuver around sharp corners, allowing it to move down narrow roads within the cities.
The wings of the system move along the magnetic track, while on the other hand, the two cabins remain completely still, making it safe enough for people to travel without seat belts. In addition, transport concept adds the elements of luxury and first class travel with leather seating and stainless steel framework. Moreover, the white glossy interior adds the sense of an enhanced environment, making the public transport more comfortable and desirable.
6. ARC personal rapid transport system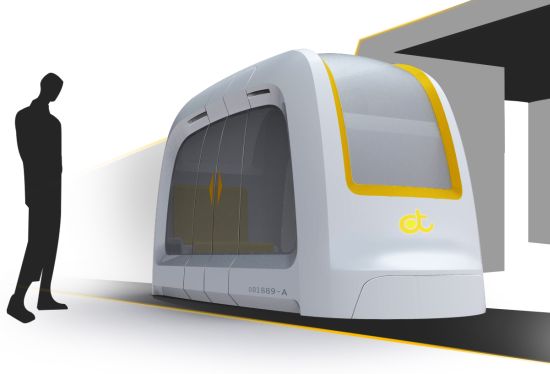 The ARC personal rapid transit system concept from designer Zack Stephanchick aims to provide easy, quick and hassle-free transport for residents of urban areas. The autonomous vehicle moves on a network of rails, which in a way also makes it compliant with the current web of tracks and trains.
The minimalistic concept has autonomous pods, each capable of seating four people, and with large side glasses and a symmetrical design. This allows bi-directional travel for the pods and helps reduce manufacturing costs associated with the public transport system.