What does the word Jacuzzi bring to your mind? Well, if it brings luxury and comfort, then you are a perfectly normal human being. In modern times, since it is quite expensive that is why we associate it with such ideas. Furthermore, it isn't just the looks of a Jacuzzi, it also has the functionality to it. Not only it is one of the most important parts of your luxury bathroom, but it could also be a great addition to your home spa. Here's everything you might want to know about it.
What exactly is a Jacuzzi?
An Italian Multinational corporation that is mainly into production of whirlpool bathtubs and hot tub spas. The first product designed by them was a bath tub with massaging jets. This corporation goes by the name of Jacuzzi.
The Jacuzzi as a brand specializes in whirlpools. These are electrical sprouting air bubbles into water from various points of the tub. Furthermore, Jacuzzi keeps in mind that it should relax the body after the hectic and busy schedule and gently massages the aching body.
Jacuzzi is now becoming very popular. In fact, people are using it in residential homes, high-grade hotels in their suites and also in cruise ships. If you are one of those who have developed a liking for Jacuzzi in your bathroom, you need to first work out on the budget. After deciding the budget, you need to figure out the space that is available to install a Jacuzzi. After you identify the space, you need to finalize on what design and shape you would prefer to go in for.
Jacuzzi is available in different shapes that are quite stylish and elegant. Some shapes are been mentioned below:-
Rectangle
Walk – in
Corner
Oval
1. Rectangle:-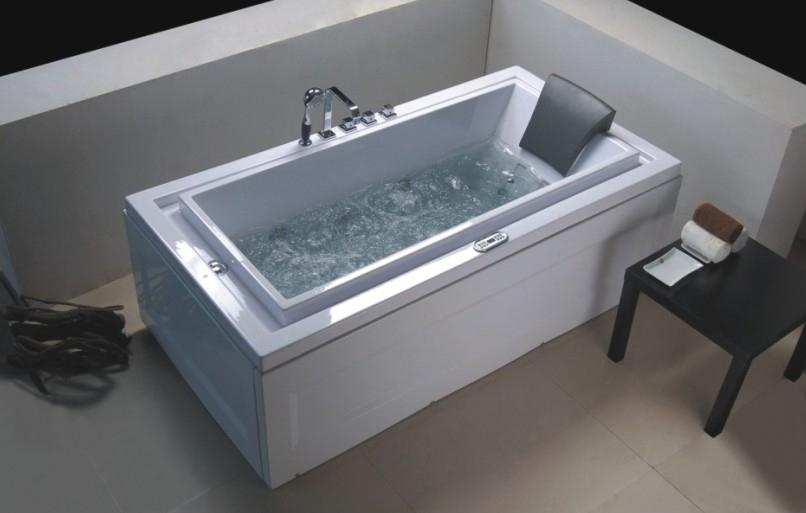 The clean and sparkling lines of a rectangular bath fits in the layout of selection of settings, which is contemporary or crisply traditional look. This shape is generally used for those who really want to stretch out and have the fun of warm water and jets. This shape is precisely designed keeping in mind for two bathers.
2. Walk – In:-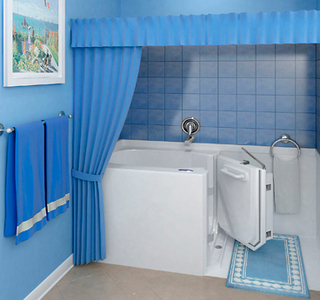 The Walk – In bath Jacuzzi is in particular for easy access and comfort. This is designed for residential homes.  Perfect home spa experience. The easy and the simplest way for having a soaking bath. This shape is been designed for an independent bather. The walk in bath provides a relaxing and luxurious warm comfort which relaxes and retreats the body at home. 
3. Corner Baths:-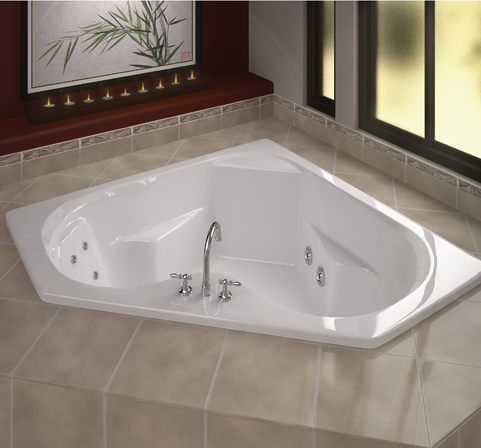 People who have been lucky in identifying enough space for their Jacuzzi which is in a corner. Cuddle up in a corner where two of you can pamper each other in a full body jet massage. The rich and sparkling wooden finishes of the bath tub is worth admiring. The Jacuzzi corner brings a tranquil look and makes you feel out of the world. Perfect design for honeymoon couples.
4. Oval Baths:-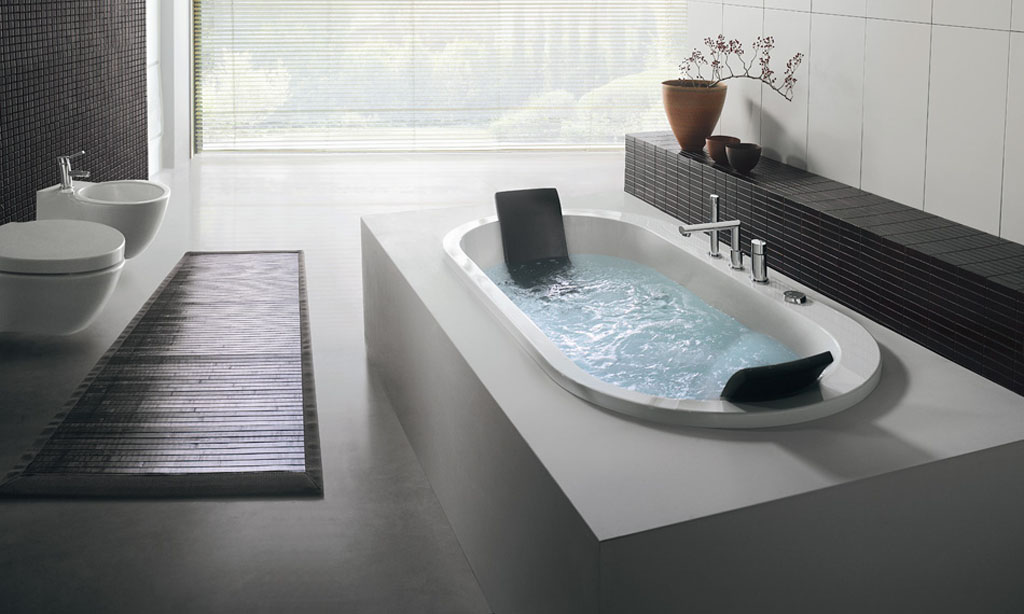 The stylish symmetry of an oval-shaped bath is everlasting. Add the special effects of Jacuzzi whirlpool hydrotherapy, the soothing bubbles of a Air bath, or the stillness of a effortless soak, and you have a bath to be glad about for years to come. Select from a variety of installation types and styles from conventional to ultra-contemporary, plus stylish comfort features and highly developed technologies.
Along with a variety of designs available, Jacuzzi also has a variety in installation. Choose your installation from the below mentioned options:-
Free Standing
Drop – In
3 Wall Alcove
Corner
The wonderful way to entertain friends and relatives is a Jacuzzi spa. You can even unwind to start of the weekend by relaxing in your Jacuzzi spa having a glass of wine or a chilled beer. Furthermore, you can even soar yourself in your Jacuzzi spa on Sunday night for relaxing yourself completely and getting completely ready for Monday morning and the busy week. In addition, you can provide wonderful leisure to your friends and families through your Jacuzzi spa whenever there is a party. Moreover, to add more to it, you can even go for the most popular designs in the market.
Some innovative designs that you can choose from
1. Ocean of Love: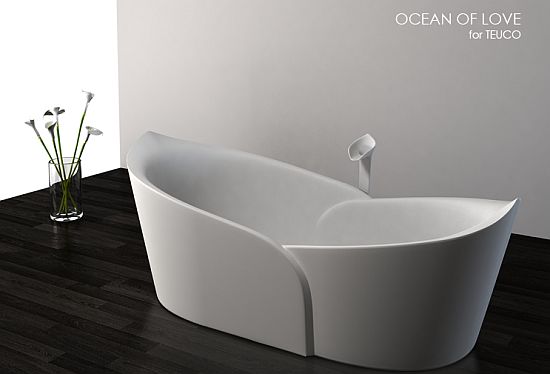 Commissioned by TEUCO, a leading brand in bath accessories, Ukrainian designer Oleg Suzdalev has created a bathtub concept dubbed the "Ocean of Love" that as elucidated by the designer "carefully dips you into the ocean of comfort, pleasure, tenderness and love." Born with the desire to fill human life with the sensation of care, sincerity and purity of feelings, the bathtub looks like a serene petal to give you both physical and psychological pleasure. The design shows the attitude of the man and woman. Therefore, the Ocean of Love uses Duralight, a patent product of TEUCO. Measuring 1700 x 850 x 670mm (LWH) in dimensions, the trendy bathtub provides adequate space to shed your physical and mental strain in utmost comfort.
2. Illuminated Bathtub: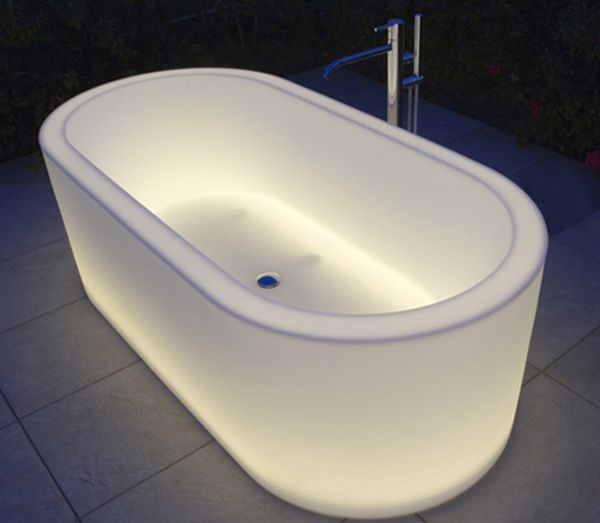 This self standing, polyethylene, lit up bathtub, accompanies a set of introduced incandescent lamps or an inward colorful programmable LED light unit. It is accessible in white, fluorescent orange, lemon yellow, pink, and red. It is made by architect Jan Puylaert.
3. Bathtub Bookcase: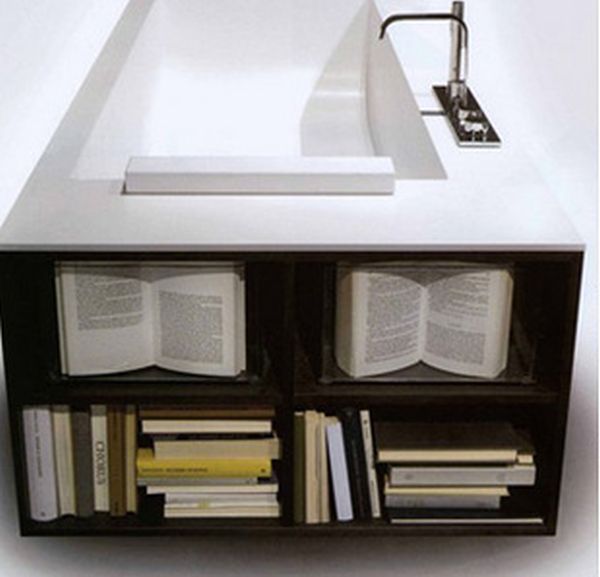 This is an absolute necessity for any avid reader. Apropos named Biblio, it is an outline extended by Antonio Lupi. This innovative shoecase has a cabinet at the posterior. This bathtub consists primarily of gum and wood.
4. Golden Bathtub: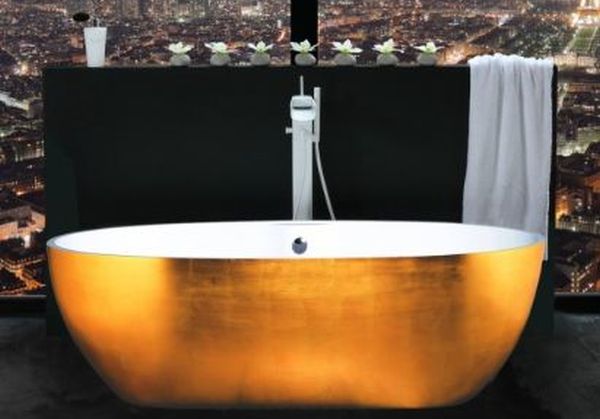 This stunning bathtub that fit in with a Japanese inn network was made of 18-karat gold and stainless steel. The 71-centimetre (28-inch) long tub weighs 80 kilograms (175 pounds) and has an expected quality of 120 million yen (one million dollars). In 2007 it was stolen from the resort, tragically.
5. Shoe Bathtub: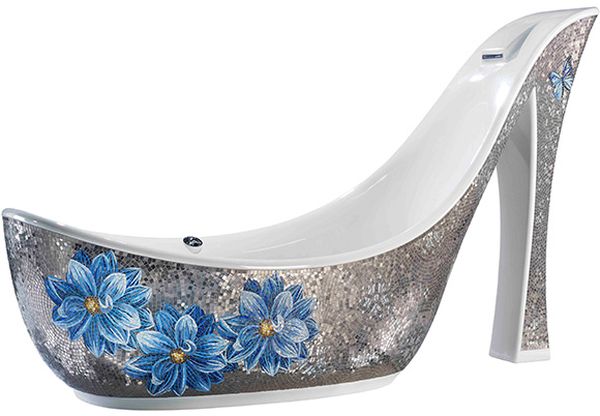 This is the idea of Italian creator Massimiliano Della Monaca. It utilizes excessive glass mosaic in a system that emerges from whatever is left of the traditionalist geometric shapes. Its mold is like a rich pump shoe with an extremely tall heel and is ideal for a shoe beau.
6. Artistic Bathtub: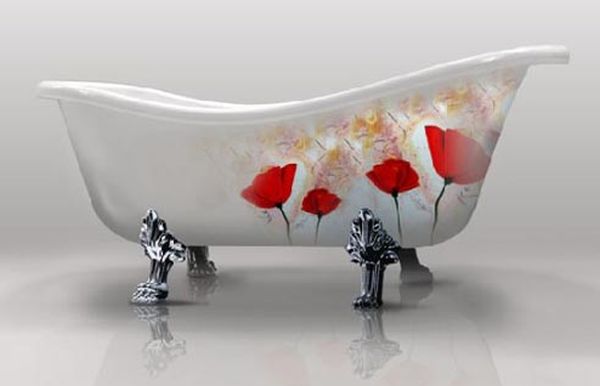 The outline of artistic is by craftsman Tetsuya Nakamura. As per the disclaimer, Nakamura's substantial push on structure and relative dismissal for reason implies clients may as well enter the tub at their danger and the craftsman and merchant accept no obligation regarding damages or mischances that may happen.
7. Stone Forest Bathtub: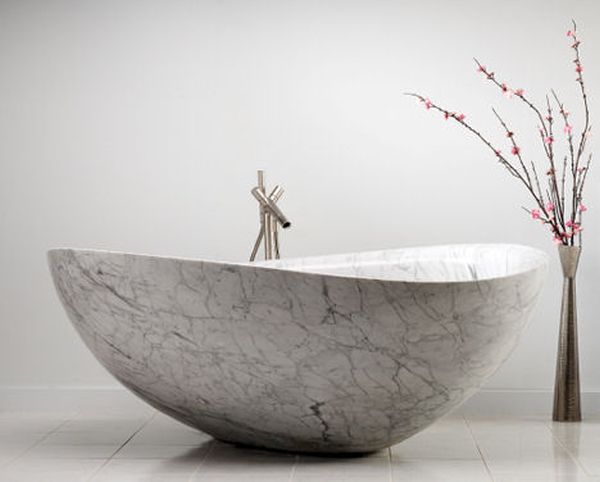 Stone Forest took a monster shake and emptied it out. The determination and effect is a flawless bit of fine art and as you conjectured, quite overwhelming.
8. Red Diamond Bathtub: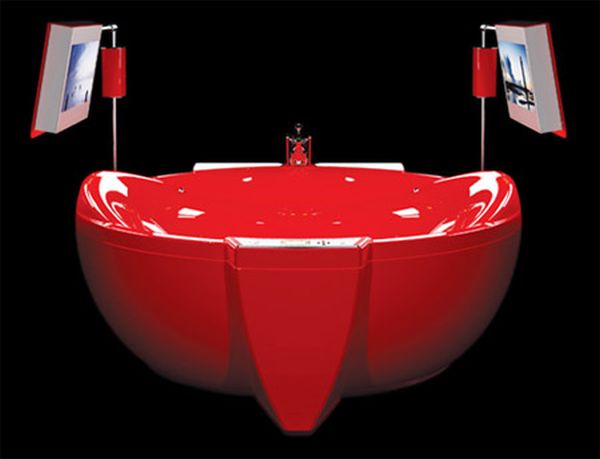 This Red Diamond bathtub is without a doubt the most extravagant bathtub ever. The characteristics incorporate two waterproof Hdtvs, GSM remote control, reassure with tremendous gold edge (42 g 18 k) and Swarowski crystals.
9. Animals Stone Bathtub :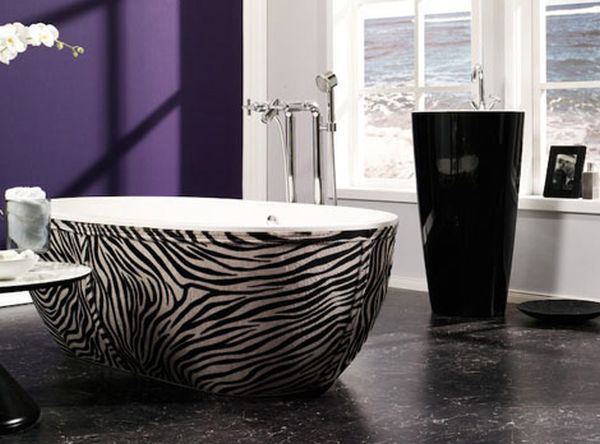 The Stone One cowhide bathtub from Aqua mass has a form that arrangement of remarkably fancy completions. The straightforward oval state of the tub is not difficult to modify with outer surface completions to express parts of the holder's emotional makeup.
These are not all. There are many other unique bathroom tub designs that you can choose from. Add them to your bathroom to give it a superb makeover.